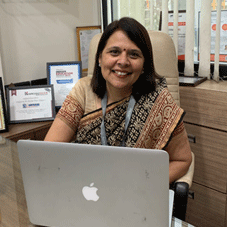 The quality of education along with a plethora of opportunities and globally recognized degrees are some of the few reasons that have raised the demand for pursuing education abroad. The scenario is no different for the students of India. For them, the freedom to follow their dreams is no longer limited by the courses & universities pinned across the borders of the country. However, these students need a dependable mentor who can offer proper guidance for their career and future, without which the outcome can be devastating. Bakhtawar Krishnan, Founder & Director Inspirus Education, is one such entity and a great mentor who has dedicated herself to help & guide young minds to explore & excel in their higher educational pursuits.
A bonafide expert in the education sector, Bakhtawar has long been on a quest to make quality coaching accessible to children from every strata of society. With a belief that education and education allied services like International education advisory & preparation are businesses built on trust, she has been striving hard to support the dreams of the students by offering reliable counselling and test preparation services via Inspirus Education. In her wide ranging career, Bakhtawar has helped hundreds of students realize their dreams of studying in prestigious international universities. Bakhtawar has articulated her professional journey, as well as her experience in an exclusive interaction with CEO Insights magazine.
Walk us through your professional journey. Also, brief us about the birth of Inspirus Education and its distinguishable aspects.
As a graduate from the N M College Mumbai, being an educationist was never in my mind. At a very tender age of 20, I started my professional journey with an international bank and worked there for around 22 years. In 2008 I left the bank job and started heading the Human
Resource Division of a UK-based Management Consultancy firm. There I got the opportunity to lead members of varied ethnic groups, influence people with distinct cultural, values and command respect across genders and communities. Here is where I realized that professional training cannot just begin on the job floor, but the exposure must begin earlier, in the formative age. This is what sowed the seeds of an entrepreneur in me and I found my true calling. I realized that my play field is with young minds. Fortunately, at the same time one of my banking clients sought me out for partnership in building an organization that engages with students on the verge of exploring their higher educational pursuits. This was the point when I came up with the idea to establish Inspirus.
We believe in providing personalized student attention and we actively connect with students to help them select the most appropriate university and courses, in line with their aspirations
Our aim was not just about sending students to international universities, but our work strategy comprises of understanding corporate demand, forecasting future needs, scouting for talent from across India's length & breadth, understanding their needs and enriching them with the right knowledge, ideas & opportunities and finally training them to achieve the goals they have set for themselves.
Brief us about your offerings and also tell us about your coaching strategies.
Since our inception, we have been helping students to prepare for various standardized tests such as GRE, GMAT, SAT, TOEFL, IELTS, ACT and PSAT. But above that, we believe in providing personalized student attention and we actively connect with students to help them select the most appropriate university and courses, in line with their aspirations. This is where we as an organization stand apart from the crowd. We have trained and counselled over 6000 students, in the past two decades, enabling them to realize their dream to study abroad in the most recognized
international universities.

At Inspirus, we leverage technology and combine it with our unique coaching techniques to attain the best outcome. For instance, Inspirus offers interactive tech based classroom learning and we are using flip classrooms, in accordance with international teaching practices.

Where Inspirus Education is positioned in the current coaching and test preparation industry of India? What are your organization's future plans?
We are excelling in what we are doing, and this is what helped us to place amongst the top 10 coaching institutes. 40 percent of our students go on scholarships and five percent of students go to the top 20 universities in the world. In the coming future, we are planning to expand our presence to tier II & III cities. Also, the opening of newer destinations and academic avenues beyond the STEM is in pipeline.

Do you have any advice on your mind for the budding mentors?
For me, Inspirus was an opportunity to craft an institute that would play an important role in defining the shape of tomorrow. The first thing that I said to my team when I acquired the business and began defining Inspirus was You are in the business of setting the future on course, hence you need to know every turn and every crossroad ahead. Dreams might not always turn into fairy tales but they certainly cannot end in nightmares. I believe that such a kind of passion, honesty, and earnestness is a must having factor for anyone stepping into the education space.

I just want to share my insight with my peers that the education field is not an industry for business; it is, in fact, a business with a soul. So join in if you care about contributing to the future because we have a great responsibility when we take charge of young people's aspirations. Also, remember that unlike most businesses when you take risks here, they must be calculated because your failure can impact the future.

Key Management:
Bakhtawar Krishnan, Founder & Director
An accomplished professional in the field of higher education related to the overseas study, Bakhtawar brings with her 30 years of diverse experience both at the nationaland international levels, in different roles across industries.