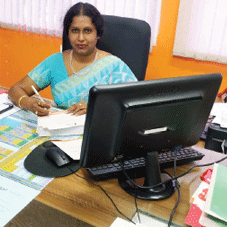 Jack Welech, the former Chairman & CEO of General Electric, said "Before you are a leader, success is all about growing yourself. When you become a leader, success is all about growing others". Mary Shanti Priya, Principal, Vista School, is one such soul that truly manifests the aforementioned quote. An education expert having 20 years of experience on her side, Mary is renowned as a great leader for her strong strategy, temperament, and leadership style. From taking the responsibility of school's success to leading in teaching & learning and from training & developing excellent teachers to building a strong school community, Mary possesses a lot of skills and qualities that all the education leaders should observe and learn.
She is also an inspiration to her staff members, colleagues as well as students who derive strength and positive energy from her energetic and powerful persona. Under her aegis, Vista School has cemented its hold in the education sector as one of the leading K12 institutions in Hyderabad that is surging ahead with an aim to nurture future ready global citizens who positively and responsibly impact the world. Mary speaks with CEO Insights to detail her journey.
Walk us through your professional journey? What was the inspiration behind joining Vista School?
My professional journey started in 1999 as a counsellor. However, my teaching career started when I joined a convent school named Auxilium School in 2001. Before joining Vista, I was working with St. Andrew's High School followed by a short stint in a few private schools. I have also played the role of Academic Coordinator & Section Head, Assistant Coordinator, Head Mistress, and Vice-Principal before joining Vista. As a Principal, Vista is the first school that I joined in 2018.
I believe in challenging myself. Hence, when I got the chance to guide Vista as its Principal, I grabbed it without any second thought. Besides, the role gave me an opportunity to handle multiple roles and responsibilities. So, basically the designation of the Principal is what gave me the motivation to join the school.
Tell us about your academic background and also explain how it's helping now.
Talking about my educational background, I have completed my M.Sc (mathematics with specialization in computer science) in 1996, B.Ed (mathematics & physical science) in 2003 and MBA (Human Resources Management) from Symbiosis Institute of Management Studies in 2010. As my specialization was mathematics, I started my teaching career as a mathematics teacher. Alongside this, I have written a couple of mathematics textbooks for six-eight standards. Apart from that, I have also worked with online tutoring, where I used to make worksheets for US-based technical support. That gave me more insight into my subject. Also, pursuing MBA has helped me to achieve expertise in administrative tasks in the academic field.
I believe in challenging myself. Hence, when I got the chance to guide Vista as its Principal, I grabbed it without any second thought
State one of the challenges that you have faced and how did you managed to mitigate it?
The challenges are many, but one of the major challenges which I encountered was the huge gap between the school and the parents. It's a fact that the more involved parents are in their child's education, the better the students perform at school. Hence to bridge the gap, we started working on building in the relationship with the parents, by enabling full visibility of a child's interests, strengths, and commitments, as well as information about school events and developments, which will put parents in a stronger position to help their child's learning, and will ensure children get the most out of the education system.
Tell us about Vista as a school, along with its uniqueness.
At Vista, our purpose is to educate the youth of the world to take their productive place as leaders in the global community by offering our learners a comprehensive education from Nursery to grade 10. The school is affiliated to the Central Board of Secondary Education (CBSE) and follows the board for academics. We strongly believe in holistic development, hence in addition to unrivalled academic standards, we also encourage a healthy combination of sports and extra-curricular activities, which prepares our students for life, as well as examinations. We have clubs like Literary, ECO, Theatre Art, Culinary, Art & Craft, Music, Sports
and Community Service Club for extra-curricular activities. The club closure along with lots of platform for inter-school competition at various levels give a showcase to the parents that how their children are groomed in the academic as well as co-scholastic and co-curricular events. It also caters programme like ELEP (English Language Enrichment Program), Board Prep, Middle School Maths as well as LIP (Learning Improvement Programme). INNOVATION Lab is a unique initiative taken up by Vista School to foster scientific temper amongst students. It creates an opportunity for student community to expand their critical thinking beyond text books and come up with creative inventions which will enhance their problem solving skills and work on finding solutions.

How do you keep yourself updated with the current trends?
I am a tech savvy so till helps me a lot in updating with the current trends as well as we workshops and seminars. I also learn a lot from my students too. We have a WhatsApp group of principals, where we keep updating ourselves. Annually, it's ensured that we undergo a session of training for principals. Also, we are connected & updated as to what is coming up next.

How has been the support & inspiration from your family in your journey so far?
I really feel grateful to have a mother who is my support and strength as well as my son who is my inspiration, without them journey so far would not have been possible. So I take this opportunity to thank God the almighty for blessing me with them and they have stood by me in my ups & downs of my life understanding my priorities.

Do you want to convey any message to your peers?
Education field is one such industry that requires lots of human touch and empathy. Nowadays, the industry has become so much commercialized that the need is for a value culture in the schools. Besides, school is the only place where you can teach the future generation about value system, ethics & moral. So, our focus should be on emphasizing ethics, morals & value system equally along with the rest of academics.

Key Management:

Mary Shanti Priya, Principal
Mary is a qualified, intelligent, dedicated and skilful teacher and leader. She leverages her 20 years of experience to lead her school while providing a holistic education that prepares students for life.

Hobbies: Listening to music, cooking & driving