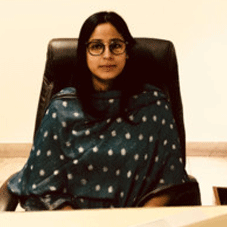 Carrying forward the bequest of philanthropy, Prachi assures to leave no stone unturned in providing quality education. Know more about her journey by perusing the following excerpts of an exclusive conversation between Prachi and CEO Insights.
Could you walk us through your background?
Post my schooling at VBS, I pursued English Honors at Delhi University and LLB at University of Leeds, UK. My career started with working in the banking sector for almost 10 years and then foraying into our family business of agro commodities. Here, we have been importing goods directly from
farmers across US, China, Indonesia and India.
Explain your current role at VBS.
With a demonstrated history of working in the education management industry, I currently ensure that VBS is equipped with requisite facilities, including infrastructure and qualified & trained professionals for the holistic development of the students incorporating development which inculcates positive social behaviors, moral values, technical know-how in conjunction with academic growth and physical fitness.
Prachi pledges to leave no stone unturned in providing quality education to students from the underprivileged community and in promoting girl child's education
How has your journey at VBS been so far?
The education industry has metamorphosed greatly from teacher lecturing across the podium to encouraging students towards mutual exchange of ideas. Embracing and fostering this change was challenging, but simultaneously rewarding.
How do you stay abreast of the industry's trends?
To keep abreast with the 21st century education industry's trends requires myriad entities, including a progressive outlook up-to-date pedagogical techniques,
collaborations & tie-ups with government agencies, social outreach programmes, as well as interactions with experts across the world, alliances with other institutions and organisations from across the country & overseas, together with utilization of social media.

To be up with all these emerging traits, the school ensures that its teachers get experiential training by teaming-up with NGOs and has associations with various educators from countries including Italy, Korea, London, and Finland, as well as educators.

Has your family supported in your journey so far?
Yes, my family along with my team has been extremely supportive. In turn, I ensure to stay organized to catch-up with my family and social obligations.

Tell us about your future plans.
'The whole purpose of education is to turn mirrors into windows' Sydney J. Harris. Keeping this in consideration, we strive to create multiple young entrepreneurs, innovators, social reformers, and leaders by encouraging our children to look beyond the text book and provide them the platform to explore, expand and excel.

Key Management:
Prachi Grover, Chairperson, Vidya Bharati School
Prachi is an inclined and progressive educationist with skills in Academic Planning and Strategic management.

Favourite:
•Hobby: Reading

•Cuisine: Continental