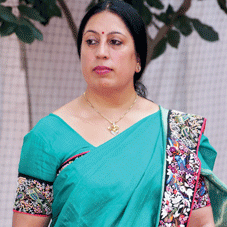 Ever heard of Aristotle's famous aphorism ~ 'Those who know, do. Those that understand, teach'. Indeed, teachers have always been our superheroes, lifelines, nation builders and most importantly, our second parents. For some education stalwarts like Dr. Ritu Dewan(Principal, Dayawati Modi Academy), teaching is a noble mission, a passion and a dedication towards excellence. An inspiring educator, administrator, eloquent speaker, writer, mentor and above all, an epitome of motherhood, Dr. Ritu can be best depicted as a compassionate humanitarian who believes in academic leadership and enriching the lives of others. Over 32 years in the field of education, including 17 years of administration that she has spent, reads the saga of touching lives and inspiring minds. At a very young, she had had her inner calling to dedicate herself to education and enrich lives of others. Her journey of consistent, diligent and sincere devotion each day and each year has catapulted her to the present glory of eminence the Principal Dayawati Modi Academy.
To know more about Dr.Ritu's inspirational journey, peruse the following excerpts of an exclusive colloquy between her and CEO Insights.
When did the transition from teacher to principal take place?
I have always cherished teaching as it gave me a great insight into boundless energies, potential and talent which I strived to channelize to the well being of people. Apart from this, reading books imbibed in me empathy to understand human beings. After all, leadership is about being able to inspire people with values and vision. This made my transition from a teacher to a Principal enriching, engrossing and enjoyable. As a gardener nurtures plants to the blossom, I ensure to create the right environment and guide my students to tap their true potential, nurture and nourish them so that they shine-forth in all their brilliance. I took-over as the Vice Principal of DPS Meerut in 2004, the Principal of Dayawati Modi
International in 2010 and have been the Principal of DMA since 2015.
What inspired you to join DMA?
I first joined DMA as PGT and during my tenure of 15 years, it's like a mother institution, and has groomed me as a great teacher. When I joined DMI the sister branch of DMA, in 2010, I longed to transform it into an institution synonymous with quality. After the organizational realignment in 2012, I dedicated myself to the newly aligned DMA and nurtured it with immense grit and gumption, and today, I can proclaim that DMA is an institution of learning of global eminence.
I ensure multi-faceted development of students in terms of curriculum development, parenting, enhancing happiness index, experiential learning, and many more aspects
Cast some light on your journey as the Principal of DMA.
As an ardent advocate for value creation and practice, I have always focused on creating such opportunities which can shape young minds to become all round individuals. I specially work on curriculum development, parenting, enhancing happiness index, experiential learning, confidence building, and improving communication skills. I believe along with core competencies, students should also be compassionate and empathetic to act as change for a sustainable society. Apart from this, I create a democratic ambience wherein the staff gets empowered to accomplish their tasks independently and effectively.
Walk us through DMA's excellence.
At DMA, each child is a valued individual. We aspire to make it a sanctum of learning where love, laughter and logic go together so that children evolve into enlightened beings. We have three age-appropriate campuses uniquely designed and integrated to permeate free-flow of ideas. Following the rich legacy of 39 years of unparalleled achievements, DMA has recently been listed among Top 50 Prestigious Schools of India by Education Today and certified as 'Great Place to Study' in House of Commons, London in 2019. Manu Kumar Jain (Global VP, XIAOMI & MI), Devika Sirohi (The youngest Indian in the team that decoded ZIKA virus structure), and Ruchika
Jhalani(eBay) are a few of our proud alumni. Shardul Vihan (Class XI) who won the Silver Medal for shooting in 18th Asian Games, and Priyam Garg (Class XI), Indian Captain of ongoing ICC U-19 World Cup, are some of our present proud prodigies.

Brief us on your family's role in your career so far.
My family has always been encouraging and inspiring. I always stood by them through thick and thin. The most precious asset I got from my parents is the good values and education. I greatly idolize my mother who was a teacher, and thank my husband Sanjeev Dewan(CA), my biggest strength, and also my son Dhruva, my sunshine & support system. They always support and strengthen me when at times I have to devote all my time at work. Yes, I ensure to make good the loss going on surprise outings.

How do you hone your skill sets in tune with the emerging trends in education industry?
I love to stay abreast with the latest in education industry by subscribing to a number of platforms & forums, and attending events, workshops and training programs on novel edutechnologies. I also send my teachers for the same, and organize workshops for them as well.

KEY MANAGEMENT:
Dr. Ritu Dewan, Principal, Dayawati Modi Academy
Dr. Ritu is a highly experienced doyen in the education industry with great skills in K-12 Education, Literacy, Staff Development, Educational Leadership, and Classroom Management.

Favourites:
•Hobbies: Travelling, Listening to soft music, Meeting new people and Interacting with students
•Cuisine: North Indian
•Travel Destination: Traveling the world

For the Budding Leaders:
Create a climate hospitable to education. Attend all the activities organized in the academy, be it sports workshops, events or celebrations. Be accessible to parents, teachers and students listen to them patiently, and solve their problems in a very cordial manner. Be poised and positive in your behaviour/outlook. Formulate an achievable vision to accomplish according to the local milieu and communicate it well to the school community. Never stop learning, attend conferences & seminars to improve skills and enhance knowledge.