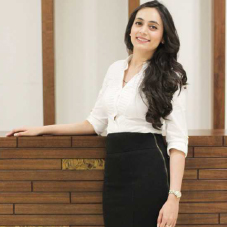 The digital industry is saturated with burgeoning competition due to its low entry barrier. However, many startups in this space have sunk without a trace, as they fail to produce quality content. People, especially the strong independent working women of today, neither have the luxury of time nor the patience to follow fifty different pages to stay updated on the topics that interest them, be it fashion or home décor. Experiencing the same hassle, Bani G Anand (Founder & CEO) decided to translate it into a business opportunity.
All About Eve was born when she was struck with the idea of introducing a content-driven vendor recommendation platform that produces content & vendor information across various categories so that a working woman like her who is always pressed for time can gather all the relevant information/vendor recommendation by following a single page and thus take a wise decision. As a co-founder, Bani envisions where All About Eve will be in five years and ensures that it's moving in that direction, whereas her co-founder Vasundhara Garg takes care of the 'how to reach the destination' part. Bani, in an exclusive conversation with CEO Insights shares about the inspiration behind her entrepreneurial journey, ebbs & flows she has surfed through and suggestions to budding entrepreneurs. Here are the excerpts:
Please briefus about All About Eve.
Standing true to its name, our all-in-one platform primarily caters to women at the demographic of 16-45 years who are interested in more than just fashion & beauty with an extensive content bank encompassing everything from career & investment, health & wellness, wedding and so forth. For
instance, if a girl was looking for the best looking Rakhi for her brother, she can go to the gifting section in our website and find the specific category to find the content along with all the vendor information.
Considering that the digital industry was a completely new territory for a Real Estate Investment graduate like me, I had to learn everything on the job
How has your journey been so far? Kindly tell us about the challenges you have faced during this journey.
Hailing from a business family, entrepreneurship comes naturally to me. Considering that the digital industry was a completely new territory for a Real Estate Investment graduate like me, I had to learn everything on the job. However, as we operate in a niche space, finding quality talents with the prowess of writing content specifically on subjects that interest women, was a tough nut to crack. Despite navigating a new terrain, I had managed to formulate a business model that would enable us to generate enough revenue every month to sustain the business & retain the talents. Finance being my strength, raising funds was a cake walk for me. As long as you picture the vision well and present it to the VCs adeptly, you're good to go.
Since we managed to sign up 25 retainer contracts even before going live and acquiring a single follower, we broke even in our first month in business, which is unheard of. Over the past three years, we have tied up with over 75 brands for paid promotion. Today I can proudly say that we have gotten to a point where people recognize us enough to request us to cover wedding or purchase FD. It's immensely fulfilling when our customers express their love for our content and how it made their lives easier.
Tell us about your hobbies, favourite cuisines, and travel destinations.
I'm a trained Hindustani classical singer, who enjoys singing, dancing and yoga. Being an avid follower of Ayurveda, I love the idea of being
healthy naturally. My favourite cuisines include Japanese, Peruvian & Italian cuisines and London would be my favourite destination.

How has your family supported you in this endeavour so far? Also, how do you manage to balance between your personal & professional life?
When I shared this idea with my parents, they were excited enough to motivate me to formulate a company out of it and launch it on a large scale. They have been excessively supportive and proudly witnessing how people are consuming our contentand leveraging our recommendations. I manage time efficiently. Not only I wake up early, but also don't indulge in any distractions through the course of the day and switch off from work after 8 PM to make the most of it.

How do you update yourself with the latest trends in the digital space?
Being in the digital space, it is easier to get updated and integrate them into our platform. It takes effort to be a little more updated about the advancements in your industry, but it pays off.

What suggestion/advice do you have on your mind for the budding women entrepreneurs?
Being a womanprenuer is not about proving people wrong or shattering glass ceiling. Do what you are really good at with the strong belief that there is absolutely no limitation in doing so.

Please throw some light on your future plans.
We were clear about not entering the eCommerce space until we have established a wide reach. Having accomplished that, we intend to roll out the option to shop at All About Eve in the next eight months.

Key Management:
Bani G Anand, Founder & CEO
Leveraging her Masters degree in Real Estate Investment(Cass Business School) and a Diploma in Investment Management (London Business School), Bani adeptly micromanages aspects akin to the revenue source, content direction, event categories and so forth at All About Eve and ATS Infrastructure Ltd. Heading the women wing at CREDAI, she empowers women in the real estate space as well.

Headquarter: Noida