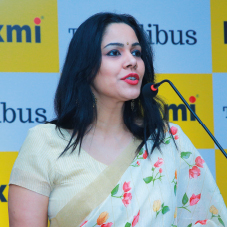 In an exclusive conversation with CEO Insights, Deepa has passionately described about her professional journey along with her personal life.
Tell us about your educational & professional journey so far.
An MBA graduate majored in Finance, I worked with one of the leading banking institutions and later unveiled a content & digital marketing startup. Besides, I'm also a writer having authored two books in fiction. Holding variegated experiences across risk & compliance, content, digital strategy, PR & communications, and other fields, I became a part of Malaxmi Group as the Head of Corporate Affairs. Being a former entrepreneur further bestowed me with profound insights about daily operations, strategy, risks and returns, along with the day-to-day challenges of running a startup. Especially at The Sedibus, this entrepreneurial experience presented me with more scope to work with various problem areas in the Andhra ecosystem.
So far, I've had a roller coaster kind
of journey from nothing to something remarkable! I'm extremely elated to have had a lot of opportunities to prove my worth, besides gaining appreciation for my work.
How did The Sedibus evolve from a multi disciplined, well-established enterprise?
Let me first explain about Malaxmi Group. The brainchild of Harish Chandra Prasad, Malaxmi Group is a diverse enterprise with expertise across real estate, property development,construction & infrastructure, agribusiness, startups and education. The Group's primordial goal was to create holistic impact on the society through 'Mind Body Soul' principle. Yet, instead of just sticking to the traditional process of setting-up funds for investments, the Group aspired to etch a difference in the lives of young entrepreneurs. Along with this aspiration, Prasad's fervour for industry, innovation, entrepreneurship and emerging technologies led to the establishment of The Sedibus.
So far, I've had a roller coaster kind of journey from nothing to something remarkable!
To understand what really mattered for promising startups, we at The Sedibus interacted with several ecosystem players regarding their roles, and potential startups regarding their concerns. Today, we have diverse cohort programs, innovations inside campuses, outreach programs and technology business incubators, all attended in massive numbers. Some of our signature programs include 'Speaker Series', wherein industry leaders interact with startups & students, while our 'Hustle Talk' promotes interaction between young startup entrepreneurs and local founders.
Our technology business incubator at VR Sidhhartha Colleg (Vijayawada) stands as the hub of seamless innovation, while we are launching new innovation zones at other campuses too. We envision funding, mentoring and supporting disruptive startups in deep technology & consumer spaces across PAN India by augmenting our partnerships and collaborations with different ecosystems across India. Further, we intend to escalate valuation of startups with better customer acquisition through our 'Go to Market' initiatives.
Brief us about the family support
you had back then and now.
I basically can't sit idle for five minutes and am hardwired to deal with stress. My family understands my mindset very well, besides vesting faith in my abilities. They always provided me my space which helped me to overcome multiple challenges. They have also encouraged my professional decisions without prejudice or worry. Especially my mother, an ex-banker, is a very strong person and comprehends the trials and tribulations of a fiercely independent woman. She has always been my guide and a strong pillar of emotional support. Moreover, by disregarding negative thoughts or petty worries, I ensure to spend quality time with my son at every possible opportunity.

Do you have any mentors?
Yes! Harish has mentored me greatly and offered me the access to initial network & support, besides independence to take maverick gut calls. I also take pride in standing as an inspiration for many women from multiple fields who desire to achieve some thing phenomenal in their lives.

How do you keep yourself updated?
Besides reading about what's latest in technology and startups, I regularly converse with founders and learn about the updates of our business verticals at Malaxmi Group. Moreover, I and my fellow CEOs work collectively to enhance strategies for our respective verticals while creating a social impact. This way we are driving the business with sustenance and stability!

Key Management:
Deepa Balasubramanian, CEO
With deep-rooted expertise and the ability to learn and adapt faster, Deepa has been making phenomenal strides across the Indian startup ecosystem.

Favourite Pastimes: Writing,Quick Vacations & Long Drives
Favourite Cuisines: South Indian, Mughlai, Mexican & Lebanese
Favourite Destinations: Austria, Bali, NYC & Paris

For the Budding Entrepreneurs:
"It is important for women of our times to stay focused and have a purpose. Financial independence and emotional growth have become very important in the recent times. Every woman's journey is different, and there will be rejection, mockery and indifference at times of sailing towards accomplishing bigger goals. But once you set your standards and go along with your brain at play, there is just no stopping. Don't back down, ever!"