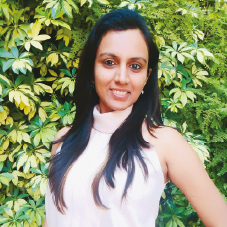 Educators know that a student learns more quickly and retains more information when the subject matter pertains to them personally. The act of 'doing' makes learning extremely personal. In fact, obtaining skills and knowledge through practicing applicable activities, rather than simply learning through lectures or the written word often helps the learner retain the necessary information to successfully repeat the task in the future. Such a process of learning is known as experiential learning and this is what every organization needs in today's ever changing business environment. Mastering this art of training, Dhwani Swaminarayan (Founder) has been successfully leading her venture Kiwings, a learning consultancy firm that helps organizations to broaden their knowledge by offering topnotch business solutions through learning and assists them to get the most out of their people and investments.
With a passion of enabling every individual to learn and grow in their respective stages of career without any barrier, Dhwani is making a difference in the industry, providing best-in-class learning experience by keeping things simple, making learning enjoyable and empowering. Today, Kiwings is well-known for offering experiential training programs for the retail industry, and stands tall as one of the renowned firms that provide value to its clients with content fabricated with deep industry research. Dhwani is an exclusive interview with CEO Insights, reminisces about her journey and delineates Kiwings' activities.
Share the inception story of Kiwings and also throw some light on your educational as well as professional journey so far.
I have always been ahead of my age due to my nature of exploring and experiencing new journey without
any fear. Taking risk has never scared me, neither failing nor facing the world. After completing my postgraduation in Fashion Management, I started my career as a Visual Merchandiser in a reputed firm in 2009. At an early age of 24, I authored a book on basic of retail & its processes. With over a decade of experience in the corporate world, I have worked with Retail corporate like Aditya Birla Group, Future Group, Everonn Education and Landmark group. However, I started feeling that I am not using my potential to its highest capacity and with a desire to explore newer skills, better opportunities and higher risks, I decided tojump into the world of entrepreneurship. This is how I started Kiwings in 2016.
Our ultimate vision is to act as a bridge between the pool of experts and the learning seekers through Experiential Learning methodologies.
Kiwings journey of last three years has been encouraging and rewarding. We have designed and delivered more than 28 learning programs for more than 25 Retail brands, which include Aditya Birla Group, Arvind Brands, Future Group, ITC Group and more. Our programs have benefited more than 18,000 learners till date. One of the biggest achievements for Kiwings until now was to get collaboration with Top Line Solutions.
Tellus about Kiwings and its services.
Kiwings offers retail business solutions through learning where our ultimate vision is to act as a bridge between the pool of experts and the learning seekers through Experiential Learning methodologies. We strongly believe that learning should empower the learner to perform with improved efficiency, hence bringing a shift into the business. Thus, our programs are designed to link participants' day-to-day work to value generation and business impact.
Currently, we are offering services including Learning & Development, Training content development & delivery, Developing SOPs & manuals, Mystery audits & competition Analysis, Measuring Post Training effectiveness and
more. But what differentiates us is our methodology of going into the depth of the subject to learn it completely and then convert it into its simplest & learnable form. Alongside, as we are the only learning consultancy in India which fully focuses on Retails; we hold a deep understanding of the in & out of the industry. This is what makes us the first choice of our clients.

Explain regarding your experience with respect to raising funds or pitching to VCs.
I started Kiwings without much direction about where to go and how to go; but fortunately we kept getting good projects & mentors and kept moving ahead. Today, I can proudly say that we started with nothing, but now we have reached to the level where we have a dedicated team of six people, three collaborations and two external agencies supporting us for Brand Marketing and IT. All this happened without any funding. Though currently, we are at the stage where we need to scale up the business and move to the next level of business plans and deliveries, we are also working on standardizing few processes and financial model. Once we are done with this exercise, we will start approaching VCs and Fundraising companies in order to take our organization to the next level.

How has your family supported you in your career so far? It was my husband, Ajay's support which helped me to stay strong in the journey of chasing my dreams. Also, my parents have played the biggest role in making me what I am today. The courage of taking risks that I spoke about comes from the confidence and support of my family.

Key Management
Dhwani Swaminarayan, Founder
Dhwani is a Master in Fashion Management and a Founder, who has also completed her course on Instructional designing from Metropolitan university of Tafe, Australia, leading the space of retail learning & development.

Interests: Traveling & exploring new places and interacting with new people

Hobbies: Gardening, Zentangling, Lake Restoration projects, Adopting & sharing sustainability practices and being the part of wellness projects