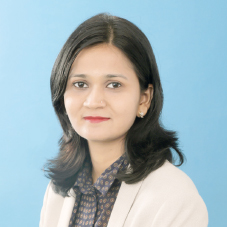 Technology has always been considered as the 'Male dominated' space until entrepreneurs like Hiral Raval(CEO, Vizanalitique Software) took charge to bring a paradigm shift in the ecosystem which is encouraging more women to join the league. Hiral's story is all about burning the mid-night oil and not about the Aladdin's Jinni that can fulfil all your wishes.
A Gujarati, Hiral had all in her since birth as Gujaratis are known entrepreneurs with a skill that is hard to beat, but with limited success stories in tech/ fintech/analytics area. She strongly believes that Gujju people are the best managers who have the knack of using available resources efficiently. Hiral is all set to flatten the technology gap that persists between Rajkot, Ahmedabad and Baroda, and Bangalore, Hyderabad and Pune.
In conversation with CEO Insights, Hiral speaks her heart out highlighting her personal and professional aspirations. Read to know more about it.
Q. What inspired the establishment of Vizanalitique Software? How has been the journey so far?
A. Gujarat has been known to have great entrepreneurs but not in tech or analytics industries. The entrepreneurship spirit and jugaad of us Gujju people have always been an inspiration to me. But convincing them to invest in technology was a herculean task as the benefit cannot be viewed directly. Despite the initial inertia and resistance to take my proposition seriously, I kept trying and even did free work so they understand the impact of my work. Determination to succeed in life and provide opportunities for the next generation, which I did not have, kept me going. Once they understood the value that I was trying to deliver and the novelty of our solutions & approach, they opened up and now we have paid clients who understand the value of our consulting.
Q.Tell us about Vizanalitique Software and the unique value it adds to the clients?
A. We are a bootstrapped startup, funded by our family and friends. Being a AI/ML based company, we
bring the best innovative technology, advances happening in AI, Deep Learning, Analytics, Big Data and latest solution methods/frameworks used in developed countries like the US, UK, Singapore to our home state and country. We specialize in sales forecasting, real time Video and Image analytics, data visualization and story telling, customer analytics, Marketing mix, operation analytics, and supply chain analytics.
We seek to deliver world class services to all our customers with less downtime by ensuring that we have the buffer or an adhoc headcount to cover the bandwidth
I do not believe in just finding a problem, but walking hand-in-hand with the client till the last mile where the solution is in use and client reaps RoI. While most of the firms here provide analytics as a service and firms who provide analytics as a part of SaaS cater only to a specific vertical in the same, we cater to a wider audience and provide SaaS which can help clients in multiple use cases. Our solution helps the data scientist or the analyst at the client firm to get more business people on the analytics bandwagon and enhance the reach of analytics in the firm.
Vizanalitique currently aims at getting the expertise in the area of voice and conversation, which is the next frontier in our service. We are also actively looking at decentralize apps.
Q. How do you leverage your experience and knowledge to serve the best solutions and run your company uniquely?
A. Having done my BE from Saurashtra University(Gujarat), and M.Tech from JNTU-Hyderabad, I started my professional life in the electronics industry working on microprocessor/chip designing and creating custom automated solution for surveillance and security companies. During this time, big data and analytics revolution started, while the government started supporting and encouraging more startups. This encouraged me to jump ship and start my own firm.
I am grateful to the support provided by Telangana government support organization like THUB who provided guidance and training on how to move forward. Attending multiple programs in Indian School of Business helped me enhance my business skills. These programs led me to think differently and I always will be in debt of the professor and my peers in the program for helping
me get to this point.

Q. As a woman leader, how do you influence other women to join the technology space?
A. I have been an active voice in encouraging more women to contribute and be active in the realm of technology. I actively contribute to groups like women technology and women founder groups like Women Tech Makers, She LeadsTech, Pyladies and other female founder communities to help tech women and women founders to succeed in their professional and personal journey.

I have delivered various keynotes and seminars related to AI/ML or data analytics in various universities, technical communities and mentored students and female techies as well. I also am part of various tech-meetups, startup community meetups and various research communities in the world, which helps me sharpen my knowledge.

Q. As an entrepreneur, influencer and a mom, you juggle multiple roles. How do you keep up to these so positively!
A. Striking a balance between personal and professional life becomes difficult as you get wiser as more responsibilities from both the fronts increase. Plus, being in the Indian culture, you cannot avoid the social duties that need to be fulfilled being part of the family. Initially, balancing them all were too difficult, but with time, I have arrived at a formula that works for me spend most of the weekend switching off my professional life and concentrate only on my personal life.

Q. There is no denying that family plays a vital role in an entrepreneur's journey.What is your thought on this?
A. Indeed. My family, especially my husband, supported every aspect from beginning. The fact that I did my MTech post marriage and started this company when my kid was one year old speaks it all.
Key Management:
Hiral Raval, CEO
An M.Tech from JNTU Hyderabad, Hiral is an inspiration to many budding women entrepreneurs who intent to venture into technology space.

Interests: Reading Books, Watching Movies & Listening to Songs
Cuisines: Gujarati & Punjabi

For the budding women entrepreneurs
"Seek the opinion of your fellow entrepreneurs when you feel like. Keep learning and unlearning as you progress in your journey and can always reach out to me if you need help."