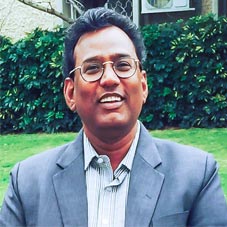 An uptick in economic activity is an excellent time for organisations to assess their readiness for the growth ahead. As the Indian economy sprouts green shoots, the role of the Chief Strategy Officer (CSO) in companies is increasingly in the spotlight even surpassing the roles of CEO's. But you don't often come across a CSO to exchange 'gyan'. Working tirelessly in the backend, CSOs make sure every opportunity to grow is grabbed by its reins to ride the high tide of success. We, at CEO Insights had the honor to rendezvous with the Group CSO of a 150 years old conglomerate Khimji Ramdas Group. He is N Bhupesh Chowdary.
An Engineer & Post Graduate in Management, with over 27 years' experience as CEO and Business Head with leading businesses inclusive of L&T, Adani, JSW, MBE-Williamson Magor and Khimji Ramdas Group, N Bhupesh Chowdary has treaded a remarkable journey of building organizations and helping them grow.
Throughout his journey, at every milestone, Bhupesh was able to set a benchmark and make room within the organizations to strategize new businesses, at the same time formulate and implement those strategies to build flourishing businesses. Over the years, Bhupesh has developed a reputation of a go-to-person who can swiftly conceptualize, strategize and implement.
In the past, he has led position as Nominee Director with multi-billion dollar Sinarmas Group Company, Indonesian Conglomerate. He also led large P&L as Project Director to the tune of USD 1.2 BnEPC Power Projects with L&T. Bhupesh has led PowerMech Ltd Group P&L as for INR 2000 Cr Group as Group CEO & Whole Time Director, besides having been the Director in Multiple JV Cos and Subsidiaries.
Bhupesh is known to bring in a new perspective of strategic thinking in every business he assists. This in turn led businesses to a large success rate. The past journey has been significant in terms of deliverance. Bhupesh explains, "I have seen the businesses related to my area of specialization evolve, be it logistics, shipping, ports, energy and mining sectors. So these are all the businesses that I have practiced a stronghold on, and built from scratch.
So those encompassed to develop a kind of business acumen, from identifying to planning it, and, doing the feasibility to structuring it, as a development project, and then building the business model on that makes more comfort to stakeholders for confidence. Executing it and running it follows, that has been the core strength, which has remained throughout the entire journey", this led to the working closely with many leading top entrepreneurs on shoulder to shoulder. Bhupesh created and implemented new dimension of "Go to Market Business Development" for various businesses wherever he worked.
Bhupesh has successfully led mergers, acquisitions, business restructuring, consolidations, and diversifications with L&T, Adani, JSW, PowerMech and Khimji Ramdas Group.
Any business opportunity identified should be really falling in line with the specific organizations synergy. This implies that the business needs to evolve in an integrated manner with the existing setup. Nobody likes to jump from a brick and mortar construction business to a technology business altogether. One needs to ensure proper alignment in terms of how does the entrepreneur or the owner or the shareholders, or the stakeholders would look at it while contemplating for an expansion of the business. Scaling of the business is a significant part of the any role that involves strategizing for a business. Once identified, the Chief Strategy Officer is required to fix whether the existing entity or the firm, or the organizations are capable of building the add-on scaling of businesses.
Bhupesh joined Khimji as the group chief strategy officer initially and then tookover additional responsibility of as chief operating officer (projects & logistics cluster), one of the large and diversified business vertical of the group
Bhupesh has been instrumental in evaluating on the strengths and the capabilities. A joint venture is essentially marked successful if the capabilities of the resultant firm are enhanced. Bhupesh, therefore, used to travel around the world to seek and identify the best of the partners across the world. He approached and brought them onto the table delivering a win-win situation. In fact, Bhupesh has played significant roles in strategizing joint ventures for key industries. His reputation is as such, that he is currently a Board Member of Six Joint Venture Companies.
While working for the Adanis, Bhupesh had significant role in growing the business by means of mergers and acquisitions. As he was part of Adani's Port & Logistics business, Bhupesh enabled growth, wherein he prepared Win to Bid and negotiated deals on Vizhinjam Port Project, Ennore Container Terminal and Greenfield Projects in East Coast Bhavanapadu, Port A.P. Bhupesh also led Dhamra Port (Odisha) and Kattupalli (Tamil Nadu) Port Acquisitions from initiation, business case building and closing the deal.
Impeccable Strides of Growth at Khimji
Bhupesh joined Khimji as the Group Chief Strategy Officer initially and then took over additional responsibility of asChief Operating Officer (Projects & Logistics Cluster), one of the large and diversified business vertical of the group. The firm was essentially a US$1. 5billion turnover, diversified conglomerate spanning across Projects & Logistics, Consumer Products & Retail, Luxury cum Lifestyle and Engineering & Infrastructure Businesses with stature and reputation of 150 years Company in the Middle East, Oman. Bhupesh is leading the large Business Cluster of (Projects & Logistics) in identifying New projects, Special projects, Logistics of 3PL, Dry Ports, Seaports,
Shipping, Insurance and Logistics Infrastructure Projects. Guiding and aligning group level strategies.

Change is a must and its an ongoing process:
Bhupesh led improvement in re-structuring the group level strategies, family business strategies, corporate and operational strategies, investment and diversification plans and strategies. He played pivotal role in positioning the firm to a new dimension and outlook both diversifications&, expansions.

Bhupesh looked into re-aligning various businesses, optimal utilization of resources, competency mappings, positioning and mentoring the leadership teams to improve the group level top line. He has executed and implemented Business Strategy, Rolling plan for three to five Years to set the firms on a trajectory to become multiple of billions of dollars.Bhupesh induced the culture of meaningful branding; developed corporate communications, including corporate social responsibilities activities with assertive marketing and successes were made.

He was also the go-to person for capability building for new sectors of Infrastructure, Logistics, Mining, Renewables, Entertainment and Hospitality &Tourism sectors in Oman,India , Gulf and Africa businesses. He also mastering in creating Venture Funds, an incubator entity, for venturing into disruptive technologies and investments in technology related businesses, opened up few to tie up with leading firms of USA and Israel in the areas of AgriTech, Clean Tech, Entertainment, Social Impact Businesses.

"While working for the Adanis, Bhupesh had significant role in growing the business by means of mergers and acquisitions"

Reskilling and Learning, with some Humility for a greater cause
Throughout his journey, right from McNally Bharat Engineering company as a Resident Manager, to General Manager - Corporate Strategy & Infrastructure at JSW Group and Head & Project Director - EPC Power at Larsen & Toubro Limited, Bhupesh has believed in reskilling. He laughs and says, "I'm at 52, but I'm still learning, and reskilling". That led to his completion of Advanced Management Programme on Strategic Project Management from George Washington University, USA. His unparallel zeal and business acumen has made him one of the most sought after business leaders in the industry.

Bhupesh is an active member of the Confederation of Indian industry and the Entrepreneur Development Institute of India. His significant assistance has been appreciated in the setting up of the T Hub (An Incubator cum Accelerator of Start Ups) in Hyderabad. Besides having been a part of an incubator programme in Adani, Bhupesh believes that if there is an opportunity for accepting and adopting new technologies, and if those technologies can be transformed into a business, then as an entrepreneur one must grab every chance at it and nurture it.Creating efficiency and capabilities is the key. In turn, he does mentor couple of startups and invested in his personal capacities in those firms which have been successfully running.

Bhupesh spares his off time, towards spiritual activities and a follower of ISKCON Movement, and supports social causes wholeheartedly.