Ravi Chillara: Implementing Prudent And Innovative Strategies In A Vast And Challenging Indian Grocery Retail Segment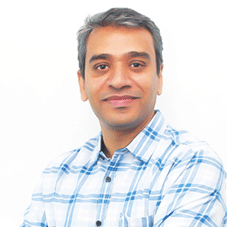 Organisations need to consistently review, evolve, and pivot when it comes to the core strategies in a fast-paced start-up Environment and a dynamically placed Indian Grocery Retail Segment, The Strategic leadership acts as a fulcrum to steer the course of the emerging organisations with fast paced execution along with enough agility to accommodate the external and internal pressures of the business. To achieve this objective Kirana King has on boarded Ravi Chillara as its Strategy officer in the year 2020. As a steward of success, he is deriving new routes to achieve the company's mission of driving the retail revolution. He is passionate about innovations and continuous improvements at the workplace for effectively managing people, processes, and systems. To know more about his inspirational journey CEO Insights had an exclusive conversation with Ravi. Kindly peruse the excerpts of the insightful nuggets from him.
Brief us on the excellence of Kirana King in the current Retail industry of India. What are some of the latest technologies that you leverage and unique methodologies that you follow to escalate the growth of Kirana King?
Kirana King is a Grocery Retail Aggregator of Kirana Stores that empowers and enhance the Retailer's quotient to ensure seamless supply chain efficiencies at shelf management level and to connect the dots of entire consumer journey for creating an outreach to their end consumers using mix of Tech and Retail as a Service (RaaS) based interventions. We have adopted both Operational excellence and Technology to innovate "Retail as a Service" (RAAS) Dynamo in Grocery Retail which is a unique business methodology. We have four core pillars to empower Kirana Retailers - Standardization, Centralization, Digitization, and Socialization, each having its own relevance and significance in our business model. And they are supported by the state-of-the-art ERP, CRM, B2B and other mobile applications and the entire lifecycle of the store is seamlessly managed on our tech platform. We use technology as a great enabler
as we are in a massive growth phase and we relentlessly pursue how can we further enhance the retailer's expectation at each touchpoint.
Enlighten us about the various services that you offer under Kirana King Retail. Also, explain the unique benefits that customers can avail.
We have brought a new dimension of RAAS to the Indian Grocery Retail System. The grocery retail or convenience retail operations is very different in India from its counterpart in Middle East and South East Asia Region given the problem of supply chain, very agile demographics where the taste and preferences change every few kms in any city or town. And you cannot address the problem statement of Indian Grocery Retail with those of global norms or SOPs. You need to go to the ground and spend enough time to see the gaps and offers a practical solution that really enhances the lives of these retailers on a long-term basis. Here, we as Kirana King, are exactly catering to these problems, and today, we have about 250 Kirana King stores in Jaipur.
With our offering, Kirana stores are now enhancing their lifestyle, business and matching their end consumer's expectation with unprecedented growth both in sales and service-related satisfaction.
Now Kirana Retailers can benefit out of our structured approach and can conduct their age-old business with modern tools, processes, technology, visibility, marketing, centralization-related dynamics where they are part of an umbrella brand and can leverage the scale of economies.
With vast expertise and exposure, Ravi is well aware of the ground realities and has extensive field knowledge of Indian Retail Grocery
Give a brief account of how the methods/strategies that you laid has transformed Kirana King Service's entire work culture and client relationships.
We have worked on three core things when it comes to developing a sustainable strategy for Kirana King - Simplicity in our processes for easy adoption, Clear Communication channel at all levels, and Control on Data & Data Analysis of our business. We are striving to bring uniformity & synergy in every strategic aspect of the business across all our departments. We strongly believe
that this approach will help us in market penetration & expansion in other cities as well.

How does your experience help you to chalk-out efficient business modules at Kirana King?
At this level of leadership, we must have a clear vision and goals that can be inculcated till the last layer of execution. We also need to manage the resources optimally and set accountabilities as we are a quite young organization with a rapid growth trajectory. We need to closely monitor all kinds of MIS to manage customer-centric strategies both in short & long term. My experience of working in Senior Leadership roles in prior organizations and close association with the Grocery Market, has helped me set clear objectives in a highly dynamic business segment and this is one of my core priorities and focus area as well at Kirana King and to aim for a long-term growth.

In your professional journey so far, which are the milestones that bestowed your utmost satisfaction?
There are many milestones we are proud of here at Kirana King. First and foremost is that it's a very tough market and business segment. Many players have entered this segment and have exited as well, due to obvious complex challenges prevailing in this sector, which are not easy to address. However, we are not only in the business but also improvising and now growing towards a traction point where there would be substantial opportunities for our brand and network to grow. A recent milestone that we achieved was to have 250 stores in a single city. That is quite an achievement both professionally as well as personally when you see yourself addressing a massive problem of our country with prudent solutions.

We are quite confident of our processes and people and I can proudly say that we can replicate our model easily across the geographic landscape of India. But for now, our focus is Rajasthan where we can enter any new city and achieve milestones in record time. We will be activating this expansion very soon.

Ravi Chillara Chief Strategy and Implementation Officer, Kirana King Retail Network
With 20 plus years of rich expertise, Ravi forms the most accurate picture of a leader who can apply structured approach and concept for implementation. In a span of over a decade in corporates, he held various decision-making positions before plunging into Start-up ecosystem. He earlier worked with three start-ups and gained great exposure in this space. As an Engineering and MBA graduate, he understands the right amalgamation of people, processes, and systems.