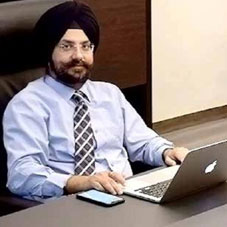 The Pharma industry has witnessed several leaders and moguls over the last few decades. Some took the entrepreneurship way fuelled by zeal to do business, others were driven by their passion toward the spirit of entrepreneurship. Mr. Bhupinder Pal Singh Bhatia Chairman & MD of Unimarck Pharma has set some inspiring benchmarks in his journey. Let's hear it in his own words.
Tell us about your journey becoming an entrepreneur. After the partition in 1947, my family and I came to India with everything lost to the partition, even though we held a strong background earlier. Supporting a huge family was quite a cumbersome task, but it was the inspiration drawn from my father that did not let the fire die in me. In earlier years, it was difficult to attain a highly recognized position, but it was my dedication to grow that kept me going. Today, I am a successful businessman.
Being a science graduate from Punjab University(1967),I started my professional journey in 1969 as a Medical Sales Representative with RANBAXY LABS LTD, from Patiala as my working headquarter.
From Ranbaxy to Unimarck Pharma, what major transformation did you experience in your professional front? Also tell us about the milestones that really defined success for you.
My commitment and adherence to work got me the title of No. 1 Medical Representative in Ranbaxy which paved a way for me just after two years and six months service to be selected in renowned multinational organization, E. MERCK (India) Ltd. and achieved the same Title again as I was ranked the top-performing representative in E. Merckand remained associated with them for 3 years. Thereafter I got an opportunity to work with Unique Pharmaceutical Lab Ltd. Mumbai, (J.B. Mody & Bros.) and got selected directly as a 1st Line Manager. My job roles and responsibilities included controlling the sales activities of Punjab, Himachal Pradesh, Jammu& Kashmir with Chandigarh as my HQ.
I successfully launched the pro
ducts of Unique in the area assigned to me through Medical Representatives based at all the major H.Q. I was assigned to control sales activities of three different states and rendered my services successfully for 10 years. Since, it was the launching of the new company and new products that boosted my confidence and ignited the zeal in me to work even harder. All I wanted was to leverage all my skills, talents, and experience from various companies and positions.
The key to my success is attributed to my dedication towards hard work, truthful dealing, family support, and care for my employees and associates
This is how I started my own new venture UNIMARCK PHARMA (INDIA) LIMITED company as an organized and Private Limited Company right from the first day of its inception in the year 1984. We, my company, and I, even stood the test of time as we faced two big challenges The Blue Star Operation and the uncertain turbulence because of Mrs. Indira Gandhi's assassination in October 1984.
But, my determination was so strong that I never turned back or gave up. With Almighty God's grace, I kept moving forward with one step each day and climbed the stairs to success year after year. Today, in 2021, Unimarck Pharma (India) Limited holds a respectable position in the Pharma Industry. One of the products viz. AMBULAX ranks No. 1 position as per the O.R.G., making us the pioneer in the same segment. We were the first to come up with such a concept by combining Beta Blocker Propranolol & anxiolytic Alprazolam. This immediately gained acceptance from almost all the leading doctors throughout the country. My 2nd product CLIN-3, a derma product, gained a really fast sales momentum and it ranks No. 5th position on the O.R.G today.
I recall gaining success in introducing CALMPOSE for the first time in the Indian market while working with Ranbaxy. Similarly, I came up with METROGYL (IV) (Infusion), introduced for the first time in India while working with Unique Pharmaceutical.
Give us insights on Unimarck's operations and positioning in the market.
Presently, we are a team of more than 550 employees with Two big manufacturing units in Baddi, Himachal Pradesh, which is a hub of
Pharma Manufacturing companies. Both the units are certified with G.M.P., G.L.P & ISO standards. Our multistoustrial Area, Mohali, Punjab a prime area close to International Airport. We have dedicated each floor to our respective departments that were of constant support to me even in tough times.

Currently, we operate in Physician, Orthopedic, Derma, Pedia, and general segments with a wide range of products. We follow a customer centric approach with prime attention to customer care.

With all the favourable credentials and respectable position in the Pharma Industry, we wish to go for a public issue very soon.

What has been your driving force over the years with Unimarck?
I consider my employees who are with me for 10 - 35 years as my strength! This is a perfect representation of the respect they felt, the job satisfaction they have, and the sense of belonging to the company.

How has your personal life contributed to your professional excellence?
My fascination for travelling has taken me to really awesome places like the U.S.A., England, Canada, Scotland, Switzerland, Paris, Russia, Bhutan, Bangkok & Tokyo. My additional hobbies like Urdu poetry and singing keep me young at heart and inspires me to work tirelessly even at the age of 76.

I am confident that I will soon be attaining a prime position in the industry. With my family with me on every step, the success ladder is easier to climb. My son, Mr. Mandeep Singh Bhatia is actively involved in all key areas of the company, my daughter-in-law Ms. Harleen Kaur Bhatia heads the H.R. Dept., and my daughter Dr. Gagan Bhatia heads a new division of the company, UNIQAYA, a premium skincare brand.

What's your success mantra?
The key to my success is attributed to my dedication towards hard work, truthful dealing, family support, and care for my employees and associates.

Bhupinder Pal Singh, Chairman & MD, UNIMARCK PHATMA
Bhupinder is experienced in the pharmaceutical sector for more than 15 years with excellent leadership in world renowned pharma houses. Bhupinder's excellent leadership led to the development of salutary products of topnotch quality. Bhupinder's vision led to the manufacture of innovative and effective medicines to prevent disease and treatment.