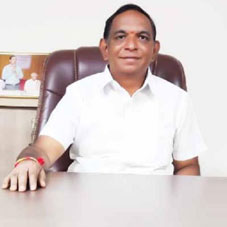 A rapidly changing healthcare environment and the convergence of breakthrough scientific innovation, digital advancements, and new business models are reshaping the life sciences space. These advancements offer substantial improvement in patient care and have opened up new opportunities for players across the life sciences market landscape. Dr. D.Sreedhar, Ph.D. in medicinal chemistry, founded Telangana Pharmatech, a specialty pharmaceutical company engaged in the drug development manufacture and commercialization of pharmaceutical products. His vision is to add value to the global pharmaceutical industry by serving as a reliable partner and providing high value, quality products, and services today and in the future. Further, Dr. D. Sreedhar has exclusively narrated a spectrum of aspects about himself and his firm with CEO Insights. Here are the excerpts!
Kindly tell us about your journey and what inspired you to establish Telangana Pharmatech?And also, what were the significant challenges that you encountered during your professional journey?
The journey of Telangana Pharmatech was commenced in 2016, and a year later of inception, Research & Development (R&D) has been opened with fullfledged facilities. The growth and stability of Telangana Pharmatech have been phenomenal, which allows for creating more jobs and, more importantly, adheres to the idea of Make in India. We have envisioned creating a more self dependent infrastructure and a great working environment for the employees. Even during 2018, the company started product launch and commercial scaling.
Moreover, to start this company, I have been inspired by eminent personalities in the society/industry to create employment opportunities and make conscious efforts to deliver ecofriendly and more sustainable products to society. However, I faced many challenges in my journey, like finding a skilled Technical team, compete with the pricing pressure in the market, funds constraints, etc. But I educated the team to understand the organization's priorities, values, attitude, vision, Mission, market oriented skills, and goals. My one on one relationship helps employees to understand the organizational culture, imparting knowledge upgradation and transformation continuously to all levels from time to time.
Analytical Services, CRAMS (Contract Research and Manufacturing Services), Collaboration, R&D, Custom Synthesis, Process Chemistry
How do your industry experience and unique skill strengths help you chalk out business modules for Telangana Pharmatech?
Our techniques to strengthening team capabilities include providing interactive and challenging sessions to entail involvement, review and consistent evaluations of the participant's progress, and facilitate planning and managing participant's assessments, tracking and scheduling activities, documentation of reporting requirements, etc. Our policy also includes monitoring the market dynamics, market expectations and evolves suitable strategies to execute the projects and provide the best price to compete in the market and quality products with timely delivery.
What new technologies/innovations are you planning to leverage in the coming years to significantly improve the performance of Telangana Pharmatech along with its discoveries and researches?
Our company is developing several new molecules indigenously to reduce the dependency on imports and provide at an affordable price to
the pharma industry. We have a talented team to strengthen discoveries and develop new preclinical and clinical projects to support the latest medicines for upcoming days.

Explain your R&D and infrastructural facilities and the various technological implements you utilize for these under takings. Also, highlight the various quality control measures you resort to ensure quality-based outcomes.

Our R&D facilities are located in Hyderabad, with good infrastructure that meets Good Manufacturing Practices (GMP) standards, and it has technically proven as well. It ensures the quality, efficacy, and safety of the products so that we don't have to compromise with consumers' health. And this is done by periodic monitoring of the quality objectives and validation & stability activities completed as per the schedule. The company is also dealing with MNC pharma chemical companies in India and exporting products to Europe, the USA, Japan & China. The company can produce several products from milligrams to multi tons as per the customer requirement in time.

What strategies are you devising to reach a stronger position in the Life Science & Pharma domain as an MD?
I initiated the process of improving capabilities by attracting, developing, and rewarding the best talent to continuously build up expertise and credibility in few products and a cohesive portfolio of products. I am also creating incentives for the promotion of innovations. Along with this, hard work, exemplary efforts at the right time, positive actions, and team building are yielding good results in our organization.

Dr. D. Sreedhar, Chairman & MD, Telangana Pharmatech
Dr. D. Sreedhar worked as a senior scientist in Expicor Pharma, Hyderabad, Hetero Drugs, HYD &DAELIM Chemicals, South Korea. He has rich experiences in R& D. He is a very good visioner, forecasting, planning, and executing the ideas flawlessly to take final accurate shape. He is dynamic and always thinks of the well-being of society.