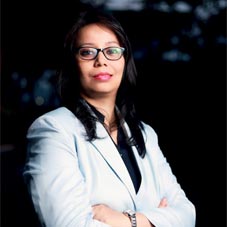 The Indian digital realm has been constantly growing over the course of the last couple of decades and acknowledging this growth businesses have all started to prioritize on creating and maintaining their digital presence. To help businesses with their digital marketing dilemmas, Brightlybee was established and the company strives to offer 360-degree digital services to their clients. The company is headed by industry stalwart Mrs.Padmasree who has been able to guide Brightlybee into a pioneering name in the industry within a short span of time. Her passion towards the profession and her commitment to offer the best for their clients have helped Brightlybee to not only create but also maintain an impressive clientele.
In an exclusive interview with CEO INSIGHTS, Padmasree talks more about her professional journey and the operations as well as aspirations of Brightlybee.
Can you tell us more about the operations of Brightlybee?
We are into training and digital consulting services and have got immense industry expertise in this area. Under the training segment, we provide digital marketing training, behavioral aspect training which is related to psychometric assessment tool popularly known as Everything DiSC profiling, a personal development learning experience tool that helps organizations workforce thrive in virtual work cultures and in the design vertical we are into brand design & web development for online branding, funnel building and social media marketing in terms of driving online
traffic and visibility to generate leads and grow their business. We also offer content marketing strategies and content creation for our clients as well as SEO. This makes the consulting part of our operations and apart from this, we also provide strategic coaching to our clients.
Can you tell us more about your educational and professional background?
I have always strived to learn new things on a consistent basis so that I can always be on top of my game. I have done my PG Diploma in Human Resource Management and double graduate in IT and Geol Physics Math. Learning is a continuous process and by practicing, it helps me staying abreast of current industry trends and adapting new skillsets for growth path. When it comes to my education, I learned about different topics that have helped me to increase my knowledge base and expand my horizons.
We want to expand our commercial reach and more importantly, we always want to grow together and when our clients are successful, we are successful too
I have also done a multitude of certification courses including Certified Master Practitioner course in Digital Marketing, NLP practitioner level (Neuro Linguistic Programing), TTT (Train the Trainer), Certified Everything DiSc programs etc. to upgrade myself and implement it. Throughout my professional career, I have been fortunate enough to work with multiple fortune 500 MNC companies & its clients across India. I am always grateful enough to my mentors met during different phases, that have had a positive impact on my career curve & their industry expertise and experience have helped me a lot in my professional journey as well.
How do you differentiate yourself
from the rest? Also, what is the USP of the firm?
We have a process-driven system and we completely understand the requirements of our clients so that we can offer customized solutions for them. We always build a long-term relationship with our clients and by working on a niche area and make sure that we are able to offer a complete package of services in that specific area. We take care of strategy, management, design and collaboration and we ensure that we never compromise on the quality of our offerings so that we are able to offer class-leading services for our clients.

What are the future plans of the company?
When we started the business, we didn't start off very aggressively and we have been organically growing with more and more clients now wanting to work with us. Going forward, we want to expand our commercial reach and more importantly and believe in growing together, when our clients are successful, we are successful too. We are also working on other aspects and are launching a new product in mid of this year 2021. This product will have the latest technologies incorporated into that and this will help our clients to operate in a much efficient manner.

Through this product, we are also aiming to help 10,000 digital aspirants and build a digital ecosystem where they can thrive using this e-learning platform. This is going to be a revolutionary product in the industry and we want to utilize the full potential of this platform to have a positive impact on the industry as a whole. For me personally, I am authoring on two books and plans to publish soon by end of this year, with an aim to pass down the value added learnings that I gained throughout and experienced in the industry to the upcoming generation.

Padmasree Barbora, Founder, Brightlybee
Padmasree is an exemplary business professional who has been able to create a niche for herself in the industry and owing to her passion to constantly learn and improve, she has been able to always stay ahead of the curve.