It is no shock that the COVID-19 pandemic has influenced the restaurant business, but the corporate catering service market has been hit twice as hard as most companies have adopted work-from-home policies and closed their office premises. Most small catering business have found it difficult to get through this crisis. But there is one such company, that decided to explore other options during the ongoing pandemic, and using all the available resources it identified new market opportunities during a global crisis, emerging strong in the market and carving out its own unique brand identity. This corporate catering company is FoodRoot. In an exclusive interview with CEO Insights, Biswajit Saha, the Owner of FoodRoot enlightened us about the hardships they went through to establish a successful business.

What's the inception story of your company - FoodRoot?
FoodRoot was established in 2019, with the concept of having a cloud kitchen. It is named 'FoodRoot' because it aims to provide a wide variety of regional cuisine that bring out the essence of each cuisine's heritage and regional legacy.

Originally, we planned to have a small chain of cloud kitchens that would provide different regional food items that can be easily available at multiple locations. However, we found that servicing retail orders through app-based delivery partners is a time consuming and costly process as far as we were concerned. Our strength was that we already had a fully professional kitchen set up and wanted to utilize it in the best possible way. That's the story of how we landed up in the corporate catering sector. Over time we started exploring other opportunities and market gaps in the catering industry.

The business was starting to do well when the pandemic hit and lockdown was imposed, and almost overnight the corporate catering sector took a huge impact. Once again we went back to the drawing board and started to look at our options. We were searching for new horizons to maintain FoodRoot as a going concern. Remember, like any other undertaking, FoodRoot has fixed costs like staff salaries, rent and other overheads.

I take a great deal of pride in saying that FoodRoot did not fire a single staff member because of the pandemic, rather we supported our staff and their families and reached out to work with local NGOs to help out of job wage workers and daily laborers.

Our search for new horizons led to
us being associated with about 10 hospitals for meal services, and our good quality food and service brought us the recognition we needed to start getting more clients. Recently, we have launched another brand called Aab-o-Daana, a retail restaurant chain specializing in Mughlai cuisine.
What are the pain-points that your clients come up to you with? How do you help them through these challenges?
We serve many software companies and hospitals, who expect high standards in terms of food quality and food presentation. On our menus we use thumbnail images to showcase our food items for the picky eater and the foodie alike, since we understand that everyone prefers tasty, hygienic food with sufficient portion sizes within affordable range.
There are two products FoodRoot is working on, one is frozen food and the other is healthy food
For instance, every client would have a set of requirements, e.g., some companies may have two shifts, one at day and other shift at night, so based on this we have to cater to according to shifts and number of employees. Similarly, the meals that we cater for hospitals would have different criteria as sick patients would need not only tasty but also healthy and nutritious meals that comply with certain diet plans. What we would offer a heart patient may not be the same as what we could offer a diabetic patient, and so on. We also serve our catering services to quite a few maternity hospitals, who have strict guidelines for healthy and hygienic food for their patients.
Soour clients come to us with various requirements, and then we search out best fit options for every model and catermeals accordingly; this is the kind of process we maintain and adhere to while offering our services, and is also a key to our success.
Are there any standards/certifications/ regulatory compliances that your company has to adhere to while offering your catering services?
We adhere to FSSAI, and we conduct periodical lab tests to test our food and water, and we also have third party auditors who evaluate our services.
Has your company tied-up with any logistics partners to assist you in
transporting food items to companies? Name a few of your clients, along with case studies that would depict the efficiency of your services?
For corporate catering logistics we have not tied up with any third party, we have an in-house team that takes care of logistics; we have 4 four-wheelers and 8 two-wheelers, so far we have found this option gives us more control over the delivery process and timelines, and is also more cost-effective.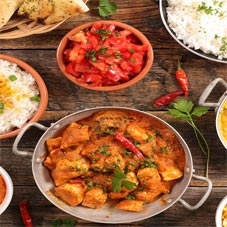 For general catering logisticswe are registered under Zomato, Swiggy and Dunzo.
Is there any innovation or upgradation currently happening in your company that might soon be available in the market?
There are two products we are working on, one is frozen food and the other is healthy food. Due to the pandemic, the corporate catering market has been badly impacted as most corporate employees are working from home, many have gone back to their hometowns. The current volume of business in this segment is nowhere near what it used to be prepandemic. The corporate catering market will flourish back, yes, but I think it will take a year or two before we get back to pre-pandemic volumes.
On the other hand, there is demand for other food-related products such as contactless vending machines for packaged meals. We are also seeing an emerging demand for frozen foods. So, at FoodRoot we are working on these kinds of product which would have better shelf life and could be stored in normal fridges or specialized contactless vending machines, to be purchased and consumed as and when needed. We are planning for an entirely new premium brand that would be based on pure and organic healthy food items targeted towards the health-conscious foodie.
Biswajit Saha, Owner, FoodRoot
Being an alumnus of M. S. Ramaiah Institute of Technology, Biswajit Saha holds a wide range of experience in Corporate Industry. Before establishing FoodRoot, he has been a part of prominent company Infosys.
Location:
Pune