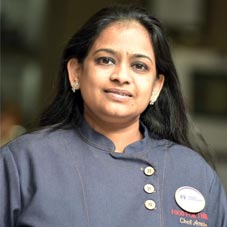 Juggling between personal and professional life, she decided to take a break from her business. As an ardent self-made go-getter, she could not stay at home just as a homemaker. She started experimenting with various dishes. The lady who had not stepped into the kitchen realized that she is the best when she is in the kitchen. She started with the home catering of few mastered dishes, which then led her to take up cooking classes. The word spread quickly, and from there was the inception of Food for Thought in 2010. With no advertising or marketing, the firm grew organically. In 2016 it leaped to realize my calling with the mentorship from SWAYAM. Then, she introduced Bespoke catering services for the Elite, curated events for CXO meets and personalized occasions for clients, home deliveries for smaller gatherings or just a private meal started a tiffin service only for Senior Citizens.
Little did Anshu Archit Jhunjhunwala know that within a decade, she would become a successful chef and founder of a well-known food and catering service called Food for Thought (FFT) based out of Bangalore, India. She also received the Mass Entrepreneur Award from GAME for being a successful woman entrepreneur in the F&B space. CEO Insights engages an exclusive interview with Anshu to know more about her journey. "Behind every successful woman there is an untold story".
Highlight Some Interesting Factors About Your Company.
We are a bespoke catering company operating for the last 10 years. We curate experiences as our client's requirements. Catering for corporates has been our forte, planning themed events, private parties, milestone occasions are our key specialties. Bringing global cuisines in their authentic format, we encourage young students from hotel management backgrounds to work with us to gain experience.
FFT is into food fusion and the science and art of gastronomy when
it comes to preparing, presenting, serving, and consuming different kinds of food. All kinds of global cuisines especially Burmese, Pan Asian & Lebanese are our specialties.
What Additional Value Do Your Company's Services Offer To Customers That Similar Other Caterers In The Market Fail To Deliver? Explain Your USP.
Our company curates specialized live counters for our clients, our plating of individual portions and presentations is unique to our company. We create menus to cater to all diet formats. Quality of staff, quality of food, and the overall look of the event is our USP. We bring back nostalgia by creating memories through our dishes. Our vision is to make it an all women-run kitchen service, empower women by skilling them in this field.
Fft believes in striking a chord of balance and harmony when it comes to food, taste, flavor, worldly ingredients, curated menus, service, and bringing other elements together to stew a personalised unique experience with everlasting memories
Our Company makes each event memorable, our tagline as we say "Your Occasion is Ours", stands true to every word. High Tea displays for CXO meets, themes curated parties for clients all are done under expert supervision keeping in mind the customer value. Home deliveries for food are done with maximum care and safety. Food is sent well packed and labeled for easy understanding of the host, smooth entertaining. We suggest different dishes for delivery and live catering as per the requirement of the dish.
How Do You Ensure The Quality And Hygiene Of Food Items Catered Through Your Company? Also, From Where Do You Source Essential Ingredients For Your Cooking Process?
Hygiene and safety have always been our priority, we have our team to look into this personally. Our ingredient sourcing is done from reliable vendors and we try to empower more farmers by buying from them directly.
Tell Us About Your Team Of Chefs, Their Experience, And The Way They Innovate Within The Comfort Levels Of The Consumers.
The team is led by me, all my chefs are trained from Hotel management colleges, we bring about everyone's talents and curate menus as per our expertise as a team. We have chefs who have trained under me for presentation and creating new dishes. Our kitchen will eventually be an all women-run kitchen.

What's The Inception Story Of The Company And What Were The Hardest Milestones To Cross?
The inception of the company has been completely out of a passion for cooking, Started it 10 years back and today it is one of the most looked upon catering company. Cooking live and seeing people appreciating the food is the biggest reward. Scaling up was a hard milestone, from moving out of the comfort zone of just doing a delivery to doing a live catering, we received much acceptance and demand for it. It was thanks to our regular clients that we got into that space. It's the belief of my husband in me that has kept me going and support for my two sons who are now helping me in the business and scaling it up.

Is There Any Innovation Or Upgradation Currently Happening In Your Company That Might Soon Be Available In The Market?
We have created an online restaurant called Pockets and Bowls which serves are 2 main signature dishes of Burmese Khowsuey and Lebanese Falafel, we are on Swiggy and Zomato. We also launched our retail brand FFT-RETAIL, manufacturing packaged condiments. This and Pockets & Bowls was launched in the pandemic.
Tell Us About The Recent Revenue Growth, And The Future Roadmap Of Your Company
We added 2 new brands to our company, our future is to travel with our catering and do larger events, our vision is to run an all-women kitchen and empower more women to run their livelihood, by skilling with us and working with us. Having footprints all over the country, working through NGOs for women is our goal.

Anshu Archit Jhunjhunwala, Founder And Chef, Food For Thought
Anshu Archit Jhunjhunwala started her entrepreneurial journey at the age of 16. A qualified interior and fashion designer, interned in Singapore for Jewelry design and marketing, started her designer boutique called anshu - niti designer Saree studio.

Clientele
Hni Sector, Cowrks, Wework, C.Krishniah Chetty Jewellers, Ffolio, Aparanje Jewellers, Airbus, Alphonso Tv, G2, Emerald Store And Many More.