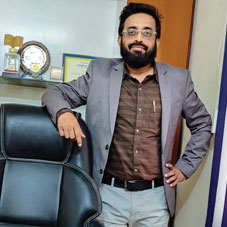 Aamir Junaid Ahmad, the CEO of the company has been spearheading their operations and taking BusAndTicket towards greater heights consistently. A serial entrepre neur and a Digital Marketing expert, Mr. Ahmad has created, financed, consulted, and validated new business concepts in e-Commerce, education, food, real estate, apparel, and digital marketing, some of which have developed into established businesses. In an exclusive interview with CEO Insights, Mr. Ahmad talks about his professional journey and the unique business operations of BusAndTicket.
Throw some light on your educational/ professional background and experience. What inspired you to venture into the online ticketing domain and what drives you today?
I did my schooling from St. Michael's High School, Patna.I have completed my Masters, M.Tech in Computer Science from Graphic Era University, Dehradun and a PhD from BIT Mesra Ranchi. From very early in my career I was interested in doing something new, something different. I started a software company S S Systems Pvt Ltd which is more of a startup studio where we help new companies to have their presence on the internet and help them through Digital marketing. The Bus Ticket booking industry is huge and there are few established players in it. So, we thought of exploring this with BusAndTicket.com. We have our own way of making ticketing easier for bus travelers.
How would you define BusAndTicket as an organization and its position in the market? What is the unique proposition that your organization offers to clients?
An entrepreneurial adventure driven by relentless innovators, BusAndTicket is an organization with very clear short term and long term goals. We are passionate about creating amazing experiences for passengers and partners. Energized by a great work environment, we nurture talent, celebrate innovation and conquer challenges. We journey towards creating great moments in travel, always striking a balance between getting the job done, while also having fun along the way.
The use of IoT has been adopted for resolving the issue of lost luggage, which is causing a lot of stress to passengers as well as a lot of costs to the bus travel industry
BusAndTicket.com is coming up for the first time with the concept of dynamic pricing in bus ticket booking using the Analytical Benefits of AI. The bus seat rates can change based on weather, events, and how many seats are available. However this will be implemen ted subject to approval by the stakeholders.
The use of IoT has been adopted for resolving the issue of lost luggage, which is causing a lot of stress to passengers as well as a lot of costs to the bus travel industry. BusAndTicket. com aims to adopt IoT tools to reduce baggage mis handling at bus stands. Sensor based baggage solutions will send a push notification to the traveler when the bag gets loaded and each time the bag is adjusted or unloaded. In this way the passenger will know exactly when the luggage is loaded, unloaded or accessed. Use of such technology to track their baggage via a link found on their mobile ticket will build confidence among the passengers.
While the implementation of these technologies can be complex and expensive, it pays off in the long run by improving user experience and customer retention. After all, customers are most likely going to return to a service if they've been satisfied with it in the past.
What are the major challenges you have experienced in your journey so far? How did you overcome them and what did you learn from them?
Any startup has a lot of challenges and BusAndTicket is no exception. As we operate from Bihar, the biggest challenge is in getting a skilled workforce. There is a mind
set among young professionals to move to metros for better livelihood. We are trying to change this by providing better opportunities. Passengers are always looking for Offers and Discounts, so we have to come up with new offers and deals always. With limited profit margin this is another big challenge.
Bus passengers are used to older brands, so making inroads to established brands is also very challenging.But when the product or service is good people are bound to come to you.
In your professional journey so far, which are the milestones that bestowed you with utmost satisfaction both as an individual and as an entrepreneur?
Touching 1000 paid customers is always in every Entrepreneur's mind. Achieving this milestone in a few days of the launch was very satisfying. Business Connect magazine selected our parent company S S Systems as one among the 20 startups to watch for in 2021. Apart from this being awarded Times Excellence 2021 was the utmost satis faction. Having said this, real satis faction comes every time when a customer gives a positive review. Nothing is more satisfying than a satisfied customer.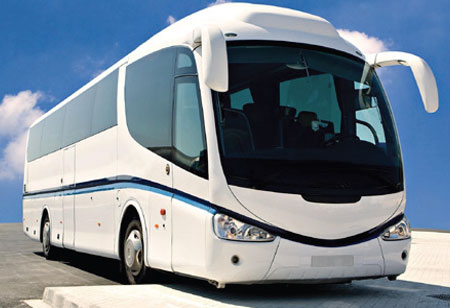 Going forward, what are the changes in market behavior that you anticipate and what are the opportunities that you foresee?
Corona has thrown new challenges and opened up a lot of new opportunities. Cleanliness has become one major criterion in bus travel. People are looking for more non-AC buses than AC buses. We are onboarding the non AC buses which were less in demand earlier. We are also providing sanitizers and safety kits to our passengers at select cities.
In the light of your strong experience in the online ticketing domain, what advice would you give to the budding entrepreneurs?
Working and adapting to the changing world, I believe, will be the theme for 2021. The healthiest course of action is to relax your grip and be adaptable.
Aamir Junaid Ahmad,CEO, BusAndTicket
This enterprising business leader is aiming to implement unique business strategies to ensure the sustained success of his business and take BusAndTicket towards greater heights consistently.