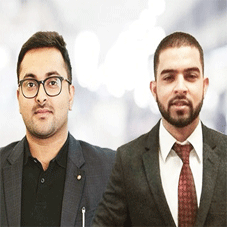 The present offline supply chain segment for cement is highly fragmented, orthodox and very unorganized in nature. cemX is India's first Cement aggregator platform that aims to facilitate a direct supply channel between the large dealerships of cement to the end consumers be it a real estate company, builders or small retailers or even lower down on the supply chain in the B2B domain to large individual customers on the B2C side. By taking the procurement process of cement online into the Digital domain, cemX envisions to achieve parity and transparency in the entire orthodox Indian cement industry.
Recently, CEOInsights India Magazine got an opportunity to get in touch with two of the Founding members at cemX Sourav Chakraborty and Ashutosh Kumar Jha. In the interaction that followed, both the brainchild behind India's first ever cement e-commerce platform talked us through the inception story, and some of the painpoints that are being addressed through their disruptive digital platform.
How did you come-up with the idea of cemX? Walk us through your inception story.
It was Ashutosh's father, one of the Directors of cemX, who once candidly expressed about the troubling procurement and finance issues with the building materials industry which he was a part of for the last 30 years. Ashutosh recognized this as an opportunity and wondered why this industry was unhindered by the digital channel. He began the ideation process to design-think prototypes. While the beta-prototype testing of the idea was on, he met Sourav in Kolkata and shared his learnings about the nuances of this trade. Sourav was quick to realize the huge potential the idea promised in India's digital transformation era and began to brainstorm various business strategies to accelerate its performance and growth. His aptitude and learning acted like a catalyst to Ashutosh's research, and hence we collaborated to launch cemX.
What benefits does your company offer to the clients in the cement procurement segment that similar other companies in the market fail to deliver?
Unlike major investor backed e-commerce companies, who are
offering an entire gamut of building-materials supply, we are deliberately product-specific and geographically focused. We understand how cement is the most important ingredient for the building and construction industries. Compared to large dealers and companies, smaller and local establishments are deprived of the cost benefit on procurement of materials due to their small order-size or due to the presence of multiple sub-sector middle-men in the supply chain ladder. Ours' is an umbrella platform to bringing different brands of cement in a digital easy-to-use setup where a customer can order his choice of cement remotely from his device and at their convenience. It ensures the best price guarantee, and a democratized central-pricing to remove any price arbitrages based on demographic limitations. It ensures cost savings of at least 7.5% to its customers with a quick EMI-credit feature of up to purchases of INR 2 lakhs.
Ours' is an umbrella platform to bringing different brands of cement in a digital easy-to-use setup where a customer can order his choice of cement remotely from his device
Most importantly, we are disrupting the age-old traditional Cement industry in India into one organized platform. At its core, cemX acts as a B2B and B2C online procurement marketplace for cement. Therefore, by taking the procurement process of cement online into the Digital domain we aim to achieve parity and transparency in cement pricing thereby removing middle-men and any arbitrage for offering economies of scale on cement pricing. Procuring cement online at the right price is helping the companies, individuals, and the retailers alike, to avoid cost over-runs to a very large extent.
What are the various challenges of the clients that are being resolved through your platform? How do you help them through these challenges?
One of the major issues we encountered while approaching small-scale builders and contractors was the incumbent credit-recycle approach to cement procurement as for which they were willing to pay a high retail price for the cement procurement. Hence, to appropriately capitalize in the lending-driven cement procurement industry, cemX has partnered with India's premier NBFC ZESTMONEY, to launch a first-of-its kind holistic approach for quick and affordable EMI options for their end customers. This is the first time when a low-cost EMI credit option shall be offered to any Building Material customer to cope up with the financing challenges of small and
medium builders in Tier 2, Tier 3 and Tier 4 cities of India. The usual cart size varies from INR 5000 to INR 2,00,000 with a repayment period between 1, 2, 3, 6, 9 and 12 months respectively at interest rates as low as 0.5%.

Tell us about your company's recent growth, and the future roadmap that lies ahead.
We are currently operating from Kolkata, Sitamarhi, Muzzafarpur, Bardhaman in Eastern India. cemX has realized a revenue of over INR 1.1 crores (GMV) to emerge as one of the foremost e-commerce start-ups from West Bengal. We have thus far witnessed a consistent monthly growth of over 120% since January '20, and a yearly sales turnover of over 3500%. We have in fact, also been selected as Top-100 startups of South Asia by Lemon Ideas Innopreneurs Contest and amongst the Top 500 startups in India by Kuberan's House, India.

We are working on an alternative to tradition-al bricks reusing plastic and other bio-degradable wastes. The technology is presently under testing at Jadavpur University, Kolkata. We are also at present working towards automating account features providing credit status, digital ledgers for our B2B clients, Push-Notifications & Multi-lingual Voice promotions and reminders of Live delivery vehicle tracking feature and Chat bot for 24/7 customer support as well. Moreover, currently cemX is envisioning to diversify its portfolio to include other gamut of building material products like steel and chemicals and are planning to expand operations to newer territories.

Sourav Chakraborty, Co-Founder
MSc & DIC in Management from Imperial College London 2019MS in Electrical Engineering from Boston University 2016B.Tech in ECE from IEM, WBUT, 2013
• Former Delegate at London School of Economics Emerging Markets Forum 2019
• Former Delegate at BIDE, London 2019
• Fellow of the Royal Society for encouragement of Arts, Commerce and Manufactures (FRSA)
• Elected Member (MRIN) at Royal Institute of Navigation, London, UK Chartered Engineer (CEng, India) at The Institution of Engineers, India
• Chartered Engineer and Member (CEng, MIET) at Institution of Engineering and Technology
• Chartered Manager and Member (CMgr MCMI) at Chartered Management Institute, London, UK

Ashutosh Kumar Jha, Co-founder
B.Tech in Information Technology from WBUT
• Attended Innovation and Entrepreneurship programs at Shenzhen University, China and Harvard University, USA
• During his undergrad days he ventured into setting up two distinct startups as well (Knockstarter & Jha Ventures).
• Currently pursuing A.L.M. in Management from Harvard University (Class of 2023).