Easydaftar: Convenient & Hassle-Free Working While Building A Huge Network Of Suppliers, Vendors, And Other Services Providers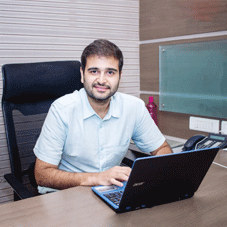 For any business to sustain and thrive in the longer run, is no more competitive advantage - it's a necessity. Setting-up office infrastructure essentially slows down the business and locks up capital. Therefore, companies need to get off the ground quickly, experiment projects, and swiftly manifest to newer locations. This is a distorted sense of reality in any business today. As a paramount requirement, every growing business needs an office that can cater to its two most basic requirements - accessibility and functionality.
Kolkata-based EasyDaftar is changing the perspective of people by delivering easy office solutions that not only provide office spaces with all the amenities but increases the efficiency and output of the business by opening doors to flexibility, comfort, and convenience. Concerning the customization and availability of the co-working space in the country, Saahil Wadhwa conceptualized the brand in 2016 and diversified the portfolio in categories such as signature, virtual, startup-friendly & budget-friendly, and bespoke. Today, the company is recognized as the first coworking chain of Kolkata & East India with the largest presence of five outlets in the city. We are a strong example of VocalforLocal as we a brand by the city of Kolkata & for the city.
In an exclusive conversation with CEO Insights, Saahil shares interesting facts about his company and his journey of driving value to businesses.
Brief us on your educational and professional background before building EasyDaftar.
I did my Degree in Business Administration and Management
from J.D. Birla Institute of Management. I also hold an MSc in Advanced Management Practice from The University of Bath and handled the supply chain of Activinstinct Ltd. -a wholly-owned subsidiary of the UK's 2nd largest sports retailer J.D. Sports.
EasyDaftar established presence in an area of aggregate 25000 Sq.ft. and capacity of 500+ workstations
Throw some light on the establishment of EasyDaftar. What prompted you to conceptualize the brand?
I explored many coworking spaces during my days in the United Kingdom. And that's when it dawned on me that Kolkata did not have any such services for the businesses in the city. Noticing a global shift in demand from privately leased and held spaces to coworking spaces where people are undistracted, hold meetings with clients, and collaborate with other service providers, we anticipated that demand in the coming time. And hence taking advantage of the first-mover position, we launched our first outlet after proper research.
And about five years down the line, I can safely say that was the right decision because today we have experience of consistently providing services through five outlets whereby our value in operations and quality can shine through.
Highlight the offerings of the company and how are you benefitting your clients?
EasyDaftar assists entrepreneurs & businesses in saving cost & capital through office space solutions. We enable startups and businesses to focus on their core activities while providing them with the best-suited office spaces at the least cost and without any hassle. Our focus is more on being effective "Enablers" rather than run-of-the-mill office space providers.
The driving aim of EasyDaftar is to encourage businesses by providing plug & play spaces! We offer customized solutions that best fit needs and results in precious cost &
time-saving. We wanted to revolutionize the concept and make Kolkata experience a new way of working.

We provide fully serviced office spaces without the legal, administrative, and capital troubles which one has to endure before even be-ginning any business activities. It is quick, reliable, convenient & easy! If you are looking to get any work done in a fantastic environment of like-minded thinkers, sign up for an EasyDaftar and get business rolling immediately in just a few hours.

We are the only player in the city to be providing 100 percent flexibility and zero lock-in period. The major advantage of being with us is the unparalleled network of 300 plus companies to connect with.

Share details on the growth of the company in terms of geographical presence.
We emerged as the only coworking chain with five outlets in Salt Lake Sector 2 & Sector 5, Park Street, Rashbehari, and Minto Park. We are catering to a diverse collective clientele comprising of corporates, SMEs, startups, consultants, free-lancers, business houses & entrepreneurs. Our clients can use any of the outlets without any extra charges. They can organize meetings at their closest location, which saves their precious time.

EasyDaftar's cross-outlet solutions in various geographical divisions make it easier and profitable for customers to cut down travel costs & increase man hours hereby increasing work output. EasyDaftar primarily enables the customer to choose a location of choice, a setup of choice, as well as have the office tailor-made to their preferences.

In the years to come, we are looking at expanding to become a Pan India chain providing the same benefits & advantages to a national audience.

Date Of Establishment: June 2016
Locations: Salt Lake Sector 2, Salt Lake Sector 5, Park Street, Rashbehari, and Minto Park

Roadmap: In the next five years, EasyDaftar is planning to spread its wings in multiple cities likes Hyderabad, Bhubaneshwar, and others