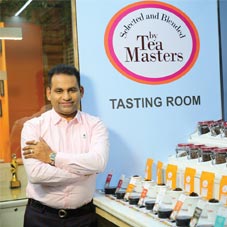 2020 will be another year of growth as more national and international news sources and influencers will continue to build buzz around the tea lifestyle. This buzz is not around new technologies or innovations of tea, although there will be no shortage of entrepreneurs attempting to innovate tea. Instead, what attracts new people to tea is the social, cultural, and educational experience. Every community across the country has at least one tea shop or enthusiast, exposing these experiences and creating a tea community.
Turning the chapter of a passionate dream to making it a breathing reality, Rajeev Baid started the beautify journey of Chai Chun Tea in 2015. Chai Chun is a celebration of the rich, diverse, and many-splendored culture of tea drinking. The Chai Chun logo brings alive the Indian diaspora of teas. The Tealeaf is at the soul of the tea brand and is the architect of the tea moments. The firm finds inspiration in the leaf and its many facets, and the logo embodies various experiences and joys of tea in its vibrant rendition of the teacup. Chai Chun offers tea lovers to experience every facet of tea and its man moods. Further, in an exclusive conversation with CEO Insights, Rajeev tells us about the finest teas online under one roof.
The number of positive attributes regarding tea continues to be bolstered by research and demonstrates why everyone should consume this great product. How does Chai ChunTea work in this space? How do you fulfil the different needs of customers?
Chai Chun offers tea in many different flavours, aromas, and hues. We have the perfect tea for all customers, whatever the mood or the occasion is. We help you find whether a cup that rejuvenates and refreshes, soothes and relaxes, builds immunity, enhances well-being, or simply enjoys a cup while relaxing with a book. We offer a wide selection of premium loose teas, herbal, and botanical from India's best estates. At Chai Chun, teas are sourced from estate across, Siliguri, Assam, Dooars, Nilgiris, Southern India, Sikkim, and Darjeeling regions to offer the tea-drinking patron an eclectic variety of flavours, tastes, and experiences. Every tea is further blended and customized to the Indian palate by Chai Chun in-house tea master. It is packaged with the utmost attention to ensuring freshness, quality, and consistency in every cup. Each tea is chosen and tested by a panel of connoisseurs with impressive combined expertise. Chai Chun committed to transforming the way the tea is perceived and consumed by making your tea purchasing experience pleasurable and enjoyable.
What are the various products that you offer to clients?
Presenting a unique range of
products with over 165+ varieties of tea, Chai Chun offers all popular brands of tea and tea variants under one roof. The pricing starts from Rs.300/kg to Rs.45,000/kg, enabling customers to select tea according to their taste & budget. Also, right from green, floral, health, herbal, masala, classic, oolong, white and black tea to CTC, premium, assorted, flavoured, orthodox, single estate, and tisane tea, we ensure distinct quality with every sip stirring different tongue rousing experiences. Today, Chai Chun stands as one-stop-shop for tea lovers that endeavour to serve the right beverages to right age people with an elite quality.

What is the methodology involved in preparing your products? What kind of technical and market expertise goes behind the scenes to ensure quality products at Chai Chun Tea?
With the help of such variant options in tea, we are able to fulfil all the different demands of clients. According to the clients' choice, we offer tea which matches their taste, such as few of them go for authentic garden-fresh orthodox teas or flavoured tea or herbal tea. It always depends on the person's mood and the occasion, and we avail all kinds of tea a person can ask for. We are able to provide such variant teas in top quality because of our experts who thoroughly test every product before it reached to client's cup. Our products are certified by Trustea and Tea board and follow all FSSAI regulations. It utilizes the right ingredients, hygiene & safety measures, and lab approvals for safe and quality-oriented tea production. We take a complete guarantee of our products till they reach to consumer and since inception, we haven't received a single complaint about our product. Innovative by nature, Chai Chun is looking forward to introducing various medicated teas, keeping in mind the increasing health awareness among people. Having 15+ stores PAN India with the franchise model, the company aims to open 100+ stores across India, mainly at airports and malls where customer footfall is maximum.

What opportunities do you foresee in the F&B market, and what are your strategies to make Chai Chun Tea leverage the best of these business opportunities?
India's tea market is driven by the high penetration of the beverage in the country across socioeconomic classes. India's healthy economic growth and the subsequent rise in the middle-class population are also proving to be catalysts for the industry's growth as the consumers prefer premium brands. The rising demand for the packaged variety of the beverage in urban and rural areas due to lesser chances of contamination, convenient storage, and superior quality is further aiding the tea market in India. The demand for packaged varieties with natural ingredients is also witnessing a growth.

Furthermore, the middle class is also willing to experiment more with tea blends, thus, providing an impetus for the growth of segments like fruit, herbal, and other specialty varieties. Green tea is expected to witness robust growth in the coming years as its consumption is witnessing an increase as people become more aware of its health benefits. The green tea market is being driven by the urban
population, supported by the beverage's increased intake without milk in these areas. Thus, the rapid urbanization and the rise in disposable incomes in the country further aid the tea market in India.
Moreover, the growing popularity of cafes/ lounges, primarily serving variations of the beverage, is expected to drive the industry in the coming years. The convenience of its distribution channels like local kirana stores and supermarkets and the growing online channel will also aid the industry growth. With busier lifestyles and a growing workforce, the RTD segment can witness a healthy increase as consumers seek more convenient foods and beverages. The increasing innovation will also drive India's tea market in packaging and flavours in the coming years. The rural sector presents another segment for the expansion of the industry.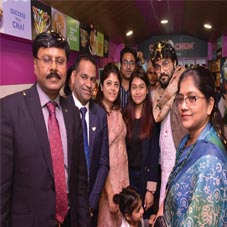 Innovation is the only way to stay ahead of the competition in recent times. How are you updating yourself with the latest consumer trends to make CHAICHUNTEA reach its future goals?
Chai Chun is a one roof solution that offers customers everything under one umbrella, keeping the customers' requirement/palette in mind the upgradation is looked after. Along with this, Chai Chun is now mainly focussing on giving customers what they want to drink in terms of flavours/health. We've been targeting foreign markets to increase tea's value and promote Indian over the world.
Key Management
Rajeev Baid, Founder & MD
Rajeev Baid has established himself as an iconic visionary in the tea industry. In 15 years, he has brought about significant revolutions in the tea trade, making bold decisions in an otherwise conservative industry. With in-depth knowledge and industry expertise, his contribution to the domestic and international markets has been significant, instrumental in furthering tea consumption growth.
Offering
– Different types of tea from green, floral, health, herbal, masala, classic, oolong, white and black tea to CTC, premium, assorted, flavoured, orthodox, single estate, and tisane tea.
Restaurant On Wheel by Chai Chun Tea Cafe, Asansol
In India's history, Tea or Chaa or Chai have always been a fraction of the Railway panorama of India. Tea is the quintessential ingredient of Indian railway experience. To showcase the historical evolution of tea and railways for their tea lovers, Tea Board of India, through Chai Chun, has taken an incredible initiative. For the first time in Indian history, a café has been introduced under the name Restaurant on Wheels in Asansol, which was inaugurated by Shri Babul Supriyo on 26th February 2020. This café offers high-quality tea and food and shall be a pillar to India's tea and railway history