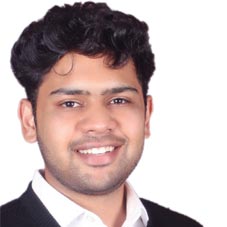 The beverage Tea is the second highest consumed beverage after water and India secures one of the top positions in the production of tea. The growing demand for tea for its aroma and quality is majorly driving the Indian tea industry. Tea found in India is categorized into 3 types, namely Assam tea (highest cultivation), Darjeeling tea (Superior quality tea) and Niligiri tea (subtle and gentle flavours). Kannavarai Tea is one of the oldest and quality focused Niligiri Tea producers. Kannavarai Tea Industry was established in the year 1990 and was named after the adjacent reserve Shola forest. The growing success of the industry over the next two decade resulted in an expansion from one unit to 3 production units.
Gauthaam Anand, the Marketing Manager of Kannavarai Tea takes care of the retail sector and helps to accommodate quality products and enhances product packaging to stand ahead in the market. Currently, Kannavarai Tea is among the top ten tea producers in the Niligiris with a production capacity of 25 lakh kgs per annum. As a traditional family business, Gauthaam is taking forward the industry from the wholesale sector to retail and the online sector by product enhancement and branding. CEO Insights, takes part in an exclusive interview with Gauthaam Anand, who elaborates on the tradition and establishment of the business.
Kindly tell us about the key points about Kannavarai Tea that you want us to highlight in this profile?
Kannavarai Tea is a traditional family business that was established in the year 1990. Among otherbusinesses of the Kannavarai Group, tea has been the essential and most seasoned one. In the course of more than 25 years, the organization has been that of a dynamic quality centred Niligiri tea producer. The effort involved in mastering blends spans over three generations who have dedicated their life time to perfect the art of tea making. Our organization has
won the trust of our customers and consumers as a quality driven and consistent tea manufactures.
What is the USP of your products that segregates you from several others competitors in this food & beverage domain?
• Managing partners have a combined experience of 50 years in tea trade right from the field to cup, teas that are offered to the market be it retail or wholesale are personally tasted, inspected and verified by the managing partners. We uphold this tradition to ensure consistent strength, flavour and taste.
• The two most important characters of a blend are flavour and strength, Kannavarai offers large scale customers such as School, colleges, chain of bakeries and other intuitions an option to customise according to preferences.
• Minimal marketing cost hence products are worth the quality.
We believe we have a great product, and our quality speaks for itself
How is your educational background and professional expertise instrumental in carving an efficient business model?
Tea making has been my passion since I was a youngster and I invest the vast majority of my time in our factory. I look forward to develop alongside the business and my style was passed on by my grandfather and father. I finished my graduation from Christ University, Bangalore and Master's from University of Hertfordshire, London. Through my education I have discovered that the most important aspect of branding and marketing is that brands have to keep up with market trends. Shortly after graduation I revamped the entirety of our product design, the look and feel of the product.
What kind of market demands do you come across or have observed in the past that have driven Kannavarai Tea's product portfolio?
• A surge in online orders
• The Nilgiri is being a tourist destination we get travellers in our district throughout the year who purchase our teas from the neighbourhood market. We have noticed that we get large repeat orders and dealership requests from these tourists who have tasted our tea. Another interesting pattern is
that we get enquiries from homemakers at big cities enquiring if they could buy and sell our products in their area or their apartment building.

What are the various tea variants Kannavarai Tea preparing and what are the various flavours Kannavarai Tea provide for its clients? What is the methodology involved in preparing your products?
• Kannavarai group of industries predominately manufactures black CTC tea as CTC teas have great demand within the country.

• Our methodology of production involves hand plucking of selective leaves that are processed in a state of the art facility with constant supervision by the managing partners.

• Flavours such as lime, ginger and masala can always be added fresh to the tea and can added according to individuals taste and preference.

Food & Beverage engineering is the constant change and the only way to stay ahead of competition in recent times. What kind of innovation/ upgradation is currently happening in your organization?
At first we upgraded our products in terms of design and packaging, secondly we reached out to distributors so customers could get access to our products on the shelf and most importantly we placed our brand of products in most major online platforms such as Amazon, Flipkart, Paytm mall, etc. enabling access to our products from anywhere in the country.

What is the future roadmap set for Kannavarai Tea? How are you updating yourself with the latest consumer trends in order to make Kannavarai Tea products reach its future goals?
• Prompt delivery and communication

• Only about 5 percent of our production goes into the retail, we are anticipating an increase our retail sales to 30 percent within the next 5 years.

• Kannavarai is also looking forward to introduce organic green tea and organic CTC black tea to our product portfolio.
Key Management:
B. Lingan, Managing Partner
B.L Anand, Managing Partner
B. Dinesh, Operations Manager
G.Shivraj,Accounting and Finance
K. Deepa, Operations Manager (Retail)
Gauthaam Anand, Marketing Manager