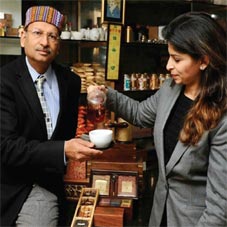 Being the most widely consumed beverage in India, tea is adored by all despite age differences. In independent India, the tea industry has grown as an organized sector that bears a significant economic asset. India is blessed with high-quality tea from the hills of Darjeeling, Assam, and Nilgiri for its unique aroma, flavour, and taste. Many industries related to tea production find it a daunting task to procure a humongous amount of samples and segregating the good from the bad. Here, they need a professional tea garden aggregator to help with saving time and money.
With a particular skill to handpick the best of the teas from a wholesome amount, Mittal Teas - run by father and daughter duo, Vikram and Nikita Mittal, is carving a niche out of tea industry. The company, headquartered in New Delhi, delivers top-class teas to leading hotels and cafes in India, and quality oriented brands worldwide. Nikita Mittal, the Head of Sales Marketing, is a B.Tech graduate who has been the industry for the past seven years. Being a new generation tea master and an enthusiastic marketing leader, she is looking forward to entering various other markets outside India. CEO Insights engages in an exclusive interview with Nikita Mittal to get a more profound idea about the company and its operations.
How has it been so far in this food and beverage domain? In what ways have you brought in uniqueness to stand apart from your competitors?
We have been in this business since the 1920s. In 1954, we officially started as a major in tea. It has given us an edge over. Our ability to taste and shortlist the best of teas from various samples sets us different from others. The majority of tea gardens have to overflow their inventory irrespective of the produced quantity. Whereas, in our case, since we are not dependent to one particular garden, it gives us the option to approach numerous providers at a time. We have been working with tea houses, importers and businesses in the hospitality sector, thus becoming the single-stop for suppliers. Gathering hundreds of samples from various tea gardens across India we shortlist them through auctions or personal relations and bid to purchase a specific batch of tea for production.
In the F&B market, we perceive great potential in all types of tea varieties, like Chai, Green Tea or Herbal Teas
Orthodox black teas are still not so popular among Indians. However, herbal teas have gained enormous popularity recently, and the demand is also on the rise. With urbanization and new opportunities, the population in urban areas has increased. Thereby, people's lifestyle has also changed, as a lot of people now focus on health and wellness.
Food engineering is the constant change and the only way to stay ahead of the competition in recent times. What kind of opportunities do you observe in the F&B market, and what are the chances of innovation it offers to you?
In the F&B market, we perceive great potential in all types of tea varieties, like Chai, Green Tea or Herbal Teas. Since there is more demand for Green Tea among people for the health aspect, we are indulged in making a lot of its variants. Most recently, Blue Teas and Matcha Teas have made their way to the market creating new trends. Like any other
industry, demands for new tea varieties keep changing every year as something new arrives. We also perform customized blends that ultimately serve to the expectations and requirements of those clients. It can be fruity with an oriental blend of quality tea leaves with natural mango extract.

There is a huge awareness about banning plastic products in a way to boost eco-friendly products. As a part of entering the bandwagon, we have started giving out environmentally-friendly handmade teabags that are made out of Muslin rather than pyramid teabags that are mostly made of plastic. Even for the packaging, Mittal Teas is trying to maintain it as biodegradable as possible. Today, we have more than 150 varieties in which Darjeeling and Assam Teas we pay much focus on.

How is Mittal Teas gearing up for its future endeavours?
We are trying to evolve as a global brand. As an initial step, we had already established a tearoom in Japan about five years ago. Moreover, through Amazon in US and UK, Mittal Teas is planning to open an online marketplace in various countries and explore opportunities for exports. As envisioned, we look forward to uplift India through teas and get ahead of competitors like Sri Lanka, China, and Kenya.

Nikita Mittal, Head of Growth & Marketing, Mittal Teas
After acquiring BTechin 2013, Nikita donned the role of Head of Growth & Marketing at Mittal Teas. With a track record of seven years in the industry, she has also associated with other organizations in the role of Product Manager.

Specialities: Darjeeling Teas, Customised Blends, Customised Gifting, Herbal Teas, Floral Teas, Wedding Favours, and Corporate Gifting

Tea Varieties: Oolong Tea, First Flush, Second Flush, Green Tea, White Tea, Iced

We perform customized blends that ultimately serve to the expectations and requirements of those clients