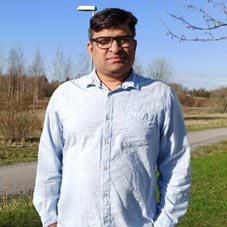 IoT integration and smart devices are the new up-trend in crafting seamless solutions to bolster easy digital transformation. Living in an age where networked multimedia communication requires more connected devices, radio frequency experts are to run the cause in revolutionizing the field of information and communication technology. Whereas, the market predications concludes that network engineering services will grow to a worth of $54.6 billion by the year 2022. Viewing this opportunity in surplus, tech evangelists are sprouting in the fertile field with teams of tech cadets to engage in state-of-the-art products and solution to scoot-up the market growth in the wireless sector.
In lieu of congregating the service domains of the Indian wireless sector, antenna designs and solutions are highly dominated by the Chinese manufacturers. The imported products are either found to have low quality or poor built. The market which demands homegrown technocrats for more reliable solutions, CoreIoT made a strong entry in the need market under the operative kingpin of Dr. Vamsi Palukuru, CEO. Grown in Finland, the company's stand-alone services has a global reach and is highly recognized by the Finnish tech communities for its cutting edge antenna design for portable devices. Using precision tools like 3D electromagnetic simulations and prototyping, it can provide antenna solutions for an array of wireless techs including Wi-Fi, RFID, IoT, Cellular, GNSS, UWB, and Bluetooth. Being a tech maven in antenna design, Dr. Vamshi conduced for CoreIoT's product development to trim-down the excess cost and designs, which results in high RoI.
CEO Insights interviews Dr. Vamsi Palukuru to gain valuable insights about his startup and the way he runs it.
Kindly acquaint us with the major highlights on CoreIoT, and how you laminate an exciting milieu inside the organization to run the business seamlessly.
Our mission at CoreIoT Technology is to offer world-class antenna solutions to connectivity problems faced by our customers. Combining the best technical know-how, CoreIoT's team of expat professionals are solving antenna/RF issues and off-the-shelf antenna/passive and RF device solutions. Our technical excellence has allowed us to expand our business perimeter to the global
shores, serving customers from Finland, Sweden, Norway, US, China, Germany, France, Switzerland and many others. Apart from the world-wide market span, we too hold a trusted group of Indian clienteles including Ather Energy, Innomind Solutions, DRDO, and many others.
Give us a brief detail about your education & professional background, and throw some light on the journey of your company since its inception.
Post receiving a B.Tech degree from JNTU, Kakinada in Electronics and communication engineering in 2001, I did my MS in Engineering from TU Darmstadt, Germany followed by PhD from University of Oulu, Finland in 2010. After the long educational journey, I received an opportunity to work with Microsoft Mobiles and Nokia Mobiles in US and Finland respectively, as an antenna specialist. Unfortunately in 2016, Microsoft shut its R&D facility and I incepted CoreIoT, antenna design, simulation and testing company. Our first branch in India was in Bangalore city and later was shifted to Ongole, my hometown.
We have very long-term expertise in designing of antennas and RF solutions to consumer electronic devices such as mobile phones, electric scooters, and others
Elucidate on CoreIoT's unique proposition that makes it outshine the competitive edge.
We have very long-term expertise in designing of antennas and RF solutions to consumer electronic devices such as mobile phones, electric scooters, and others. Though the big companies have their own in-house team for antenna designs, there are few companies who offer it as a service and products, where the small companies need to rely and outsource the services. Being the global supplier, we are among the very few companies offering off-the-shelf antenna solutions designed and made in India. Plus, we have arrangements of cutting-edge technologies and state-of-the-art antenna simulation tools and extreme know-how in antenna designs in providing a complete folio of antenna solutions and services.
What are the equipment you use for setting an antenna (microstrip) design?
Our state-of the art simulation tools comprises of CST Microwave studio for antenna simulations and design, where we can analyze antenna performance before the first prototype is made. We have state-of-the-art antenna measurement facilities with our own antenna chambers. When it comes to 5G handsets, the frequency of operation of the devices is very high like 28-30 GHz, and hence requires a robust designs and simulation.
From a very low frequency applications such as NFC coils to automotive radar antennas working at 77 GHz to bigger projects, our tech team expounds multi-shore capabilities in developing the most feasible design that adeptly befits the other device components.

Custom software designing being a new trend in the market, how precisely are you offering your products and services to cater the client-needs. Kindly throw some light on your strategies/methodology involved in the process.
We always strive to work with our customer and cater their antenna/RF needs. In this ever changing market, we are constantly refining our offers in solutions and their needs. We start with custom 3D computer aided design (CAD) model for antenna simulation; we design antenna according to customer specification, and then deliver 2D/3D design drawings to customer for production. Finally, when the physical device is available, we check antenna performance and deliver a detailed report to the customer.

Walk us through the quality check procedures you leverage to ensure quality & sustainability of your products?
We have anechoic chambers for signal measurement, where we validate the performance and chart a detail report on the overall antenna products. On the contrary, antenna components are not active components; hence, they do not emit any radio signals by themselves. So, we measure each component and provide a data sheet for all other environment. We are designing more complicated antenna solutions like mobile phones or smart watches with our R&D team and proceeding to design 5G antenna solutions and new RS antenna, with our state-of-the-art tools and patenting them with the innovation edge.

What is your future roadmap?
We want to be the leading provider of antenna solution provider in India for all industries. At our best, we are trying to understand the customers and design the future products in line with what is needed for the future. We always keep the R&D projects update in-house, and that's how we keep on going. Our designs will be made in India, where the market has to no longer depend on China or Taiwan. With our antennas designed and manufactured in India, we can employ more people; and that's our goal down the line.

Dr. Vamsi Palukuru, CEO
A doctorate degree holder in communications engineering from University of Oulu, Finland, Dr.Vamsi has a decade of extensive work experience in antenna designing and worked as an antenna specialist in top communications company Microsoft & Nokia.

Office: Ongole, AP; Tampere, Finland
Offerings: Antenna solutions for an array of wireless techs including WIFI, RFID, IoT, Cellular, GNSS, UWB, and Bluetooth