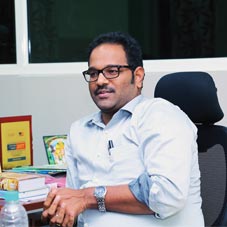 Government of Andhra Pradesh launched their Startup policy in 2014. The vision of the policy is to create a world-class 'Technology Startup Ecosystem' by fostering 'entrepreneurship and a culture of innovation' which leads to increased knowledge, wealth and employment in the society. Andhra Pradesh has made slow and steady progression in terms of the startup ecosystem, and the government has actively participated in the rise of the tech economy. The year this policy became effective was also the year a magnificent group of people started offering freelance IT and ITeS services to independent clients located in Vijayawada and Bangalore. The group joined forces later in 2017 to christen their union and call it Innogeecks Technologies.
That group of magnificent individuals were alumni from IIIT Bangalore and IIIT Hyderabad. The primary business functionality includes product development and IT related consultancy services Also, the company's support services include staffing and training services, along with R&D. The target audience are the companies who are looking for top-in-class quality products and readily deployable highly skilled resources. Our skill development wing focuses on students who are looking for a job-oriented career in advanced technologies like Cybersecurity, Blockchain, Cloud Computing, Artificial Intelligence, Machine Learning, Big Data Technologies and many others. Leading the pack at Innogeecks is Dr. K Sai Manoj, the Founder of Innogeecks Technologies who has culminated years of industry experience before setting foot into the entrepreneurship world.
Addressing Opportunities
So far, Innogeecks' journey is pretty much good with a progressive growth as told by Dr. Sai. As an expert from the industry carrying an assortment of complete technical background, Dr. Sai observed a lot of opportunities to use the technology to solve the socio-economic problems. This was the fundamental reason that drove Manoj to establish Innogeecks. Also, the Founder looked forward to having skill development and R&D as a part of the organisation because he believed that without skilled people and innovation, nothing can be achieved. With these being the underlying principles of Innogeecks, innovation and people expertise are currently the most important pillars in the company.
Products Covering a Sharp & Comprehensive Range of Technologies
At Innogeecks, the team believes in product simplicity along with security. Therefore, from ideation level, Innogeecks always thinks about incorporating security
features into the framework. Primarily, Innogeecks offers services under three major categories – Product Development, Technical & Business Consultancy, and Research & Skill Development. Web mobile apps, Cloud Computing Dapps, Blockchain Dapps, and Cybersecurity Tools are part of their product development services. Similarly, Technical & Business Consultancy services include Big Data technologies, IoT, Cloud Computing, Blockchain, Cybersecurity tools, and Data Analytics. Research & Development team of Innogeecks pays considerate attention to AI, Blockchain, Cloud Computing, Cybersecurity, and IoT. Also, the firm focuses on providing end-to-end platform to its customers rather than breaking it into different tools for monetization purpose. Additionally, Innogeecks follows high quality standards, and most of the cases are incorporated with its own research outcomes in client solutions. For this process, Innogeecks uses technologies like Cloud computing – AWS, Microsoft Azure, Google Cloud, Ethereum Blockchain and Cybersecurity frameworks. While being an ISO 9001:2015 certified company, Innogeecks' research team includes highly educated doctorates with industry experience.
While being an ISO 9001:2015 certified company, innogeecks' research team includes highly educated doctorates with industry experience
Besides these, since 2017, Innogeecks has filed four patents , published 38 research papers in reputed journals like Springer, Scopus, Elsevier Scopus, Web of Science, and Thomson Reuters, and presented six papers at IEEE, Springer and Scopus conferences. This gives a clear testimonial to Innogeecks' priority to research & development. "We are about to file four more patents. Our research focus areas are – Cloud Computing, Cybersecurity, Blockchain, IoT and Machine learning/Artificial Intelligence," informs Dr. Sai.
However, the key USP of Innogeecks is combining security architectures into product frameworks and providing end-to-end solutions to meet the complete requirements (solution-based approach). Above everything, all this combined with our own intellectual property.
Availing the Learning Curve
Innogeecks is a known startup which belongs to 100 percent employee friendly category. The company gives utmost importance to challenging career and employ friendly workspace. "Learning by doing is the key for a professional growth, and this is what we offer our employees at our company," says Dr.Sai. Innogeecks' team includes top class researchers with highly qualified doctorates carrying industry expertise. "Learning from them and working on a real-time industry problem is an exceptional opportunity anyone can get, and this is what we provide them at our company," adds Dr. Sai.
Learning Never Stops at Innogeecks
Innogeecks, as a startup, has a strong determination to become an outstanding organization with high end research and innovation. The people at Innogeecks work every day by keeping the organizational goals and priorities in line. In the organization, leaders believe in one principle – 'learning never stops, and knowledge is the power'.
Abiding those words, Innogeecks upgrades itself from technological and research standpoint every year, which is clearly evident in the firm's research work.
Dr. K Sai Manoj – Founder
A B.Tech, M.Tech, and Ph.D holder, Dr. Sai is an experienced Business Consultant with a demonstrated history of working in the education management industry with skills in business analytics, cloud computing, cybersecurity and fintech. He carries 11 years six months of experience in Financial Services, IT services and Educational Sector. Besides, Innogeecks, Dr. Sai has founded of three other IoT, Blockchain and Cloud Computing based technology Startups in 2018. He has certifications in several technical capabilities like EC Council Instructor, Hacking Forensic Investigator, EC Council Security Analyst, and Ethical Hacker v9. More so, he has a myriad of patents to his name.
Innogeecks Technologies in Spotlight:
• Four patents published
• Three patents in progress
• Nine research projects in progress
• 38 papers published
• Six international conferences attended
• 11 Springer/Scopus Publications
• Nine Springer/Scopus Paper reviews
• Outstanding Industry and Academic Contributor from ASSOCHAM Award date 8th March 2020 issued by ASSOCHAM
• Outstanding Innovation in IT education Award by IAA honor date Jan 2018 honor issuer International Accrediting Authority
• Paul Harris Fellow Recognition from Rotary International
Office
- Vijayawada, Andhra Pradesh (Headquarters)
Offerings:
Big Data solutions, Cybersecurity, Blockchain, Data Analytics, Hadoop, Ethical Hacking, FinTech, Cloud Security and AI.
Innogeecks Technologies In Spotlight:
• An algorithm approach to overcome multi-tenancy and security related issues in cloud architectures
• Integration of enterprise service bus (ESB) with Cloud architectures
• End-to-end ICT based tourism framework for Andhra Pradesh using IoT, Cloud Computing and AI
• IoT enabled intelligent chair with Cloud integration
• CAAS (Cache as a service) in Cloud Architecture
• AI based algorithm for improving online social interactions using neural networks
• AI based SEO automated tool using neural networks
• Neural Networks based data analysis tool using R programming and Python
• AI based penetration testing algorithm and SEO algorithm