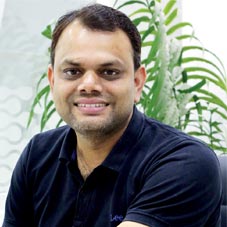 Living the best version of your life is quite an underrated concept amidst a world that moves faster every day. If you have ever watched the Bollywood movie Dear Zindagi (2006), you could never forget Dr. Jehangir Khan (played by Shahrukh Khan), an unconventional thinker and a life-mentor, who turns around the life of a budding cinematographer (played by Alia Bhatt) grappling with her life and career by finding the key to her mind and her heart. Everyone could use a Dr. Jehangir 'Jugs' Khan in their lives to discover the best version of his/her life and love your dear 'Zindagi' (means 'life' in Hindi).
Challenging the convictions of predefined life coaching paradigms by doing a 'Jugs' to the corporate leaders and individuals to turn round, solve challenges, transform, and become the best version of themselves is Dr. Abdussalam Omar – an established mentor, trainer, speaker, and one of the best life coaches in the country with a stellar academic and professional background. His organization DEEP IMMERSION (DI), which is named after its flagship 360 degree fully-experiential life transformation program conducted in the lap of the serene natural beauty of Munnar, is a destination confined to people with fire inside to achieve big in life or looking for solutions to complex predicaments in their life. With DI, achieving BIG refers to not only running your business effectively or growing your organization sustainably, but also every-thing from having good health & wealth to keeping fruitful relationships with family, friends & society, and even having a beautiful family/romantic life.
Holistic Transformation
"Our coaching paradigm engages NLP, Coaching, Modern Psychology, Spiritual Healing, and Holistic Healing as key tools for transformation. In other words, our goal is not to merely teach our clients NLP & coaching and certify them, but to use these powerful tools experientially with each individual or groups to take their personal and professional life to a new beautiful arena," asserts Dr. Abdussalam (or as his clients fondly call, Coach Omar), who is professionally a medical educator with post-graduation in emergency medical sciences & clinical research and passionately a life transformation coach and public speaker who addresses more than 50,000 audience annually. Standing tall on his mission of socio-economic empowerment of downtrodden sections of the society, he conducts around 120-150 training sessions every year, apart from serving as a trainer and coach for the professional, educational and corporate sector in the Middle East and India. Over the past decade, he has helped more than 2,000 clients to lead beautiful and aspiring lives as a coach/counselor.
One of his clients was Sowmiya Satheeshan, a 28 years old woman who hails from Ernakulam district in Kerala. Having attempted suicide several times, she was stamped as a psychiatric patient by her family & neighbors and was under medications for controlling her emotions & anger. She underwent the DI program. For your information, DI refers to spending 7-40 days amidst serene nature with charismatic energy, fresh air and natural water body, taking a purposeful break from your current environment, and deeply immersing in your 360 life goals, away from all
distractions under a professional coach and a specific process.
Those Vital Tweaks that Can Change Your Life Forever
During the process, Dr. Omar and his team realized that Sowmiya's problems were largely based on husband-centric possessiveness, while lack of friends, poor relationship with her immediate family, lack of self-love & care, having no creative hobbies and nil social involvement added to the woes. Among other experiential activities, it was DI's Human Interaction Therapy (HIT) that became highly effective in her case. Dr. Omar elucidates, "Our research backs-up the methodology that effective use of adequate human interactions with empathetic listeners using highly influential beautiful language brings a sense of gratification and fulfillment in clients, thus helping them to get out of frustration they are going through, and in turn enabling them to lead a hopeful future life". After a few weeks of the program, Sowmiya today manages herself without any medication, is involved in social activities, owns her own business, and is leading a beautiful life with high self-esteem.
DI continues to act as an elixir to thousands of people who have fire inside to achieve BIG in life, or who are battling with tough predicaments in life – anything from failed relationships, depression, and suicide mania, to drug & other addictions
While HIT acts as a boon in cases like Sowmiya's, it's often many other psychologically crafted activities of DI that become crucial in transforming the lives of others. "For instance, during the DI process, we have substantiated that most problems/challenges our clients face in their day-to-day life have a root connection to their past experiences. Hence, we designed Walk of Life, a process that helps them ignite their inborn ability to face any present & future challenge by taking lessons from successful past episodes," adjoins Dr. Omar. "Later, we can delete the unwanted and even install a confident version of ourselves," he proclaims. Furthermore, Physical Social Contribution is another experiential activity engaged by DI to make its clients, who grapple with complex life problems, recognize that they are not the only one in this world going through such worst situations. Interactions with less-privileged sections of society such as widows, orphans, special needs children, abandoned parents, cancer hospitals, and dialysis centers, among others, help in the process. In addition, the list of activities also includes focus on electronic fasting, personal journal writing, visualization, meditation, powerful morning habits, gratitude, forgiveness, hibernation and many more.
After almost a decade, DI continues to act as an elixir to thousands of people who are battling with tough predicaments in life – anything from unhappiness, failed relationships, suicide mania, and drug & porn addictions to multinational entrepreneurship dreams. En route to the future, the next big thing with the organization is the launch of its target-specific immersion programs: Queens Immersion and Teens Immersion. "Queens Immersion will help ambitious housewives restart their passion and discover the best versions of themselves and also promote women entrepreneurship, while our residential coaching program Teens Immersion is designed to help higher secondary & college students discover their passion, purpose & vision, and in turn, engender the best individuals & leaders in them through DI Process," concludes Dr. Omar.
Dr. Abdussalam Omar, Founder
Having more than a decade of experience in emergency medical education and solving complex life-problems, Dr. Abdussalam is an International Coach Federation USA accredited 'Certified Leadership and Executive Coach', American Board of NLP accredited NLP Master Practitioner, and an NLP Trainer from NLP Coaching Academy. He is also a PhD scholar in guidance and counseling psychology.

Deep Immersion in Spotlight
• The most innovative and sustainable 360 degree life transformation program in India
• Only for people with 'fire' inside to achieve big in life
• 100 percent activity based and experiential life changing process
• The process leads each candidate towards a purposeful and fulfilling life
• Process is enriched with professional case studies, life stories, social engagements and human interaction therapy
• Transforms Businesses to process-oriented & sustainable organizations and develops peak performing & visionary next gen leaders of the company.
• Works on Key 10 KPIs of life including health, wealth, family, society, romance, spirituality, career, and self-image

"Our coaching paradigm engages NLP, Coaching, Modern Psychology, Spiritual Healing, and Holistic Healing as key tools for 360° life transformation"

Certifications & Codes of Conduct:
• International Coach Federation (ICF) Core Values, and ethical principles and ethical standards of behavior for all ICF Professionals.
• Standards and guidelines for excellence by American Board of NLP
• International Code of conduct and ethics for registered medical practitioners
• Ethical principles of psychologists and code of conduct by American Psychology Association

Clients Talk:
"Deep Immersion was literally a fortuitous event for me. We all were so deeply immersed in coach Omar's specialty in experiential based coaching. With his life experience, we all were in a different world. All the DI tools have already started helping me and my business both strategically and spiritually. I totally recommend this flamboyant process to experience yourself!" ~ Aman Firoz, Managing Partner, VoxPopuli Solutions (Dubai)

"Deep Immersion was a power pack training program which actually transformed my life. Our way of thinking & talking, ways to access people & help them, and way of judging & being empathetic to people had all changed. This training got us to a 360 degree excellence. Dr. Omar has immensely influenced and invested in every single one of us. He had unconditional intention and passion to help each and every single member of our small group." ~ Vivek Nelson, Managing Director, EQLYZE Educational Initiative

"Excellent program! With an experienced & dedicated coach, diverse & multi skilled participants, and a modern & interactive learning program, DI provides a perfect launch pad for every individual to move to a higher trajectory in their 360 degree life transformation. DI has transformed me into a culturally sensitive & tolerant, and an ethical & socially responsible person. DI is spearheading a revolution in the sustainable life transformation arena." ~ Dincy Raju, HR Professional (Dehradun)

Year of Establishment: 2010 in GCC and 2019 (June) in India
Offices: Riyadh (Headquarter), Calicut, Dubai, & Doha
Offerings:
• Life Transformation Camps
• Family/Relationship Counselling
• Personal/Executive Coaching
• Organizational Coaching
• Career Coaching
• Business & Management Consulting