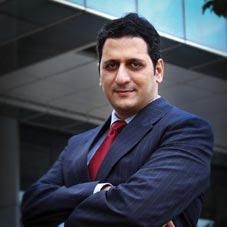 The Indian culture and scriptures are thousands of years old, but are still as relevant in the current context they were then. Strongly believing in the ancient scriptures which stress on the development of all the three dimensions of human life – Tan, Man and Dhan, Mehernosh Randeria established his W3 Success Academy in Mumbai based on the pillars of NLP. According to him, W3 (Wealth, Wisdom, Wellness) is a holistic approach to attaining prosperity, balance and fulfilment. In other words, these three Ws need to go hand-in-hand to create a successful, meaningful and enjoyable life.
Following this philosophy, Mehernosh has emerged as India's first and only W3 Coach, who trains and coaches in the 3Ws of life. CEO Insights interacts with him to understand more about him and his company.
You have been a successful finance professional. What made you shift gears to be the country's first W3 coach?
I became a W3 Coach & Trainer in 2014. Despite being a successful professional for 18 long years in the field of Corporate Finance, self-development has always been one of my primary focus areas. Inspite of my busy schedule and commitments, I kept enriching myself in various areas, especially in the field of Mind & Body. I came across NLP in 2009. NLP intrigued me so much that I am still a curious and passionate learner of this fascinating field.
In 2011, I was invited by my alma matar – Jamnalal Bajaj Institute of Management Studies to be a visiting faculty to teach the subject of Financial Accounting to the part time MBA students. This helped me identify my passion and purpose, which was teaching & imparting knowledge and making a difference in other people's lives. Deciding to do something further in the field of teaching, I applied a systematic approach to plan-out my further journey and then decided to finally pursue NLP, as it has made the most powerful impact in my own life.
To do so, I continued pursuing NLP from various trainers and institutes to develop my skills and acquired certifications as a NLP Practitioner from three different institutes, NLP Master Practitioner from two different institutes, and finally NLP Trainers Certification internationally, apart from acquiring skills and certifications from International
Coaching Federation. It was in 2014 that I hung my corporate boots and launched myself as a Corporate Trainer and Life Coach. As a trainer member of ANLP UK, the certification I give on successful completion of NLP Practitioner and NLP Master Practitioner are globally valid.
Our vision is to inspire people to identify their true potential and Aspire, Act and Achieve their goals successfully and live a well-balanced life of affluence, abundance and activeness
What are the vision and values of W3 Coach?
Our vision is to inspire people to identify their true potential and Aspire, Act and Achieve their goals successfully and live a well-balanced life of affluence, abundance and activeness. Our values are two-pronged – Learning never stops (Continuous self-development) and Walk the Talk, wherein I train only what I have rigorously applied in my life and seen the benefits working on me and my clients. Thus, the approach of W3 Coach is Learn-Do-Teach.
What differentiates W3 Coach from other NLP providers?
As a part of W3 Coaching, I bring what has helped me in being successful, and that covers the secrets of Financial Fitness, Mental Fitness, Emotional Fitness and Physical Fitness by integrating NLP as the way of life. However, what differentiates me from other providers is that I bring simple jargon-free learning that you can start applying in your daily life immediately even while you are in the training course and after. For NLP practitioners, I bring the application orientation that can help them to start applying the practices. Most importantly, I take personal interest in the learning progress of my course participants by adopting two principles – limiting the batch size and continuous lifetime hand-holding even beyond the program duration.
What are the major programs you offer?
Our training is always focused on enhancing participant value and applicability in day-to-day life. Divided into two parts – short and long term, my courses are result oriented. Our NLP Practitioner Program is a five-day comprehensive training oriented towards practical application of the concepts, tools and techniques of NLP, and our NLP Master Practitioner Program is an eight-day comprehensive advanced training oriented towards practical application of the concepts, tools and techniques of NLP with specific purposes/outcomes). Our shorter courses are one or two days programs which are focused on
application of NLP towards specific outcomes like Business Growth, Financial Success, Leadership, Creativity, Relationships, Productivity, and others.

My programs enable my clients to be more aware of their thought patterns, mainly through the use of their language. The process of NLP coaching involves asking powerful questions that create self-awareness and thereby co-create the outcome that addresses these challenges. In the last five years, I have conducted over 600 workshops for over 75 organizations, trained & coached 4,500+ clients/participants across 12 nationalities, including senior, mid and junior management. Some of our prestigious clients are E&Y, Bank of America, BCG, Mitsui, Reliance, L&T and many more.

How are you scripting W3 Coach's future?
Our expansion plans are strong – newer research and content creation, newer markets globally through digital presence, community building, legacy creation and creating an academy.

Mehernosh Randeria, Founder
Having 18 years of professional experience, Mehernosh is Chartered Accountant, Certified Financial Planner and holds Masters in Financial Management from Jamnalal Bajaj Institute of Management Studies.

Educational & Professional Background:
• Associate Certified Coach from International Coach Federation
• Certified Prosperity Life Coach from Symbiosis Coaching US
• Master Spirit Life Coach from Symbiosis Coaching US
• Gestalt Therapy from Anil Thomas
• India's First Certified Brainival Facilitator on Accelerated Learning Principles and Creativity Techniques, including Speed Reading and Mind Mapping
• Gold Medalist Master Trainer of Musical Windows System of Memorisation and many more

Awards & Recognition:
• Part of NLP history as Co-trainer in the World's First ICF Approved Dual Certification NLP Coach Practitioner Program provided by 5th Element
• 13th Rank in Indian Adult Memory Championship 2014
• ISHMA Gold Award 2015 as India's 1st & only Wealth-Wisdom-Wellness Coach
• Arbiter at Indian National and World Memory Championships since 2015
• The Entrepreneur Excel Award 2016 for outstanding contribution and selfless service to the society
• Speaker at international platforms like International Meta Health Conference in Barcelona, Spain

Courses Offered: NLP Practitioner, NLP Master Practitioner, NLP for Creative Thinking & Decision Making, NLP in Leadership, NLP for Influence & Negotiation, NLP for Emotional Control, NLP for Selling Skills, NLP for Executive Presence and more