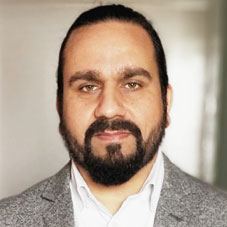 Digital advertising has revolutionized the way businesses connect with their target audiences. With the rise of digital media, companies have gained valuable insights into consumer behavior, allowing them to create targeted and personalized advertising campaigns. Devinder Sharma, the Managing Director of Httpool by Aleph in Indonesia. He is a visionary leader who has been instrumental in empowering the digital advertising industry. With over 21 years of experience in digital sales and business development, Devinder has a remarkable track record of delivering outstanding results. He possesses a deep understanding of the digital landscape and excels in developing and executing strategic sales and business development plans. His commitment to driving growth and his proficiency in leveraging digital platforms make him a standout leader in the industry. Let's get to know more through the interview snippets.
Can you provide a brief summary of your professional journey?
Over the course of 21 years, I have witnessed the evolution and transformation of the industrial landscape, which has greatly influenced my career. My success can be attributed to the remarkable individuals I have had the privilege of being surrounded by throughout my journey. I began my professional path with an Indian company called IndiaMart, which specializes in web design and development for traders, exporters, and importers. This job provided me with invaluable experience in sales, as I would go out daily to meet with small shop owners and business setups, engaging in conversations and building relationships. Interacting with these individuals taught me a great deal and laid a solid foundation for my understanding of the sales process. I have had the opportunity to work with various companies, and in each role, I was fortunate enough to establish successful business ventures. For instance, at Business Standard. com, one of India's prominent newspapers, I was one of the first employees responsible for managing the digital business. I also spent four and a half years with a company called Vdopia, where I
played a key role in establishing their mobile marketing business in India and Indonesia. Additionally, I have worked with Opera Media Works and iCubesWires, and prior to joining my current company, Httpool by Aleph, I was part of Media Donuts for a year and a half, managing India and Indonesia markets.
Our focus is on establishing global partnerships, particularly in Indonesia, where we aim to collaborate with as many partners as possible to assist brands to achieve their digital marketing goals
What has been your success mantra in your journey so far?
Strong relationships with both external and internal stakeholders have been instrumental in my success. I believe in maintaining strong connections with everyone I work with, as the industry is small and encounters with previous colleagues are common. Continuous learning and staying updated have been essential factors for me. Starting from sales, I now understand that persistence is crucial for achieving success. Lastly, honesty and taking ownership have been important principles for me. As I transitioned into managing teams and leading businesses, I learned that a sense of ownership provides a different perspective. Seeing the company as your own changes how you approach your work compared to just being an employee. These are the principles I have personally focused on.
What are the factors you take into account in developing effective corporate growth strategies?
When it comes to developing effective corporate growth strategies I consider various factors, including market analysis, competition evaluation, and financial planning, while focusing on both vertical and horizontal growth. My responsibility lies in pursuing new partnerships and creating plans to convince potential partners, such as Twitter, that collaborating with us would be beneficial. This process involves conducting market analysis, evaluating competition, and assessing financial aspects like investment required and revenue projections. The specific factors may vary for each partnership but typically involve market insights, competition analysis, and financial planning.
What is your anticipation about the market going forward?
Let's discuss the current market situation in Indonesia. Although there are reports indicating that Indonesia is not facing a significant threat of recession, from my observation, it appears to be going through a period of economic slowdown. Many advertisers are cautious with their spending as they assess the market conditions, particularly with the upcoming elections, which are expected to bring policy and strategic changes.

Specifically, the second half of this year seems promising compared to the challenging first half. However, the latter part of the year(H2 2023) appears more positive, especially with the upcoming national elections. Indonesia is viewed as a successful market globally, attracting the attention of international companies. This competitiveness and the ease of establishing businesses contribute to the positive outlook for Indonesia as a market.

What are your aspirations for the upcoming years? What does your future roadmap look like?
Our focus is on establishing global partnerships, particularly in Indonesia, where we aim to collaborate with as many partners as possible. Our ultimate goal is to become a go-to option for media planners and executives, ensuring that our platform includes a wide range of line items, such as Twitter, Criteo, Warner Music, Ogury and other partnerships. Being involved in every digital advertising expenditure is a significant opportunity. Another great initiative I'd like to further is Digital Ad Expert, Aleph Group, Inc's social initiative to create economic opportunities through digital advertising education. With this free, skills-based education platform we provide students with the fundamentals they need to successfully manage digital advertising channels and campaigns.

Speaking personally, I aspire to play a role in this expansion plan. I hope to take on a regional position that allows me to be involved in multiple markets, beyond Indonesia. With two decades of experience in this industry, I have no intention of leaving the industry. Overall, I am enthusiastic about being part of the expansion strategy and overseeing market management.

Devinder Sharma, Managing Director, Httpool Indonesia
Devinder is a seasoned professional in the field of digital advertising, with over 21 years of experience in sales and business development. As the Managing Director of Httpool Indonesia, he has made significant contributions to empowering the industry and driving growth.