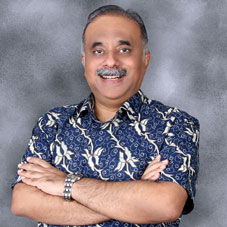 The combination of insightful leadership, a drive for innovation, creative thinking, and resourcefulness acts as a driving force for adding value and propelling organizations toward success. Visionary leaders, such as Manish Khanija, possess a deep comprehension of market dynamics and customer requirements, allowing them to identify unexplored prospects and lead transformative endeavors in the supply chain. They cultivate an innovative culture that fosters unconventional thinking among employees. Through their resourcefulness, leaders like Manish effectively navigate obstacles and maximize the use of existing resources. This approach not only unlocks fresh solutions but also enhances operational efficiency and product offerings, positioning the company for sustained growth in a competitive landscape.
With a track record of excellence, Manish Khanija assumes the role of President Director at Elite Global Group, bringing a wealth of expertise as an effective strategic planner and implementer. Possessing exceptional skills in International Business Management and Communication, Manish demonstrates an unparalleled ability to navigate dynamic environments and achieve business and financial objectives.
Below is an excerpt of Manish Khanija's exclusive interaction with CEO Insights magazine.
How has your entrepreneurial journey been so far?
In 1999, I relocated to Indonesia, enticed by a job offer from PT. Polysindo Eka Perkasa, now PT. Asia Pacific Fibers. As Regional Marketing Head, I spearheaded initiatives in the Middle East, North Africa, and East European markets for the company. In 2005, I joined PT Indorama Synthetics as Regional Marketing Head for North America and key European markets. I had
been handling key clients for the company and developed new avenues for the company in markets like the USA, Canada, Mexico, Spain, the UK, and Italy.
In 2009, I bravely left my stable job to establish an international marketing and sourcing organization in ASEAN, serving customers in the Americas and MENA regions. Our network expanded gradually in various countries. We now operate in 8 countries in the Americas, 12 in Europe and Africa, and 10 in South Asia and ASEAN. Our products include raw materials for textiles, chemicals for pharmaceuticals & cosmetics, and spares for palm kernel expellers. We are also venturing into recyclable products & sustainable energy resources.
The journey I embarked upon has been a blend of challenges and triumphs, a testament to the ceaseless pursuit of knowledge that befits any ambitious individual with a vision
I am guided by the principles of KARMA as per Bhagavad Gita. I follow the Heart fulness System of Meditation to stay calm and focused.
You possess over thirty years of experience. How has been your path to success and what is your success mantra?
The journey I embarked upon has been a blend of challenges and triumphs, a testament to the ceaseless pursuit of knowledge that befits any ambitious individual with a vision. I embrace a lifelong commitment to learning, drawing wisdom from industry veterans, peers, and even my sons, who have been introducing me to novel digital technologies. Aligning personal goals with the organizational vision is paramount; an organization is a towering umbrella, providing shelter &solace to employees and their families. When I established Elite Global Group, I was mentally prepared for the Herculean efforts required to forge a new brand from scratch. With strong determination, I persevered tirelessly to establish a solid foundation for the organization. During this arduous process, my family comprising both kin and trusted confidantes stood
unwaveringly by my side. Together, we form a unified and expansive family.

How would you define Elite Global Group as an organization and its current position in the market?
We are a young & prominent Global Marketing and Sourcing Organization, with an extensive presence in key countries such as India, Indonesia, Vietnam, China, Singapore, Malaysia, and the USA. Our strong network of trusted business associates spans over 30 countries, collaborating closely with us to drive business development for the diverse range of products we handle. Since our establishment in 2009, we have fostered enduring partnerships and signed MOUs with esteemed industry professionals & organizations in each market we operate. Leveraging our extensive sourcing base in ASEAN, South Asia, and the Far East, we carefully select origins that offer a comparative advantage for each product. Our offices are staffed by seasoned professionals with a minimum of 10 years of industry experience, emphasizing close collaboration with manufacturers and end consumers to foster mutual growth. We also provide International Marketing Consultancy services to our clients.

What is the future destination you are heading towards?
Our focus lies on achieving growth in volumes, value addition, and innovation. We are committed to contributing to the concept of a circular economy, emphasizing the importance of sustainable products through recycling, reusing, repairing, and refurbishing. Excitingly, we are preparing for the launch of a new product range specifically tailored for the Indonesian market, featuring health and hygiene products for homes. Stay tuned for the introduction of these valuable offerings that prioritize wellness and cleanliness in households.

Manish Khanija, President Director, Elite Global Group
The President Director of Elite Global Group, Manish possesses a B.Tech Degree from the Technological Institute of Textiles & Sciences and an MBA from SPJIMR in International Business Management. In his professional journey so far, Manish has been part of various prominent companies like Reliance Industries, Pasupati Fabrics, Asia Pacific Fibers, and Indorama Synthetics.