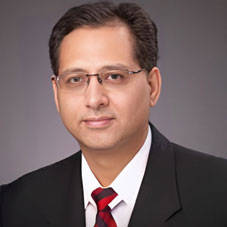 Today most companies struggle with strategy execution as their change efforts fall short of desired results. This failure in strategy execution has made today's leaders understand that implementation is a major leadership challenge when it comes to improving performance via strategic change. Naresh Makhijani identified this challenge 30 years back and became the first consultant to implement a scorecard strategy in Asia. Since then, he has led and managed over 150 Balanced Scorecard projects across Switzerland, Singapore, Indonesia, Qatar, and India with the primary goal to assist companies in translating their strategic vision and goals into tangible results.
Naresh is the CEO of Indonesia's leading strategy management and transformation company, OTI with over 38 years of illustrious experience in leading and managing large-sized projects in Asia, the Middle East, and Europe in areas of Strategy, IT, and HR. He is a globally reputed Management Consultant and speaks in areas of Vision & Goals building, Strategy Planning, Balanced Scorecard, Management Cockpit, Organization Transformation, Activity Based Costing, Business Process Transformation, and HR Blueprinting.
Apart from that, the dynamic business leader is also the author of three bestselling books published by John Wiley Singapore in three languages, English, Indonesian, and Chinese, and has written 32 articles and co-written 25 white papers. He was also a familiar face of a TV show on Performance Transformation on QTV (now Berita Satu).
Below is an excerpt of CEO Insights' exclusive interview with Naresh.
What has been your success mantra throughout the journey?
Bjorn Rune Borg, a famous tennis player of the 1970s, once said, if you want to be a tennis champion, you got to think tennis, eat tennis, and sleep tennis. I have always believed in the same kind of philosophy, if you want to succeed in life, you really need to focus on what you are doing. I vividly remember my mother telling me stories from Mahabharata. One particular story that made a huge impact on me was the story of Arjuna where he is being instructed on a bow and arrow and his teacher asks him what can you see, he says he can only see the eye of the bird. I learned this as a child - if you want to succeed, focus and nothing can stop you from achieving your goals.
I learned this as a child - if you want to succeed, focus & nothing can stop you from achieving your goals
How would you define OTI as an organization? What are the value additions that customers can expect from your services and solutions?
We are a boutique consulting company, headquartered in Jakarta, that believes in end-to-end consulting and results. We specialize in helping organizations to transform themselves and their performance. It works in four areas with its clients: Digital Transformation, Strategic Alignment, Human Resources Development, Process Transformation, and Financial Management.
One of the unique propositions that I bring to the company is the indepth knowledge of balanced scorecards and strategy execution in organizations. I have led and managed over 180 consulting assignments including Vision & Strategy Design, Balanced Scorecard, Business Process Re-engineering, HR Blueprint, and
HR Blueprint, and Cockpit Projects in the last 38 years across Switzerland, Qatar, Dubai, Iran, Thailand, Indonesia, Malaysia, Philippines, Vietnam, India, Hong Kong, Japan and Singapore.

What is the future destination you are heading towards?
A lot of companies spend millions of dollars on consulting every year all over the world and in return what they receive is a lack of expected results. So, my idea is to make OTI to be known as a result-based consulting firm. I am also looking forward to creating Strategy Execution software leveraging my hard earned experiences and knowledge. Moreover, in the coming years, I want to see myself invested in contributing to society by passing on my learnings in the form of writing books and training the upcoming generation of leaders.

In light of your strong experience, what advice would you give to budding industry leaders?
The most important thing is to have a vision for yourself. Ever since my childhood, I had a very clear vision of how much percentage I needed to score in exams, how much hard work I needed to put in to gain a brown belt in martial arts, and how I needed to prepare myself to go to a university. I was very focused. So, to be successful in life, you first need to have clarity of goals, you need to break them down into things, and most importantly believe in your efforts. There are no miracles to success. It's the sheer discipline of execution.

Naresh Makhijani, CEO, OTI
Naresh holds a CMA from Australia, an MBA from the International University of Japan, a PGDMSM, and a B.Sc. from St. Stephens College, University of Delhi. He is Certified Management Consultant and has a certificate in Economics from the University of Oslo, Norway, and certificates in Agile Organization, Organization Alignment, Project Management, Business Coaching, and OKR. He has attended executive programs at MIT Sloan, USA, and Harvard Business School, He is a recipient of ADB, Rotary Foundation, IUJ, ISS & NORAD scholarships.

•Favorite Book:Power of Alignment