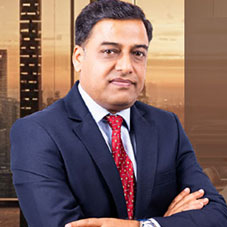 In today's dynamic business landscape, industries are experiencing rapid changes and transformative trends. Leaders play a pivotal role as skilled conductors, orchestrating their teams to navigate a myriad of challenges and achieve remarkable results. From embracing cutting-edge technology to managing remote teams and fostering innovation, the leaders are constantly adapting to stay ahead. Factors such as increased digitalization, the rise of artificial intelligence and the demand for seamless connectivity are driving this growth. As businesses strive for efficiency and productivity, tech-savvy leaders like Bhagwat Nautiyal have emerged as virtuosos of competitive growth. Amid the industry's progress, consumers and clients encounter challenges like data security, privacy concerns, evolving regulations, and market disruptions. However, Bhagwat's inspiring two-decade journey brings innovative solutions to these obstacles. His ventures combine cutting-edge technology, remote team expertise and a commitment to sustainability, making a significant impact.
In an exclusive interaction with CEO Insights Bhagwat discusses his career journey and recognition that he has garnered over the years.
Could you give a brief account of your professional background and experiences? What is the motivation that fuels your daily routines?
I started my career with Indian Air Force joining the dream organisation as Flying Officer in Operations Branch in 2002. After leaving Indian Air Force due to unforeseen changes in the regulations creating future uncertainties, I joined Vedanta Resources Plc and later Adani Ports & SEZ Ltd, gaining valuable experience in the industry. In 2012, I moved to Indonesia as Operations Director in a public listed company specializing in sugars & renewable energy. After serving as Group CEO for a mining group in Indonesia,I ventured into entrepreneurship and established my commodity trading company in 2018. Despite the challenges of the pandemic, we thrived and expanded internationally
with opening of another group company in Singapore. My focus remains on creating opportunities and adding value to society. My motivation comes from a deep belief in my abilities, the courage to take risks, and the desire to make a difference in the industry by addressing existing challenges.
Our focus is on establishing global partnerships, particularly in Indonesia, where we aim to collaborate with as many partners as possible to assist brands to achieve their sustainable marketing goals
What is your current path to success and success mantra, and how would you define Sequoia Group as an organization and its current position in the market?
My current path to success is driven by determination, continuous learning and embracing challenges as opportunities for growth. At Sequoia Group, integrity, customer-centricity, and innovation are the keys to success. We prioritize strong relationships, adaptability and a team-oriented approach. With a vision to become a billion-dollar company in five years, our focus on specific commodities and sustainability drives our impact in the commodity trading industry. By managing the supply chain and resolving logistics issues on real time basis, the company ensures smooth and efficient operations setting us apart from conventional traders. Strong partnerships with suppliers and buyers, commitment and ethical business practices have earned Sequoia Group a trusted reputation as a reliable and efficient trading ally. Despite facing challenges during the COVID-19 pandemic, the company's adaptability and dedication to excellence have reinforced its position in the industry.
Tell us about your flagship offerings and what are the value additions that customers can expect from your offerings?
At Sequoia Group, our flagship offerings encompass a diverse range of commodities, including coal, limestone, clinker and soon to be added gypsum and Agro products. One of the key value additions that customers can expect from our offerings is our unique approach to logistics. Unlike traditional commodity traders, we take charge of the entire supply chain and mange it on real time basis, from shipping to loading and
transhipment ensuring timely and seamless delivery. This dedication to logistics excellence builds trust with our customers, who can rely on us for consistent and efficient supply chain operations. Our customer-centric approach and personalized service cater to specific needs of our clients. Extensive industry knowledge provides valuable insights, empowering informed decisions. Commitment to sustainability includes clean energy commodities aligning with clients' environmental priorities.

As an experienced industry leader, what are your leadership approach and the advice you have for budding leaders? Additionally, what is your future destination?
As an experienced leader, I prioritize a team-oriented, empathetic environment that boosts productivity. I lead by example, encouraging risk-taking approach and hard work for success. To aspiring leaders, I advise them to have courage, self-belief, empathy and caring for their teams, valuing relationships and using smart strategies for desired outcomes. Looking towards the future, my vision for Sequoia Group is to become a billion-dollar company with a strategic focus on specific commodities and a transition towards clean energy. We aim to establish ourselves as a leading competitor in the market, delivering value to our stakeholders and making a positive impact in the industry. Our commitment to sustainability and innovation will drive us forward, positioning us as a strong player in the commodity trading landscape globally.

Bhagwat Nautiyal, Founder & Chairman, Sequoia Group
He is a former Air Force officer with a strong background in defense operations. After serving in the Indian Air Force, he transitioned to the corporate world. He held positions in companies like Vedanta, Jindal and Adani, gaining extensive experience in operations, shipping, Mining and logistics. In 2012, Bhagwat moved to Indonesia as the Operations Director in a public listed company owned by an Indian conglomerate, specializing in sugars and renewable energy. Throughout his career, Bhagwat has shown resilience and adapt ability in various roles and industries.

•Awards & Recognitions:
Air Officer Commanding in Chief Commendation in 2005, Best Operations Director in 2006 and 2007, Featured in " The International Who's Who of Professionals" Washington D.C in 2014, Recognition for Sequoia Group as " Most Innovative Company" award in Indonesia in 2021.