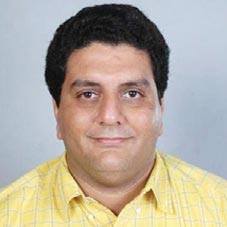 It was recently brought to light that the online food delivery market in India is forecasted to generate a revenue of Rs.1,334.99 billion and develop a user base of 300.57 million by 2024. In fact, the current Covid-19 crisis is presenting multiple opportunities for various online food delivery businesses to make the delivery contactless, safe and on-time, thereby increasing the competition. Regardless of this burgeoning competition in the market, Pune-based Dial-a-Meal has been making great strides as a top-notch home delivery service provider since 1998. This rich legacy combined with its customer-friendly application places the brand at an unbeatable position in the Pune and Navi-Mumbai markets.
Unlike other vanilla online food delivery brands, Dial-a-Meal allows its customers to place multiple orders from multiple restaurants within Pune, Pimpri-Chinchwad and Navi-Mumbai to their homes in just one go! Moreover, customers can order food within a few clicks over its website and application (iOS & Android) or even dial their meals, follow-up with their orders and give feedback across a dedicated phone line.
To know more about the brand's unique features and its legacy, delve into the following excerpts of an exclusive conversation between the Chairman & Founder Director of SUXES Hospitality Solutions Pvt. Ltd. (Dial-a-Meal) – Khushru Minocherhomji and CEO Insights.
Walk us through the journey of Dial-a-Meal so far.
The journey of Dial-a-Meal began in 1998 as a telephone based food delivery service with six restaurants and two employees. Later in 2013, SUXES Hospitality Solutions Pvt. Ltd. procured the entire business, and since then, I have been overseeing this brand's end-to-end operations and business.
Having setup SUXES Strategic Solutions (in 2007) – under the SUXES banner, we offer solutions in
Marketing & Sales Management, Project Management, Facility Management, Sourcing – Specialized Products & Services, and other domains to various organizations so that they can focus on their core business. Post acquiring Dial-a-Meal, under SUXES Hospitality Solutions Pvt. Ltd., we have since been intending to operate it as its flagship business.
With just 30-40 orders per day in 2013, we have augmented the business to 200+ orders per day – during the peak of our business. Despite facing minimal competition in the beginning, we had to come-up with three to four iterations of our application since the online food delivery market was growing exponentially soon after 2014. Yet, we take pride in the fact that almost 75 percent of our business comes from existing registered customers today.
We aim to leverage the latest technology stack not just to keep our app upgraded, but also enhance the reach to our end customers
Could you cast some light on Dial-a-Meal app?
At the ease and comfort of your home, you can order your favourite meals flexibly from your favourite restaurants that are located anywhere within the three locations that we serve. We also have a wide variety of menus from 200+ restaurants or outlets along with regular registration of new ones into our app. Existing customers can reorder their previous meals in one touch instead of searching it from the scratch. Besides food and beverages from restaurants, we now deliver Home Made Food (from registered & trained Homechefs) through our website and/or the Dial-a-Meal Homechefs app.
Recently, we have also launched our Dial-a-Meal Daily Essentials for delivery of essentials (groceries, meat, medicines, and others) to customers, especially senior citizens who are not allowed to get out of their homes during this Covid-19 crisis. In a nutshell, our main goal is to bestow the convenience of ordering any food related items from the comfort of home, to our customers in the best possible, way while our team of well-trained and experienced staff promises them timely and efficient deliveries. We also present them diverse payment options such as COD, credit/debit card, UPI and Dial-a-Meal Pre-paid option.


What is the technical expertise that goes into the app?
Most of the functional expertise that Dial-a-Meal app holds is from its beloved Founder – Aditi Khatau. She has been the linchpin in getting the features & process in place, and SUXES then started working on the technical details and deployment of the best technology stacks across the apps as well as the websites. Today, we aim to leverage the latest technology stack not just to keep our app upgraded, but also enhance the reach to our end customers. Moreover, we strictly follow safety and hygiene guidelines in food handling and delivery by constantly maintaining the food temperature and carrying the food in insulated bags.

Tell us about Dial-a-Meal Homechefs platform.
This is our second business vertical, where we deliver home-made food which is guilt-free, healthy, delicious and hygienic, prepared with love and care by our selected home chefs and bakers. These home chefs and bakers are extremely passionate about cooking and hail from great homes. Whereas the home-made food we deliver is prepared from top-notch ingredients, meats and vegetables in huge portions, which leave our customers with a spellbinding satisfaction of 'Ab Ghar ka Khaana Door Nahee!'

What plans do you have in pipeline for Dial-a-Meal?
Our key focus area is to evolve into a full stack solution or a one stop shop for all food requirements of our customers by consolidating our different verticals – food/beverages, home-made meals and essentials into one. We also have plans to start contactless delivery, delivery through e-vehicles & other new methods, deploy new technology stacks to make delivery easier and faster, and reach-out to all end customers, especially corporate firms. Expansion to variegated locations by leveraging our long-standing legacy and pitching-in to potential investors is our other biggest plan.

Khushru Minocherhomji, Chairman & Founder Director
With B.E in Mechanical Engineering, MBA in Marketing, and PGDBA from IIM Calcutta, Khushru distinguishes a highly passionate business leader specialized in manufacturing, marketing, business consultation and many other domains.

Quick Facts:
• Location: Pune
• Verticals: Food/Beverages, Grocery/Essentials & Home Chefs (Home-made Food)