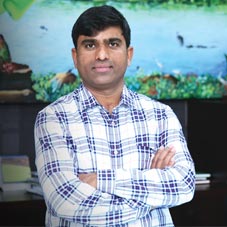 We've arrived to a time in civilization when raw materials and resources are becoming ever scarcer. If we look closer, apparent pollution, increased emissions, soil degradation, and water depletion are clear indication that sustainability challenges that peak in the horizon are real. While we're faced with adversities as morbid as these, we as the human civilization have always come-up with a solution to adapt. We call it 'technology' today.
Instead of other very unlikely apocalyptic conditions like aliens, Nolan, in his film called Interstellar, very intelligently drew a picture of the planet Earth struggling to grow food. Agriculture has been, and will always be, the most critical aspect of our civilization that requires attention in terms of all kinds of advancements – technology or not. Immediate challenge associated with our farmers is to understand and predict parameters related to their crops. Now, with mobile phones becoming ubiquitous, giving way to more sophisticated technologies like ICT & IoT, m-commerce AI/ML, mobile computing, mobile application, data analytics and what not, it is pertinent that agriculture too shall become a beneficiary of these technologies. Although agriculture and mobile apps technology may appear disconnected on the face of it, there is already an increasing amount of evidence to suggest that making use of mobile and cloud-based applications not only addresses these sustainability challenges, but also creates financial value for both large agriculture-based companies and smallholder farmers.
The introduction of such mobile technology and portable, wireless devices has led to the creation of innovative services and applications that are used within the agricultural chains in both developed and developing countries. Particularly, in India, the Digital India initiative has, in its full potential, made farmers independent and smarter with their farming. Mobile applications bundled with agriculture services and information has uplifted our nation's farmers to a great deal. However, only handful of such mobile apps has the right mix of comprehensiveness and user friendliness that can deliver a whole package to a farmer without really burdening him with all the nitty-gritty of technology.
Bengaluru headquartered AgriApp is one such application that caters to a myriad of needs of a farmer. AgriApp is one of the most liked apps by farmers. Rated 4.5 out of 5, it is an online farming marketplace, bringing Kisan, farming input/output, government service on an online platform. Approximately 0.6 million users downloaded this farming app.
Roots Running the Vision
AgriApp is the brainchild of Basu Girennavar (Founder & CINO) who
hails from a farmer's family. His roots give him the vantage point to understand the agriculture domain up-close and with sincere compassion towards the hustles a farmer faces. Basu's academic credentials further add to his competence to serve the domain better. He holds a PhD in Agriculture Sciences from the Texas A&M University. Basu was significantly inspired by his professor at Texas University. This professor was none other than, Dr.Norman Borlaug himself.
Dr.Norman is an American agronomist who led initiatives worldwide that contributed to the extensive increases in agricultural production termed the Green Revolution. He was awarded multiple honours for his work, including the Nobel Peace Prize. Norman's Green Revolution approaches influenced Basu's passion for his work.
Keeping a customer centric model, AgriApp is designed and built to empower, enable and enhance farmers and their experience
Basu has been into agri entrepreneurship for the past 12 years, over the course of which he established several successful startups, with AgriApp being the latest. Explaining his journey as to why it is, as what it is, he says, "My upbringing, education, and experience gave me the ability to understand, empathize, and visualize the problems & opportunities, so that I design and crystallize a business model where solutions are at the core of what we offer. And at the same time, sustainability, both in terms of the economy and ecology is where we would like to scale-up".
A Complete Package for Farmers
AgriApp offer farmers a comprehensive package of practices, wherein the experts at AgriApp have elaborately put together 200+ crop package of practices which are very informative, scientific, and relevant to the users of scientific agricultural practices. Moreover, AgriApp has come-up with a unique concept called Crop Calendar, wherein the users or the farmers have to just login their crop's data point. Based on these inputs, AgriApp will send very actionable items for them at the right point in time or critical point in time for them to understand the crop, understand the situation, look into the crop and act on the problem to get better yields. The application also flashes news reports from around the world related to agriculture. AgriApp most importantly offers a plethora of products for farmers to use on their fields. Products which are usually difficult to source, or are otherwise hidden from their knowledge, are made available on the AgriApp. The wide range of products allows farmers or users to go green, organic or sustainable, as per their choice.
One of the most unique solutions farmers could get their hands on is an expert's advice at the touch of a button. AgriApp has a unique section called Agro Experts that connects farmers to more than a dozen agriculture domain experts and researchers who provide
consulting solutions to farmers' agri queries.

Doing it Differently
AgriApp has set benchmarks in their approach with the farmers. Keeping a customer centric model, AgriApp is designed and built to empower, enable and enhance farmers and their experience. This in turn brings-in the economical, as well as ecological prosperity to the 'Kisan' and the world at large around them. This has always been a part of AgriApp's larger approach. Such capabilities and approach has won AgriApp many accolades and titles, including central government's top 20 agriculture startups, where 1200 startups were part of the Agriculture Grand Challenge.

Communication & Information, actionable advice, end-to-end solutions for Integrated Nutrient Management, and organic farming – these are the core pillars on which AgriApp is built. The technical expertise that goes behind such offerings is a well versed and scholarly team of individuals who know the domain by heart. These experts on board AgriApp understand the crop and the farmer's problem, and therefore are accurate in designing the package of practices for AgriApp.

Founder's Note & Future Endeavours
"We visualize that Agri-Tech is a space where we need to play a significant role in order to bring the technology to the agriculture domain. Efficiency in the business model is the need of the hour. We intend to bring sustainability in the entire chain from water, soil to the air pollution caused by unscientific ablaze of the stubbles, to the use of pesticides, safe food, nutritious food, and others. All are one complex problem at play to be solved by technological intervention. And AgriApp is the potential candidate in this approach. I am putting together a team of extraordinary scientists, business people, and operational people, who matter most to convert this problem or challenge into an opportunity to resolve the long impending challenges of the Indian agricultural scenario," elaborates Basu.

Basu is inclined to his vision of bringing-in Drones in the Agri domain in the next 5-10 years. He has expressed strongly about his goal, which is no less than a Sci-fi movie where drones fly across the field spraying organic pesticides. He observes that logistics is fairly underused in the Agriculture domain and envisages to fix this gap with more innovation in the near future.

Basu Girennavar, Founder & CINO
Basu is a passionate entrepreneur with his roots in agriculture. Having acquired his education from premiere institutes, he is actively working together with his team of agri academicians to help farmers get the best of technology.

AgriApp in Spotlight:
• Selected by central government as top 20 Agri startups
• Finalist for m-Billionth Awards 2017
• Winner Elevate call 2 for startup under KBITS – Gov Karnataka
• More than 200 packages of practices for farmers
• A dozen PhD scholars on board to lend their advise
Office: Bengaluru (Headquarter)
Offering: Organic farming products, Crop Analytics, Expert Advice on App, m-commerce and Drone Technology