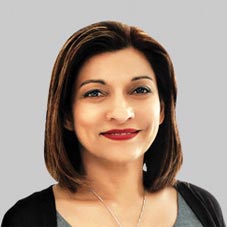 Take any apparel & fashion business today, it is all about targeting customers and achieving utmost customer satisfaction. Mastering the science of customer satisfaction while uncompromising on quality and variety of products is still quite difficult among most of the brands today. But for KOOVS, this is a strategic priority. As an aspirational fashion brand, KOOVS has been revitalizing the online shopping world through technology and its highly engaging and easy to use mobile app, which drives 75 percent of the company's traffic and purchases. Having become the customers' trusted best friend, the KOOVS app leaves no stone unturned to deliver them the best shopping experience.
In an exclusive conversation with CEO Insights, Mary Turner (CEO, KOOVS), a business leader with three decades of professional experience, explains the technical strengths and customer focus of the fashion brand.
What is the USP of your mobile app that segregates you from your competitors?
KOOVS' aim is to provide the best fashion products and customer experiences, and our app is the key platform in making the whole customer experience easy, fast and highly engaging. We have focused on usability, performance, great content and a rich seamless experience for customers.
It's really all about relevance and usability, and that means knowing your audience and making it very easy for them to engage and transact with you. Our app has been rated No.1 for ease of use by Redseer in 2019 and with 2.7 million social followers (1.9 million Facebook and 830,000 Instagram), KOOVS is the most effective social brand for engagement in our peer group – three times the nearest competitor.
Walk us through the benefits offered through your mobile app and your plans to proactively promote it.
One indisputable fact is that native apps provide the fastest, most reliable experience to users. It is the way to relate to customers and provide convenient and personalized shopping experiences. The phone has become an integral part of people's everyday lives, and
being able to place your logo or message at the front and centre of this device is a very powerful opportunity.
Our app is built specifically for KOOVS' core customers who are typically young, fun, tech-savvy and style conscious, and their mobile device is a central part of their lifestyle. 70-75 percent of all KOOVS' traffic and purchases come through the app, with a further 15 percent through the m.site, portraying that the app has been extremely successful in engaging customers, increasing loyalty and encouraging them to interact with the brand.
Brief us on your products & services.
We offer a range of services through the app, making it not only easy to find and buy products, but also providing compelling fashion content with style advice, competitions and user generated and influencer content. We made it a destination for our customers to stay in touch with fashion and related interest areas. Moreover, we encourage our users to sign-up and login before placing orders, so that we can enhance their end-to-end shopping experience.
KOOVS is always working to improve services through technology, whether that means investing in content to engage or looking for the best of breed applications that we can bring to our platform
For example, during the Covid-19 lockdown, we have kept customers engaged with #21DayWithKoovs – a 360-degree campaign to ensure maximum consumer participation and retain high visibility. The campaign included a range of content such as style inspiration, weekly contests, Offer of the Day and social initiatives including #AboveKeyboardDressing and #UnpauseWithKoovs, all promoted across web, app, m.site and social media. As the lockdown was extended, we renamed the campaign as #StayHomeWithKoovs to continue supporting and engaging our customers and followers.
What is the technical expertise that goes behind your app?
The app has been developed on respective native iOS and Android operating platforms with latest technology stack. This makes the app fast and intuitive for the consumers while browsing and also ensures smooth and effective rollout of updates for us. It is also backed by our highly scalable microservices platform and
performant API backend to link with best of breed applications; for example, to utilize customer preferences and shopping patterns, promotions engine and secure checkout, all for the best customer experiences.

Cast some light on innovations/upgradation for your app?
The real innovation is in how new customer groups are responding and going 'online'. Early adoption has been driven by young digital natives to reach nine percent of the Indian population shopping online. Now, the necessity created by Covid-19 lockdown is encouraging new and not so tech-savvy groups to adopt e-Commerce and download apps. However, to ensure that they enjoy the richness and convenience of online shopping, we have to ensure that apps remain easy to use, fast, reliable, and relevant rather than just 'clever' for the sake of it.

What are your future plans for KOOVS?
KOOVS is always working to improve services through technology, whether that means investing in content to engage or looking for the best of breed applications that we can bring to our platform. We believe that the divisions between online and offline will continue to blur, as consumers see online as a channel to reach their favourite brands, and ultimately use a number of channels to get what they want, whether that's buying the latest pair of trainers or fashion content on how their favourite celebrities are styling them.

As consumers rapidly adopt these new technologies, channels and payment platforms as a more convenient way to shop, brands can remain relevant and add value, not only in engaging customers, but also tracking and understanding their behaviour. We are now associating with retailers to create a digital platform, app and customer experience to enhance their physical products and locations with a highly performant and engaging digital presence. Using the latest technologies, KOOVS has the proven expertise in technology, best practice and customer engagement to provide a complete digital package for retailers who want to start that journey.

Mary Turner, CEO
Having served as the CEO of AlertMe, Tiscali UK, and LineOne and as the Non-Executive Director of ASOS.com, Mary stands at the forefront of KOOVS to bring the best of young western fashion to India by leveraging the might of e-Commerce, m-Commerce and e-Payment.

Quick Facts:
Offices: Gurgaon & London
Products: Clothing, Footwear and Accessories for Men & Women