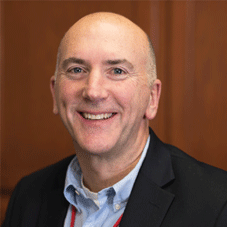 Digi-Key Electronics, established in 1972 is the leading global electronic components distributor. Headquartered in Thief River Falls, Minnesota, USA, Digi-Key is one of the fastest-growing distributors of electronic components in the world with more than 4000 employees in 12 offices around the world. Since inception, the company has been committed to offering the broadest selection of in-stock electronic components, as well as providing the best service possible to its customers, fueling innovation through the entire design process, from prototype to production.
Dave Doherty, President and Chief Operating Officer at Digi-Key Electronics with more than 25 years of cumulative experience in semiconductor manufacturing and distribution joined the executive leadership team in 2008. Dave Doherty has been awarded the ECIA North Star Award by the Electronic Components Industry Association (ECIA) at their annual Executive Conference in Chicago. Doherty has also served on the former NEDA board and now ECIA board since 2007. He chaired the ECIA Foundation from 2011-2015, served as the ECIA chair in 2017-2018, and currently chairs the Distribution Council. During his time on the ECIA Foundation Board, he was instrumental in guiding it through the merger and identifying a mission of promoting the value of the electronics components industry through developing, leveraging, and deploying educational and awareness-based initiatives.
Your organization is driven by the vision to provide not just comprehensive, but the best possible range of reliable Electronics components. Tell us more about your offerings and various technological implementations to ensure the products and fittings are in sync with the latest trends and requirements.
Digi-Key enables the world's ideas, beginning with access to 11.5 million components from 1,500 qualities named brand original
manufacturers, including over 3.5 million products in stock for immediate shipment anywhere in the world. Beyond the latest products that drive technology innovation, we also provide a wealth of technical content and digital tools to support design engineers and procurement professionals. Currently, Digi- key serves more than 5,000 unique customer sites in India with annual revenue of more than $36,000,000 (USD).
Digi-Key enables the world's ideas, beginning with access to 11.5 million components from 1,500 qualities named brand original manufacturers
As a privately held company, Digi-Key can continually reinvest in the needs of the customers vs. shareholders, we thrive on innovation, continuous efficiency, and improvement. We have the ability to service customers virtually anywhere in the world by delivering the product within 60-72 hours and fulfill the technological needs of the engineers throughout the entire ecosystem of their project, supported by unparalleled levels of items in stock.
Digi-Key's order fulfillment system enables orders to be processed from order entry to shipment in a short time of 20 minutes, meaning 99% of orders are shipped the same day an order is received. Digi-Key's product offering is continually expanding to add the latest and most relevant new technologies daily – IoT, 5G, Industrial Automation, and more. The Digi-Key line card consistently reflects the key devices and components that drive new technological development.
Founded in 1972, Digi-Key is a pioneer in the mail-order catalog business and a key resource for design engineers. How has the organization grown over the decades? And give us a brief account of how Digi-Key Electronics plays a key role in Innovation all over the world.
Beginning in the early 1980s, Digi-Key began to evolve from a hobbyist audience to serving more and more consumer markets. Investment in leading-edge order fulfillment and material handling technology enables us the scalability for continuous growth. The early adoption of the internet began to fuel global expansion as Digi-Key quickly became a global player in
the electronics industry. Today Digi-Key is one of the top five distributors in the world and serves more than 600,000 customers.

From the original concept to design, Digi-Key supports the innovator with technical resources, tools, and broad inventory selection from the bare board to the board level components to the sup-porting devices needed for high-mix & low-volume production. Customers of all sizes from anywhere in the world is able to leverage Digi-Key's strengths to enable their innovation and speed up their time to market.

Please share an anecdote of Digi-Key's client ventures, exemplifying the firm's success.
Most recently during the global COVID-19 pandemic, Digi-Key has been an essential business for technological innovation and infrastructure support for those fighting the virus on the front lines through-out. Digi-Key was instrumental in providing both technical expertise and product support in the earliest versions of lower-cost ventilators that ended up receiving FDA approval and reached production in the United States, Europe, the Middle East, and the Asia Pacific. Internal Ultra-Violet (UV) sanitation equipment was developed internally to ensure totes passing through the company's intelligent conveyor system where clean and safe workers interacted and shipped products. Further, Digi-Key products are going into extreme refrigeration units to preserve vaccinations as they are rolled out to the customers developing new technology that is inside the medical devices.

What is the future roadmap set for Digi-Key Electronics?
As a company founded by an original MAK-ER and one that remains focused so closely on the needs of the customers, Digi-Key is al-ways on the leading edge of evolving to meet the latest trends in terms of products, solutions, and services.

Dave Doherty, President and Chief Operating Officer
Upon completing BSEE (Bureau of Safety and Environmental Enforcement) from Worcester Polytechnic Institute in Worcester and Master In Business Administration from Babson College from Wellesley, Massachusetts, Dave gained impeccable expereince in semiconductor manufacturing and distribution. He also led sales with world renowned companies like Toshiba and Exar. Dave has experience in contributing being in the advisory board of the School of Professional Selling at Baylor University.