TTI Electroni Asia: An Industry Stalwart Striving For Consistent Improvement And Constant Innovation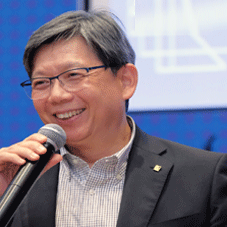 TTI is a pioneering brand name in the global electronics industry and over the course of the last five decades, the company has been able to cement their presence in countries across the globe. The company's Asia Pacific operations are spearheaded by industry stalwart Anthony Chan who has played a crucial role in establishing TTI in Asia and he continues to be a change bringer in the global electronics industry.
In an exclusive interview with CEO INSIGHTS, Anthony talks more about his professional journey and TTI.
What motivated you to pursue a career in the electronics industry?
It was July 1969 and, I along with the rest of the world was glued to the television witnessing history in the making. While I appreciated Neil Armstrong's giant leap for mankind, it was the technology that allowed them to achieve that historic feat that captivated me. Even now, I remember that day clearly and even though I found it amazing to see Neil Armstrong step onto the moon, all I could think about was the electronics and communications which was happening behind the scenes. From that point of time onwards, I was intrigued about it and wanted to learn more. This spark is what ignited my passion for electronics and technology in general.
Fuelled by this passion of mine, I started my career as a field application engineer for Siliconix which is now called Vishay, which is an American manufacturer of components with a global footprint. They are very well known as a manufacturer of passive and discrete semiconductor components. I gained a lot of valuable experience working with them and stayed for about 18 years before the opportunity came in 2001 to join TTI in Singapore, just after its launch the year before.
I was one of the very few early employees of TTI Asia Pacific. My knowledge of electronics was a valuable advantage to the business as I worked in the managerial roles and helped the organization to establish themselves in the Asia Pacific region. I think I was probably the fifth employee to join TTI here and I came to set up the sales operations in Singapore and then in Hong Kong, followed by Shenzhen, Shanghai, Taiwan, and other cities in Thailand and India.
The fact that I also had a law degree
from Peking University which I gained after completing my master's in ecommerce helped me to offer something more to the growth of TTI. I did my education in law part-time while I was living in Beijing and even though I never practised law, it helped me a lot in business, particularly when I joined TTI and needed the expertise to set up all the different operations, which meant dealing with local government and confirming contractual agreements.
We have always prioritized on the quality of our products and we make sure that we offer the best quality products at a competitive price
Can you tell us more about the operations of TTI and what makes you unique from the rest of the competitors?
Our extensive product line is distributed from a wide range of manufacturers, with Vishay, Molex, TE Connectivity, AVX, Sensata and Panasonic just being some of them. Our product line itself includes capacitors, resistors, connectors, potentiometers, trimmers, magnetic and circuit protection components, wire and cable, identification products, application tools and electromechanical devices.
Our ability to improve ourselves constantly has helped us to develop into avisionary business organization and we have come up with a plethora of industry-first products. We are a market leader and our founder is still heading our operations and his industry expertise has been crucial for our growth. We are a very unique company and we have our presence all over the globe. We do not just sell components, we make sure that when the customer buys products from us they will not face any quality issues and we make sure that we always keep a certain level of inventory all the time.
All our suppliers are key manufacturers in the industry and this helps us to get the best possible goods to make our products. And because we are present across the globe, we are able to provide ample support services to our clients from different countries. We see ourselves as specialists and we make sure that we understand all the latest technologies and innovations that are happening in the industry regarding the products that we are dealing with.
Can you tell us about the growth of the company so far and the major factors that have contributed to the growth?
As of today, TTI is one of the world's most prevalent distributors of electronic components, with our supply chain providing solutions for industrial, transportation, military and aerospace sectors as well as consumer electronics
manufacturers. Around the globe, TTI boasts more than 850,000 component part numbers, as well as 5,600 staff employed in more than 100 sales locations and 13 distribution centres throughout North America, Europe and Asia.

This year is extra important for us because we are celebrating our 50th year anniversary and our company started from scratch and over the course of the last couple of decades, we have grown a lot and have acquired multiple companies which have helped us in our growth. We have been able to build new and innovative products from scratch and come up with revolutionary products in the market. During the last 15 years, we have grown two to three times and develop into a market leader in this segment. With that said, our business motto hasn't changed since our inception and we have stayed true to who we are.

We have always prioritized on the quality of our products and we make sure that we offer the best quality products at a competitive price. It is our mission to offer the best value for money products to our customers and they can feel the difference between the quality of our products when they get them. Through research, we also make sure that we innovate our products constantly and enhance the user experience even more.

What are the future plans of the company?
In a commitment to boost our future growth, we have opened a brand-new distribution centre in Fort Worth which is the single largest capital investment the company has made in our 50-year history. While this facility will mainly be used for supporting the US operations as well as handling the purchasing and stocking for seven TTI warehouses in Mexico, 10 percent of its business will replenish product lines in international locations, including Asia.

Also, going forward, we want to ensure that we use the latest technologies in the various facets of our operations and this will help us to offer better products to our clients and we are particularly looking at the latest technologies in logistics and supply chain management.

Anthony Chan, President
Known for Leadership, Management, New Business Development, Strategizing Marketing, Customer Service, Sales, Team Development, Negotiation and Banking, Anthony completed his education from Peking University. Anthony started professional career in field application engineering in Vishay (former Siliconix) and learnt industry work and experience. When Anthony joined TTI as the fifth employee, he had a small team who started working from scratch. He directed the sales and operations which expanded in countries like Singapore, Hong Kong, Shenzen, Shanghai, Taiwan, and different Thailand cities and India respectively.