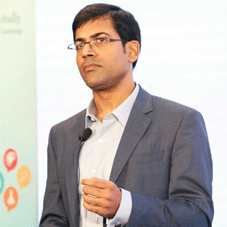 Following the footsteps of other industries in the quest to impart a better experience on the delivery end, the healthcare industry is hosting a paradigm shift from volume to patient experience & value of care. Playing a pivotal role in this transformation is hardly a handful of healthcare-IT leaders like Dilip Ramachandran, CEO & MD of ZoftSolutions an innovation hub obsessed with result centric & cloud-enabled Digital Transformation in Healthcare through rendering costeffective solutions. Over the past six years, Dilip through ZoftSolutions has spearheaded this novel revolution on a global level by engendering an IT culture of patient driven care powered by advanced Analytics & Data Science.
Dilip's success and growth to the global level can be traced back to his customer-centric approach, and in turn, his decade-strong experience as an IT professional. He commenced and excelled his career in TCS as a programmer & later as a consultant. The way he had to decipher the customer requirements bit-by-bit and build customer & requirement centric solutions helped him master the art of understanding customers at a strategic level, while he has also been successful in bringing together talents to provide the best solutions that technology could provide on a global scale.
Under the aegis of Dilip, ZoftSolutions today has grown its presence in North America, in addition to launching a 100 percent subsidiary in Canada. The true leaders are never confined to the premises of an organization. Dilip has proven this adage yet again by conceptualizing & creating 'Digital Innovation Summit'a platform that encourages & showcases unique innovations that create opportunities for a better world. No wonder Indian Express recognized him as one of the 'Top Promising Entrepreneurs in India 2018/2019'. CEO Insights engages in an exclusive interview with him.
Healthcare IT is a populous industry. How has been your journey so far? What were the challenges en route?
We built ZoftSolutions from scratch.
When I moved into Zoft as a CEO in 2015, we just had a makeshift office and a few employees. In the growth process, I had the opportunity to wear too many hats. From recruitment to managing the nitty-gritty of the company, and from inspiring my team to dream bigger to managing the board room, creating a culture of innovation, grooming a strategic team, scaling our business to new shores, and being a patron of our CSR program 'Ignite' the list goes on. So, it definitely has been an exciting and bold ride.
We are a company driven by innovative thoughts and our ecosystem is built to churn out solutions that are unique
Like any other new company out there, we too had teething issues. Our aggression in the early days had its set of disappointments too primarily because our focus was every where and the objective was not clearly defined. The first endeavor was to bring in the right blend of experience in the team which helped us evolve. That was followed by creating a decentralized environment with the right checks in place to measure what matters, and it made a huge difference. Alongside shifting our focus to Healthcare technologies at a time when the industry was looking for digital transformation was also crucial.
In your professional journey so far which are the milestones that bestowed you utmost satisfaction both as an individual and a CEO?
As an individual, it was definitely that moment when I made the decision to chase my passion as an entrepreneur battling the emotional struggle of moving out of the comfort zone of employment in IT services.
As a CEO, I relish our success and failures but still there are some proud milestones worth noting like when we found our first client, winning our first government bid, launching our subsidiary in North America and also when Zoft conducted its first Digital Innovation Summit in India(Kochi) with cross industry partners & clients last year.
How do you attribute the contributions of your team in the success of Zoft Solutions?
Like they say, 'Alone we can do so little, but together we can do so much'. We have a very experienced bunch at the top driving Zoft including our Chairman and my
guide KJ Paul, our CTO Shine Saseendran, CFO Sudeep Joseph, Siji M (Co-Founder) and Mario Perez (Head Global Sales & Marketing). In addition, there is a set of passionate & committed leaders in each division who give me the strength to dream bigger.

Are you engaged in any sort of activity outside your organization to share your industry insights with peers?
We are a company driven by innovative thoughts and our ecosystem is built to churn out solutions that are unique. And this is possible only through cross industry alliances. We conduct a series of workshops each year involving CXOs & CIOs from the healthcare industry to brainstorm howto properlyharness digital technologies to create the future business.

I have also been involved with Networking Organizations through programs where I share business insights & market trends with young entrepreneurs. Our initiative, Digital Innovation Summit also incorporates workshops & design thinking sessions.

Family plays an important role in every leader's life. How has been the support & inspiration from your family in your journey so far?
Support from my family, especially from my wife Kavitha, has played an instrumental role in the success of my journey. She is very much part of our Zoft family (as a Lead Consultant)and understands the challenges in the industry very well.

How do you plan to take this success forward?
In the Healthcare space, we are working closely with the industry to develop solutions that will encourage Patient Driven Care, using Smart Gears and Advanced Analytics. We are also entering into the EduTech space with the launch of our first product for the B2C segment. You will definitely hear more about it as we progress.

Key Management:
Dilip Ramachandran, CEO & MD
An engineering graduate, Dilip started his professional career with TCS as a software engineer. After 11 years and huge experience under his belt, he co-founded Zoft in 2014. He is an exceptional leader who is known for his ability to bring together talents to provide the best solutionsthat technology could provide

Office: Kochi

Favorites:
•Hobby:Reading
•Cuisines:South Indian & Arabic
•Travel Destinations: Europe & country sides in India