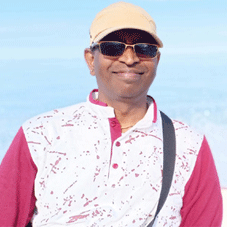 Cloud has infused endless possibilities in the healthcare ecosystem, especially for countries like India that is still catching up with delivering healthcare in realtime. However, despite our Prime Minister Modi creating a level playing field for startups and creating several opportunities for the healthcare sector in the country, the ecosystem still limps due to inadequate enlightenment about the potential technologies like cloud hold for them.
Amending this fix and creating some of the best opportunities for the healthcare sector in India is Galactic Medical DataBank Private Limited. Under the headship of Krishnamurthy Ramalingam(CEO & MD), the company has achieved wonders in just few years of its existence. From offering consulting, technology and outsourcing solutions to co-creating breakthrough solutions in the field of Mobility, Sustainability, Big-Data, and Cloud Computing, Krishnamurthy has been steeringthe wheels in the right direction. In an exclusive conversation with CEO Insights, he delves deep about himself, his achievements, and the strategies.
Give us a brief overview about your educational & professional background prior to establishing Galactic Medical DataBank Pvt Ltd. Also highlight your unique skill sets and strengths.
I hold an M.S. in Computer Systems Engineering from University of Arkansas, Fayetteville, US. I have spent around six years of my initial career at US companies in Silicon Valley including Fujitsu, 3Com, Extreme Networks, Yodlee, and much more. Post this, I spend my next six years at Amrita Institute of Medical Sciences, Kochi developing Medical Software & heading Telemedicine Department. My next six years were associated with Infosys working in various divisions including Education & Research, Microsoft Technology Group, and Healthcare Solutions Divisions.
In 2013, I left Infosys to pursue my own dreams and since then have been heading my start up healthcare company Galactic Medical DataBank Pvt Ltd. Leveraging my
project management qualification from PMI, US and aligning it with my strong project management qualification from PMI, US and aligning it with my strong project management experiences along with strong technical knowledge in Microsoft Technologies, client presentation, strategy & marketing planning and strong team building skills, I have created a powerhouse of knowledge and expertise in just seven years of Galactic's establishment.
I always keep learning new and try to incorporate them into our product
What are your professional facets you are much proud of?
Over the span of 25 years of my professional career, I have achieved a number of milestones. One of which I am really proud of is our product 'GMDCLOUD', which won the Best Innovative Healthcare Product from Govt. of Karnataka in 2015. I am also proud of achieving the unexpected when with Infosys as part of the PreSales team, I worked 16 hours/day including weekends for almost 10 months in 2012 towards responding to the RFPs to the US Government's Obama Care Healthcare projects across 40 US states. This won us the 'District of Columbia' RFP of $100 million project in 2012.
While at Amrita Institute of Medical Sciences, as the Chief of Telemedicine Technical Services, we were able to provide specialist teleconsultations to about 64 remote telemedicine centres across India. We also remotely provided telecardiology services to Sabarimala Cardio Intensive Care Unit from AIIMS, Kochi.
As an industry veteran, your views, recommendations and suggestions have graced several eHealthcare Magazines. Do you think the Government of India has taken seriously your recommendations?Any more suggestions?
Yes, the Government of India has taken our recommendations too seriously. AYUSH gets a separate Ministry and boost. 2.5 percent of the GDP is allocated to health; several AIIMS institutes are coming up in several states of India. Healthcare policy 2017 is a big step towards healthcare reformation in the country and even healthcare standards guidelines were architected for our nation.
However we still need to implement the Healthcare Policy 2017 effectively throughout our nation. Telemedicine & CME needs boost from the Government of India. Health Insurance needs to cover AYUSH too. Digital Health needs boost. Startups need support and
help from Government and MNCs to be part of all government projects. Public Private Partnership(including NGOs) in healthcare sectors need boost in PHCs, SHCs, and THCs.

What are the challenges that startup companies like yours face in India? Also, how did you manage to overcome?
Right from the very beginning, challenges were at the door. We had to sell our properties to raise funds to start and maintain the company till date. On the other hand several Healthcare Institutes want us to implement our product free since we are startup company. Government Healthcare Institutes have a lot of rules and regulations which prevent startups like us to implement our innovative product. We cannot enter Government Healthcare Institutes without knowing an influential person to talk about our product to the management. We are always thankful to our advisor V.V. Bhat (former secretary to Government of India) who was always guiding us throughout our journey.

How do you ensure to update yourself with the latest trends and technologies in the field of healthcare?
I always keep learning new technologies like AI & ML, Extended Reality, 5G in Telemedicine, Robotics, Computer & Machine Vision, Wearable Tech, Genomics, 3D Printing, Digital Twins, and more, and try to incorporate these new technologies into our product. Attending International Healthcare conferences helps me to know the current trend and technology advancements across the globe.

How has been the support & inspiration from your family in your journey so far?
I am always grateful and thankful to my family, relatives, and friends, for the support and the help they have provided to me in my professional life right from the beginning.

Are you engaged in any sort of mentorship programs outside your organization to share your industry insights with peers?
Yes, I am involved in PMI Volunteer program, providing mentorship to startups, NGOs, and schools.

Key Management:
Krishnamurthy Ramalingam, CEO & MD
Holding over a quarter long industry experience, he has been the linchpin in bringing several positive changes in the healthcare sector in the country while delivering innovative solutions to the industry.

Favourites:
•Hobbies: Yoga, Japa and Meditation
•Restaurant: Dhatu (Organic Restaurant & Jalpan in Mysuru)
•Travel Destination: Pilgrimage places like Kailash, Muktinath, Kashi, Rishikesh, Pancha Dwarka, Pancha Badri, Ahobalam and others