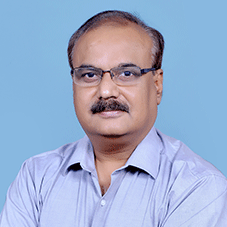 In the modern times, our country's Geriatric Care infrastructure has travelled backwards, manifesting an agonizing picture. A study by Age well Research for the UN divulges that 62 percent of elderly in India lack long term, palliative care, while over 75 percent of them limit social interactions, or their family doesn't take care of their needs! Dr. P.S. Ramkumar (Co-Founder & CEO, Applied Cognition Systems (ACS) Pvt. Ltd.) a technology wizard who is currently an empanelled expert at the UN for ICT standardization and application is on a mission to transform this drastic scenario of elderly care, leveraging technology to the fullest.
After contributing significantly to growth of Intel intellectual ecosystem in the country, Dr. Ramkumar today is banking on his extensive experience to create a technology enabled ecosystem, bringing together various stake holders of healthcare industry towards integrated care services especially for elderly citizens and young children. The company he incepted along with Anitha Meenakshi, ACS a pure play healthcare technology research company is at the forefront of executing this vision. CEO Insights is delighted to interview Dr. Ramkumar to explore further about his journey, mission, present endeavours, and future plans.
You started your career as a Lab Assistant in Raman Research Institute, and in 15 years, grew to lead your lab and got recognized for your contribution as young scientist by the Indian Academy of Sciences. What was the inspiration behind such a journey?
My father was my primary inspiration. He actually retired when I was in the ninth standard, and it was difficult to afford even a merit seat in the engineering college. He did best within his means to support me and advised – "If you want to grow to your limits, you better be employed, earn, and then learn". I had to find the earliest pathway to a technical job; so I did Diploma in Electronics & Communication Engineering and joined my job at 18 at the Raman Research Institute (RRI) as a wire man. His inspiring words gave me passion in pursuing my education from diploma to Ph.D along my job. I was fortunate to be mentored by several renowned scientists at RRI including dignitaries like Prof. Venkatraman Radhakrishnan (son of Sir CV Raman), who imparted not only knowledge, but also their valuable wisdom and simplicity. Those 15 years moulded my abilities, self confidence and attitude to handle new challenges in uncharted terrains.
From the hardcore academic background to the corporate world of Intel, that was quite a transformation. What's the story behind that?
I would say that a series of events led me to industry. When I was working at Holland in a very prestigious postdoctoral position, my mother suffered a stroke, and in a few weeks, my father also fell sick with Myasthenia gravis. With both becoming dependent patients, the situation was challenging for me to
stay back. I had to choose between being a scientist first or human being first; I chose the latter, but economic pressure showed me that I had to make myself financially independent if I need to be doing what I want. That's when I started my corporate journey, working in a couple of US based companies until in 1999, I co-founded Vxtel a technology startup, which was later acquired by Intel. I got trained by PwC in various company operations, and learnt as I ramped up to needs of a MNC startup environment in industry. Later at Intel, I worked as Director Network Connectivity Division in India and later transitioned to corporate team to establish Intel's research and innovation program, with a mission to build an intellectual base to its India expansion. For this program, I surveyed all top universities of India and established millions of dollars worth multi disciplinary research collaboration with several of the premier institutions. It was a truly humbling experience to find the country with abundant intellectual capacity. The program's initiatives for fostering internal innovation placed Intel at third place among companies with 700+ patent filings in India.
Dr. Ramkumar today is creating a technology enabled ecosystem, bringing together various stakeholders of healthcare industry towards integrated care services, especially for elderly citizens and young children
Did that experience lead you to the inception of ACS?
Yes. It was also a time when my parents' ailing health posed challenges and I saw many gaps in healthcare system, even though I was residing in a modern metropolis Bangalore. Also, some of the university collaboration projects led me to understand challenges in rural areas in reaching-out to quality healthcare. I found that many of these gaps could be resolved with help of technology, but many brilliant minds and innovations had not gone beyond academia into industry for commercial product development. With time, this awareness became so strong that I left Intel to dedicate myself on a larger cause of bridging the gaps by technology enablement. I was also a special invitee to health ICT standards advisory committee to GOI, which gave perspective of national scale planning and reallife challenges to large scale implementation and governance. In 2009, ITU wing of United Nations empanelled me as an expert to work on issues in global health ICT transformation initiatives. Here, I got funded by UN to study landscape of e-health initiatives, challenges and solutions across various developing countries and identify e-health services deployable in step with their infrastructural maturity. The gaps we identified were quite shocking, especially for children and elderly aged population. I saw it was futile to force-fitting technologies from developed countries in these demography, and needed a different new approach. This drove me to startup ACS in a basement garage in Bangalore and recruit post graduate interns and train them to innovate, develop & deploy technology solutions addressing specific healthcare needs. It has come a long way and has been a gratifying experience, proving what young, fresh minds can achieve with a bit of encouragement and guidance.
How is ACS realizing its vision and creating value?
One cannot approach healthcare with piece meal solutions, and to develop something with a comprehensive view point takes significant interdisciplinary expertise, investment and effort. Cost of innovative product development is a serious entry barrier in healthcare market. We have achieved significant reduction in this cost through our academic collaboration programs. It is a win-win-win for the student, academia and the company. While it reduces R&D cost, it provides hands-on opportunity for young engineers to develop practical technology solutions, entrepreneurship & leadership skills and academia sees better industry readiness in their students. Sandeep Patil, a meritorious M.Tech Student who came for internship at ACS nine years ago and has grown to become an executive director of the company, is an excellent example. With such an approach, ACS has been able to invest over 500 man-years of effort into developing several useful products, and setup centers of excellence(COEs) at Manipal University, GMIT Davangere, Widad University (Malaysia), and establish industry-academic collaboration with more than 25 colleges. These COEs are interdisciplinary, with engineering, medical and business management students who work together on product development with a 360o approach, addressing markets in developing countries. In developed countries, there is a strong layer that brings academic research outcomes together and develops productionworthy, innovative, consumer friendly products and solutions. Apcog plays this role along with its academic and industry ecosystem. My role in mentoringsome colleges as Distinguished Visiting Professor of AICTE and as an advisor to boards of some SME companies has also helped take this cause further.

What are the opportunities that you foresee? What's your future roadmap?
We are on a steady growth track, driving towards the expansion phase. With several publications, patents, and international R&D contracts, we are standing as a technology R&D partner. Our vision is to improve quality of life especially for in Geriatric & Pediatric care through technology enablement for cooperative care services from all stakeholders of the health industry. While ACS continues technology innovation, we have now a spin-off company to use the technology in enabling integrated care and training services from hospitals, clinics, labs, pharmacy, nursing agencies and education institutions. Although our primary endeavors are focused on technology solutions for comprehensive healthcare, our capabilities have found use in other domains as well such as education, governance, transportation, and telecom, and has led to growth of our engagements with these industries as well.

KEY MANAGEMENT
Dr. P.S.Ramkumar, Co-Founder & CEO, Applied Cognition Systems
Dr. Ramkumar's experience with technology spans across 36 years. He has been through different roles and responsibilities – as a scientist, teacher, corporate manager, entrepreneur and advisor to SME companies. Currently, he is empanelled in UN's team for ICT standardization and application.

Free time Hobbies: Composing & singing songs, sketching and writing short stories & poems.
Cuisine: Prefers home made food.