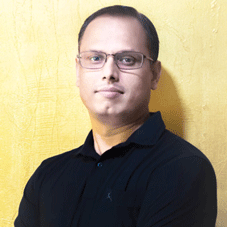 Overcoming a horde of challenges such as availability,accessibility, affordability, data management and others coupled with rising population and diseases the healthcare sector in India has grown at a constant pace during 2019. Well, 2020 looks quite optimistic for the sector specifically in terms of adapting technologies. Particularly for the health insurance companies technological innovations stand as the backbone in achieving unparalleled customer engagement and thus, increasing healthy customers.
Soaring high as a doyen in this field of insurance technology (InsureTech) is Ratheesh Nair(Founder & CEO, Watch Your Health) who is an adept innovator with over 19 years of experience in online consumer behaviour as well as product design. Besides being the mastermind Ratheesh currently spearheads the end-to-end operations of Watch Your Health a newage InsureTech company that is empowering health insurers as well as health insurance policy holders.
While interacting with CEO Insights, he has articulated a great deal about his journey as an entrepreneur and a CEO. Here are the excerpts!
What triggered you to plunge into the healthcare technology space?
Let me start with my educational back ground. I pursued Bachelors of Law at University of Pune and MBA in Finance at SIES College of Management Studies, Mumbai. Soon after graduation, I started my professional journey with ICICI, followed by stints at Kotak Securities, Edelweiss Capital and IIFL. During the major part of my career I was engaged in financial endeavours like online investment strategies, design & sales of apps and websites, and many others. What inspired me the most during
these stints was the way technologies could impact customer behaviour, especially in the finance sector. It was then I realized that technology could also create many wonders in the high demand field of healthcare. That's how I plunged into the healthcare technology space! Today, we at Watch Your Health are meticulously infusing technology and behavioural science to revolutionize customer engagement across the insurance industry.
As a CEO, I'm proud to have created a brilliant team whose passion and mindset perfectly aligns with mine
Walk us through the major challenges that you faced as an entrepreneur and how you managed to overcome them.
The challenges we faced were akin to what a startup would usually face for instance, lack of infrastructure funding, choosing the right technology and eventually etching a name for your brand in the industry. Thankfully, when we started Watch Your Health in 2015, the insurance sector in India was flourishing. Besides, we had the right product idea with us. Hence, everything paved quite well for us!
Another forte of ours is that we have an absolutely passion-driven team with us. As a CEO, I'm proud to have created a brilliant team whose passion and mindset perfectly aligns with mine. They truly stand as our pillars of success today!
What are some of the milestones that you have achieved so far?
Signing the deal with the first insurance company was the biggest milestone not just for Watch Your Health, but for me as well. This is because before that we were just an idea, but then, our idea has turned into a beautiful reality. We take pride in bagging many achievements since then, with no regrets. Today, Watch Your Health outshines as an insurance technology platform that provides a digital health ecosystem to insurance companies and corporate houses. We deploy a wide range of analytics to not only help clients keep-up their health goals, but also address their diverse needs & concerns through our team of
doctors, dieticians, physiotherapists and psychologists.

Are you planning to unveil any new technology solutions?
Yes! With our main focus on Artificial Intelligence, we have recently launched our Chat Bot. Very soon, we will be coming-up with a new solution that is oriented on Augmented Reality.

How do you keep yourself updated on the trends in the industry?
I personally read a lot and attend seminars and conferences on InsureTech. Also, I encourage the innovation team at Watch Your Health to share new ideas and trends in the industry during our weekly meetings. This way, everyone in the company stays abreast!

Have you been a speaker or mentor till date?
Yes, I've been invited by a few colleges and schools to voice-out my advices and suggestions to students. I always tell them to strongly focus on learning ethics of life rather than mere subjects in their curriculum, because ethics form the very essence of a person's character.

Lastly, we would like to know about your personal life.
I'm extremely fortunate to have Roshni, my wife and Reyansh, my four year old son who have constantly bestowed me with enormous support.I'm what I'm today majorly because of them! While I discuss ideas and work with Roshni, she stays actively involved in the company's day-to-day endeavours. Well, she has even concocted brilliant ideas for the company, which delivered great outcomes.

Key Management:
Ratheesh Nair, Founder & CEO
Ratheesh is an experienced leader with exemplary know how in product development as per the market demands, planning strategies and many other aspects. He also holds a phenomenal track record across digital healthcare and corporate wellness sectors.

Favourties:

•Hobbies:Reading avidly & Playing Tennis(Professional Player)
•Cuisine:Japanese
•Travel Destination:Vietnam