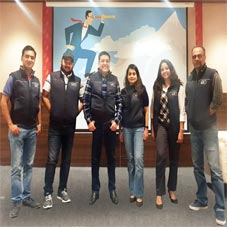 The engineering services industry has evolved with leaps and bounds in the last 20 years. There are approximately 9000 engineering service providers in the country, yet only a handful have made a reputation of being 100 percent first time right. Here is a firm, established in 1999 that has lived up to this requirement.
DIN Engineering Services is a Multi-Discipline & Multi-Platform Engineering Design and Drawing Services covering end to end services in CAD and GIS to its global clientele. The company takes pride in having several long-term customer relationships spread in over 0+ countries. It is ISO 9001:2008 & ISO 27001:2005 certified and besides having 100 percent export unit status, the company operates from within the Special Economic Zone (SEZ) premises as set up by the Government of India to propel business exports from the country. We got to understanding DIN Engineering Services' global outreach and its operations and capabilities. In the below excerpt of CEO Insights' conversation with Anuj Gupta, he shares a detailed picture of the positioning of the firm.
What does DIN Engineering Services stand for and focuses on primarily?
Ever since its inception in 1999, DIN Engineering Services has been delivering high quality CAD services. As a one stop destination for end to end services in CAD & GIS, DIN is known to serve a plethora of industry verticals. Renewable energy, primarily Solar, and Telecommunication, are the key
focus areas for DIN Engineering Services. Our strength lies in our competent team and we believe this differentiates us from our competitors in the market. Regular training is the best way to enable your team to perform. Our trainings are well defined and aligned with our client requirements'. We have setup a training academy so that we can backfill, manage attrition, and shrinkage. This has helped us to perform at a good 4.8 percent C-SAT score, 99 percent On-Time delivery, and first-time right deliveries.
DIN Engineering Services is a Multi-Discipline & Multi-Platform Engineering Design and Drawing Services covering end to end services in CAD and GIS to its global clientele
Tell us about DIN Engineering Services' various team working together.
DIN Engineering Services is a people driven organization that comprises of teams that are very approachable in resolving any problem whatsoever. We have an operations team headed by the VP of Operations. Each project is assigned to a Project Manager who reports into the VP Operations. We also have a Business Excellence team that keeps a check on the quality and project delivery timelines. In addition to the Ops team, we also have the Customer Success Team who engages with the client on regular basis and work towards improving the overall service levels.
What differentiates DIN Engineering Services from the peers in this domain offering competitive products & services?
Our core differentiating factor is our belief in running streamlined processes. Considering this fact DIN has separate departments managing their respective responsibility leading to high
customer satisfaction. We also take care of our internal customers i.e. our employees. Training being an important part of our endeavours towards success, we make sure customer satisfaction is guaranteed driven by employee satisfaction.

How has DIN Engineering Services maintained a reputation of qualitydriven services? What measures are in place?
As I mentioned earlier, we invest heavily in our team. DIN has started a couple of initiatives to keep a check on the quality of the services being delivered. More so, our team are driven to deliver first time right jobs. One initiative we have devised is the quality driven incentive plan, which ensures that whosoever delivers first time right deliveries, for that each deliverable from the employees end, the employee is incentivized. This drives the team. Also, our business excellence teams' intervention into operations has significantly impacted our long run. The business excellence team identifies and removes redundancies in the project, thereby introducing optimized processes. The production and quality processes are well defined. I think these measures have helped and enabled us to deliver quality products and quality services to our clients.

What are the future plans for the growth of DIN?
We intend to grow horizontally and vertically. Horizontally in terms of improving our service lines as we get into allied services for the solar domain. We currently have 300 plus clients across 20 countries. Our plan is to exhibit in trade shows across the globe and invest in varied marketing activities to increase our customer base.

Anuj Gupta, CEO
Anuj believes in strong leadership. He believes in empowering his team who works in line with the company's mission- Provide competitive advantage to our clients through expertise, scalability, innovative use of technology and excellent customer service. So he's the one who's taking the company from leaps and bounds.