Dinagarajan Mathivanan: Instilling Quality And Customer-Centric Operational Philosophies To Steer DatafabricX Towards Growth

DataFabricX is one pioneering business organization that was incepted with an idea to offer class-leading data security and data management services to their customers at a competitive price. Apart from this, the company is also an expert when it comes to enabling data discovery, classification and remediation. Starting from humble beginnings, as of now, DataFabricX has their offices in Chennai, US, and the UK. Kumar Ramakrishnan is one of the founders of DataFabricX and he is also the CEO of the company. His business expertise and industry wisdom have helped DataFabricX to reach for greater heights in the industry. Another pioneering industry expert that has been spearheading the business operations of the company is Dinagarajan Mathivanan. His enthusiasm and commitment to never compromise on the quality of DataFabricX's services has been a primary catalyst behind the company's success in the industry.

In an exclusive interview with CEO INSIGHTS, Dinagarajan talks more about his professional journey and the unique business operations of DataFabricX.

Can you elaborate more on your educational and professional background?
I did my Bachelor of Medicine and Bachelor of Surgery from Sri Ramachandra University. As I come from a business background and also having huge interest for business from a very young age. I quickly straped on and I had got into my father's ventures while I was studying MBBS. This gave me a head start in learning corporate matters and decision making.

What are the various roles that you are taking up at DataFabricX?
Apart from being the co-founder of the company, I take active roles in sales, meeting clients and I also keep in constant touch with our product development team. This helps me to know more about the products that we offer and that comes in handy during sales meetings with our clients.

What helps you to generate innovative business ideas for your organization?
I always keep myself updated with the latest trends. Owing to my passion for creating a successful
and well-established business organization, I have been able to come up with unique business ideas that will help DataFabricX to achieve success in the long run in the market and at the same time separate ourselves from the rest of the competition in the industry. For us as an IT company, it is crucial to understand our customer's problems and after understating that, we help them to overcome those problems in an efficient and effective manner. So, what we do is, we create our products in such a way that it is capable of solving our clients' problems seamlessly.
My team is fully equipped with the right skill sets to churn out the best services and they have got immense industry expertise and experience as well
Apart from that, I always keep myself updated with the latest trends and happenings in the industry which also helps me to take the right business decisions at the right time for DataFabricX. We as an organization also strive to incorporate the latest technologies and innovations into our operations so that we can consistently improve the quality of our services. All this has helped us to understand and provide solutions for our client's problems.
Can you talk more about the services that you provide?
When it comes to our offerings, we have created a diversified product portfolio to cater to the varied requirements of our clients that includes a) DFX eDiscovery which is an AI based data discovery engine that will index information from different sources and update them, b) DFX Classifier that provides automatic classification based on pre-defined rules during the creation or modification of data, c) DFX Workflow that enables customization of the retention policy, desktop policy, data management policy and data policy, and d) DFX Analytics which is an intuitive & powerful engine that identifies data breaches around policies.
Can you talk more about your team and how do you keep your employees motivated?
My team is fully equipped with the right skill sets to churn out the best services and they have got immense industry expertise and experience as well. Our team is also informed about the latest trends in the sector that allows them to constantly improve the quality and effectiveness of our services. We have been putting a lot of time and effort to ensure that the grievances of our employees are addressed in an optimal manner. I also take extra effort to get to know more about the employees on a one-to-one basis and this helps me to build meaningful relationships with them. All this has helped us to perform better as a team and create an inclusive working environment for our employees to excel.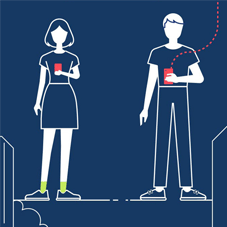 Can you talk more about the milestones that your company has achieved over the years?
For me, being able to run successfully in this highly competitive market realm and being able to satisfy the requirements of all our clients is in itself the most important achievement. When it comes to awards and recognitions, we have received the Best Solutions Provider award by Laserfiche. We have received this award owing to the effort put in by our entire team and it was an extremely proud moment for us which gave us a lot of motivation to continue improving.
Dinagarajan Mathivanan, Founder & Partner, Business Operations, DataFabricX
With over a decade of experience across industries like Pharma, Information Tech, Real Estate, Food & Beverages, Dinagarajan is a true multitasker – driving everything from ideation to execution for entities from scratch. An avid mentor and angel investor, he has participated in the evolving General Data Protection Regulation(GDPR).