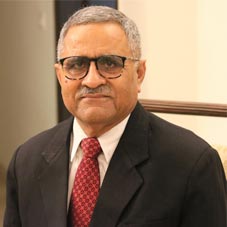 CEO Insights engages in an exclusive interaction with Dr. Arvind Kapur to learn more about his journey as one of the leading agriculturists of India.
Tell us the major facets & achievements of your professional journey.
After finishing my Ph.D. in Plant Physiology with a major focus on functional genomics in 1980, I spent eight years at Punjab Agricultural University in plant breeding and seed-related Research. I joined Pioneer Seed Company in 1988 which later became Proagro in 1989, where I was leading different functions of the company including R&D. In 1994, I became the Director on Board of a joint venture between Proagro and Plant Genetic Systems of Belgium, a leading company for biotech research. I became MD of the joint venture in 1997 and developed the first transgenic
mustard hybrid with 'Seedlink' technology. After the merger of Proagro with Agrevo, Aventis and Bayer in 1998, I became MD of Nunhems India, a company of Bayer to lead the vegetable research and marketing of vegetable seeds.
With the merger of 'Sunseed' of the USA with Nunhems Holland, in India, I made both the companies to merge and work under Nunhems brand. In 2009, I decided to move on and started a new subsidiary of Rasi seeds for vegetable research under the new brand 'HyVeg'. With a strong breeding group and development of performing hybrids, this company touched new height by joining the top five companies in vegetable seed sales including MNCs in 10 years.
Tell us more about your role & responsibilities within the company. What are the goals that you have devised for the organization?
I strongly focus on further strengthening and enhancing the implementation of biotech tools in breeding. Apart from establishing an advanced molecular lab in the company, we are also using Doubled Haploids (DH) technology in many crops to speed up our breeding in these crops. Our longterm vision is to take this company to participate in the global seed scenario. We are already selling seeds in SAARC and Southeast Asian countries and at present are looking for establishing our breeding network in other countries for developing products for Africa and the Far East.
If you have the right people with the right experience and they know the market and customer, success will never elude you
We also started breeding in cereals and oilseed crops to provide small and medium land holding farmers better choices for seed. This company also ranked 6th in Asia and first in India as an Indian company by 'Access to Seed Index' a global organization supported by Bill Gate Malinda Foundation. With breeding in 21 crops including difficult crops like cabbages, carrots, cauliflower, Broccoli, Kohl Rabi, onion and releasing performing hybrids to replace imports of seeds in these crops is the biggest achievement of this company. Presently, HyVeg also started
breeding in Maize, Millets and Mustard (3M) and established strong breeding programs to enter strongly this market.

Also, tell us about your achievements at Acsen HyVeg and the business transformation you led via those achievements?
When we started this brand 'HyVeg', it was tough to get space in an already congested market occupied by MNCs and strong Indian companies. The parent company Rasi Seeds which was operating from Tamil Nadu had had no infrastructure outside Tamil Nadu and neither had offices and farms for breeding vegetable crops. The challenge was to establish infrastructure and farms in a short time to start the operations. The Rasi management, particularly Dr.Ramasami fully supported the initiative with liberal investments. My team fully responded to this and we have not only established the company but also aggressively marketed the seed.

How does your vast experience help you to chalk-out efficient business modules at Acsen HyVeg?
At present, I have 40 years of experience in agricultural research after my Ph.D. and almost 32 years in the private seed sector. With this background, I know and understand the needs of our farmers and have designed our breeding program accordingly. I also learned how to do smart breeding by using a key and adaptable germplasm. I believe that not the vast resources but good people make the company. If you have the right people with the right experience and they know the market and customer, success will never elude you. So, with this mantra, we are running Acsen HyVeg and will continue to do so.

Dr Arvind Kapur, MD, Acsen HyVeg
Having completed his PhD in plant Physiology and bearing over 3 decades of experience in National and Multinational Seed Industry, he is responsible for strategic planning and execution to achieve the vision of the organization. Bringing technological and managerial excellence, he has created a powerful brand 'HyVeg' in the Indian vegetable seed industry in a very short time. He is also a prominent member of various business associations like CII, FICCI, Assocham, and PHDCCI, chairs of the APSA IP Committee and is a member of the IP committee of ISF and is a board member of the Indo- Swiss Collaboration in Biotechnology (ISCB).