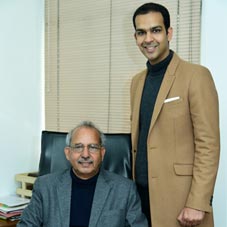 In the agriculture industry, where conventional farmers are constantly pressed to produce more for less, the uncertainty due to Covid19 pandemic revealed the importance of making every household a part of the food system. Eating healthy should be a right for everyone and not a privilege for few. And that is the core value leading the short and long term plans of our organizations.
Enter Durga Seeds, a company working closely with their network of farmers and R&D to produce quality seeds that help increase the yield of the crop. Aligning their practices of seed production with persistent research findings has managed to put them at the forefront of the modern agricultural transformation in the country. Leading the way for the company is their partner, Mr Karan Mahajan, a third generation agripreneur, by passion and profession. His learnings have not only been substantial in making Durga Seeds a leader in quality seed production, but he's also been instrumental in creating an urban gardening e-commerce store called AllThatGrows.
AllThatGrows specializes in providing Indian and Exotic varieties of heirloom seeds & gardening supplies to the novice and veteran gardeners and handhold them through the journey of growing their own produce. What's more fascinating is the fact that AllThatGrows was the first Indian company to introduce the concept of growing microgreens to the consumer under the direction of Mr Mahajan.
To get detailed insights into the workings of his organizations, the CEO Insights engages in a meaningful conversation with Karan Mahajan.
Kindly throw some light on the various business operations of Durga Seeds?
Durga Seed Farm has been in the business of seed production and
marketing for the last 51 years now. We have a network of trusted farmers all across the country. Working closely with them has allowed us to foray into exporting our seeds as well. We are constantly testing and developing new seed varieties with our research team to produce better quality seed for the farmers, boosting the yield of their crops.
With the other business, AllThatGrows I have a vision of creating an online space for the kitchen gardeners, where they can not only purchase the seeds to sow at home but also learn to grow them with us. Growing one's own food creates a very self-reliant household which is becoming increasingly important. Even our Honorable Prime Minister has shared the Atmanirbhar Bharat vision! We are also proud of the fact that we introduced the Indian consumer to the concept of microgreens and how to grow them at home.
Durga Seeds is a name that has coexisted and grown with the advancement of Indian Agriculture. Our Vision and Motto is clear with the Quote : " Desert look Green with Durga Seeds "
Today, we have over 40 varieties of microgreen seeds on our website and are consistently adding more. We also have various blogs and videos teaching how simple it is to grow microgreens at home and the nutritional significance of consuming them, considering they can contain up to 40 times more nutrients than mature vegetables.
What were the initial challenges at Durga Seed Farm that taught you some crucial lessons of company operations?
We are a national level seed brand and I used to continually think about adding more value to this company which was founded by my father Sh. Subhash Mahajan in 1969. After years of field experience and market research, I established the export department in Durga Seeds, and today Durga Seeds exports to more than 25 countries around the world. So, the challenge initially was to set up a good export market and for that I had to travel extensively, attending conferences, meeting clients, putting up trials for our seeds in different countries. It took
me five years to properly establish ourselves in the seed export market. We are still in the phase of getting our teams acquainted with expanding their horizons. The second important part of the challenge is to create awareness about the value of good seeds. We strongly believe that if we keep the quality of seeds consistent, the sales will follow.

Tell us about the major USPs of your online portal and what is the future road map of the company?
The major value proposition with allthatgrows. in is the fact that we are selling Desi or Heirloom seeds collected from around the world. We also have the largest selection of exotic vegetable, herb and microgreen varieties on our website. We don't want to just sell seeds, we want to sell the concept of growing your own food. We aspire to build a community of home gardeners, growing their own produce, season after season and leading healthier happier lives.

For the commercial agriculture sector with Durga seeds, we are constantly introducing new hybrids with specific hardy traits, allowing the crop to be more disease tolerant, better yields etc. We are also one of the oldest companies in the sector and we want to strengthen our position as one of the leaders in providing the farmers with the best varieties of vegetable seeds through constant efforts of our Research and development team.

According to you, what is the major challenge faced by Indian farmers and how can it be solved in an efficient manner?
A long-awaited change that needs to take place in Indian agriculture is improving the income level of the farmers. If the farmers earn a satisfactory value for their yield and they receive better payoffs, not only they will be able to adopt better technologies but also better agricultural inputs thus helping them in achieving higher yields and producing healthier crops. Moreover, we need to establish a direct connection between the farmers and consumers.

Karan Mahajan, Partner, Durga Seed Farm & Founder Partner allthatgrows.in
Karan's business mindset coupled with his passion for popularizing healthy eating habits have helped him to come up with revolutionary ideas and practices in the sector. Karan has also delivered a TEDx talk on the topic "The Nutrition Challenge and Magic of Microgreens".