Rampratap Reddy: Representing The New Generation Of Urban Farmers To Provide Chemical-Free Produce To The Customers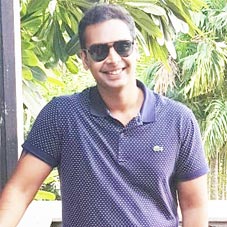 Exposed to abundant chemicals and pesticides, the agricultural domain is often subjected to experimentations to retain the maximum food value of the products with the least possible utilization of energy and resources. Witnessing the degrading nutritional quality of the foods while traveling from the agricultural plots to our food plates, Rampratap Reddy left his highly lucrative professional career as a computer network engineer to explore the agricultural dimensions of the country. Through his brainchild Rushi farms, Rampratap is currently leading a bunch of passionate people who are eager to introduce a radical change in the horticulture industry. Acknowledged as a leading producer of premium quality, pesticide-free, aeroponically grown exotic fruits and vegetables, Rushi Farms represents the new generation of urban farmers who use novel technologies in farming to provide clean, chemical free, fresh produce to the customers.
Engaging in an exclusive conversation with CEO Insights, Rampratap Reddy discloses his outlook as one of the new-age leaders who is refurbishing the agricultural domain by integrating innovation and technology.
Throw some light on your professional background and experience that directs the company's progress and helps in moulding strategic business modules for Rushi farms.
I started my career as a network engineer in the Gulf after completing my B.Tech from IIT Varanasi in Electronics and Computer Engineering. After returning to India in 2013, what caught my attention is the deficiency of freshness and nutritional values in the fruits and vegetables available in the supermarket. Filled with pesticides, and chemicals, it has a very devastating effect on our health resulting in various kinds of diseases which were never experienced by our ancestors as
they used to have organic and nutritional foods. Knowing that the food on our plates is affecting not only us but also the future of our children, I was determined to offer fresh fruits and vegetables to the Indian agricultural market which are chemical and pesticide-free.
Being completely new to the agricultural domain, I started doing my research by referring to online sources and interacting with experienced farmers to acquire knowledge. Soon I came to know about aeroponics and decided to venture further into this soilless cultivation where the produces are grown in air and the essential nutrients are pumped into the roots of the plant in the form of mist. This type of cultivation is not only extremely fresh and chemical-free but also high energy and water efficient as compared to the conventional method we use 80 to 85 percent less water. Another advantage of Rushi Farm is that we cultivate within the city limits ensuring the fruits and vegetables with the minimum carbon footprint. With no middlemen involved, our products reach the retail shelves directly.
As innovation is the key for any industry and every day is a learning process, we keep learning novel methods and techniques to grow
Tell us more about your role & responsibilities within the company.
Being the founder of the firm, I involve myself pragmatically with almost everything starting from production to marketing. My core responsibility is to ensure that whatever we harvest reaches the consumer as soon as possible. For that, I closely look at the entire lifecycle of our harvest starting from the sowing of the seed to dispatch of the products. With many people working for us at distinctive levels such as farmers, laborers, supervisors and more, we closely coordinate with them for timely follow up to get our job done effectively.
Elaborate on the current technologies and latest industry trends you are adhering to.
Currently, IoT and Machine Learning are heavily implemented in the field of agriculture. By harnessing such technologies, you can precisely control every parameter that is required for the growth of plants
such as temperature, humidity, the right dosage of nutrients. By monitoring them effectively, you can get alerts and updates, and take the necessary corrective action before it is too late. So, when you take preventive measure such as IoT and Machine Learning you can minimize the damage if not eliminated. So, we are also contemplating to implement IoT in our farming methods, in a cost-effective manner to control our operational expenses.

Highlight the future roadmap set for the company.
As innovation is the key for any industry and every day is a learning process, we keep learning novel methods and techniques to grow. We are also experimenting with cultivating other varieties of plants that are not only difficult to grow in the conventional method of farming but are also imported to India in large quantities such as saffron, raspberries, blueberries, strawberries. Conducting a lot of experiments on different nutrient mixes of seeds to grow the fruits and vegetables we don't compromise on quality at all. We import our seeds from the Netherlands and prefer to use only RO water, to ensure optimum quality products. Our future goal is to expand to various metro cities other than Hyderabad by supplying supermarkets, high end restaurants, and five-star hotels. We are working towards it and the plans are in the pipeline. Hopefully, in a year or two, we could see our products on various retail shelves in other metros.

What's next in store: 'My Movie League', a fantasy movie gaming application which is a first-of-its-kind concept in the Indian Market for movie lovers. You play movie games & win cash prizes. We foresee it to be the 'Dream11 App for Bollywood Movies' It will be launched soon & we are very excited about it.

Rampratap Reddy, Founder & CEO, RUSHI FARMS
An alumnus of IIT Varanasi, Rampratap Reddy is an Electronics and Communication engineer who worked abroad as a computer network engineer for five years before venturing into the agricultural domain in 2017. Owing to his passion and dedication, he has successfully setup Telangana & South India's First Aeroponic Farm, Rushi Farms. A horticulture enthusiast looking at bringing out a radical change in the Indian Horticulture Industry, Rampratap is into various other domains including real estate, gaming, mining, and more.