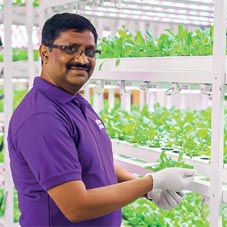 Vertical farming is not entirely a new advent; instead, it was never adequately adopted in India. As a result, whatever few Hydroponic crops were harvested in India were mostly exotic crops. However, the tropical conditions in India are highly suitable for the adoption of Hydroponic technology to grow Indian vegetables. This is where Dr. Sairam Reddy – a Bio-Technology Post Graduate from the Sri Venkateshwara University located in Tirupati, saw the vast gaps in the niche domain of vertical farming in India.
After accumulating years of expertise in the domain, Mr. Sairam Reddy co- established Urban Kisaan back in 2017 in a bid to pitch into the two main gaps that existed in the entire vertical farming ecosystem. Urban Kisaan was constituted to provide food to the Indian consumers devoid of contamination or toxic materials. On the other side, they do away with agricultural technologies that offer no symmetry between the breeding programs.
An excellent time spent conversing with Dr. Sairam Reddy, Co-founder at Urban Kisaan. He told about the journey and how he developed himself to become a renowned personality in the industry. CEO Insights magazine is glad to publish his interview in this issue, from where readers will get an overview of the entrepreneurial journey as well that Dr. Sairam covered in the niche vertical farming domain. He gave us a more in-depth insight into the world of Hydroponics as bonus knowledge.
Throw some light on your professional background and experience that directs the company's progress and molds strategic business modules for Urban Kisaan.
After completing my Ph.D. in the field of plant biotechnology from Sri Venkateshwara University located at Tirupati in collaboration with the Indian Institute of Sciences Bangalore, and also Post-Doc from the University of Delaware USA, I returned to India and joined one prominent seed company JK Agri Genetics Limited.
I worked in the Bio-tech division for 13 years in the company. An entire decade in the company helped me gain hands-on expertise in agriculture, cropping systems, and the problems farmers were facing. I got acquainted with Problems in traditional farming and also about the hybrid and genetic material that is available. It was a big revelation to understand agriculture and breed crops suitable for new technologies.
Being the Co-founder of Urban Kisaan, and I take care of the entire R&D activities, research, and build future technology for the company
Tell us more about your role & responsibilities within the Urban Kisaan. What are your long- and shortterm goals you have devised for the organization?
Being the Co-founder of Urban Kisaan, and I take care of the entire R&D activities, research, and build future technology for the company. Our goal is to Indianize Hydroponics as a whole technology as right now; it looks like a rich man's technology not suitable for everyday farmers. Even the produce that comes out of this technology is not affordable to farmers.
Our immediate aim is to develop a technology wherein Hydroponic technology's cost would be meager.
What changes did you bring into the organization, its structure, and policies driving the company to grow fast?
Our organization is very young, with an average age of around 28. Therefore, a lot of dynamism exists in the culture of the organization. It's a very flat kind of structure, with everyone understanding the responsibility. All the people working in our organization are working primarily out of passion. It's a very open organization in terms of sharing ideas and criticizing the ongoing activities.

In your professional journey so far, which are the milestones that bestowed you with utmost satisfaction - both as an individual and as a Founder?
I started my journey as a bio-technologist. In my professional journey, I sometimes even initiated new technologies and released hybrids. It's essential to get yourself trained as and when it is required. And, I truly thank my previous organization for providing great platform for learning. When it comes to my current organization, everything we do here is a proud moment. Every latest product we roll-out is actually a new thing. Therefore, I believe that's' an achievement in itself and it leaves great satisfaction to all of us.

What advice would you like to give to the young entrepreneurs(s) in India involved in a niche domain?
It's very important to find demand/challenge in the market and work towards for viding solution towards it. In the niche markets, consumers may not really know what they are looking for. For instance, in the domain we are working, we supply produce free from toxins and contaminants. Whereas our consumers only talk about pesticide-free produce, but not about toxins and contaminants. Consumers in our domain focus more on prices; they do not talk about quality as such. Entrepreneurs should be able to identify core issues in the society, educate consumers and provide solutions.