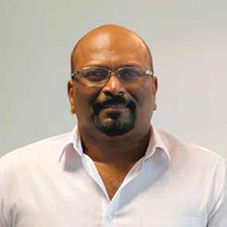 The aerogel market is growing rapidly, mainly driven by the rising demand from the applications of oil & gas, construction, transportation, performance coating, day-lighting, and others. A venture capital-backed aerogel solutions startup, Kross Linker is based in Singapore. Founded by a team of scientists, Dr. Mahesh Nathan is leading the technological innovation at Kross Linker, enabling the company to make aerogels affordable & accessible to the most demanding insulation applications in coldchain & e-mobility construction and energy infrastructure.
A leading expert in insulation technology, Dr. Mahesh Nathan has more than ten years of experience in engineering, manufacturing, & commercializing high performance insulation material.
CEO INSIGHTS recently engaged in a one on one interaction with the man himself. Here are the highlights from our conversation.
Throw some light on your educational and professional background. Could you talk about the learnings and experiences you acquired from Nanyang Technological University(NTU), Singapore?
I am a mechanical and aerospace engineer by training and I served the nation's military for 17 years, which included 12 years in various leadership roles, spearheading projects, training, people development and leading teams till 2010. I completed my Ph.D. in 2015 from NTU, researching advanced nanomaterials called aerogels for more than a decade now. I am a proud alumni of NTU which is a world-class institution renowned for its state-of-the-art campus facilities, inter disciplinary faculties, and research in engineering fields. I was privileged to work with different professors from various fields on sophisticated systems & research on aerogels under the tutelage of A/P Sunil Joshi. The excitement of venturing into an unknown field and exploring the boundaries gave me the motivation and adrenaline. The learnt experiences from my time in NTU helped me to introduce new technologies to the industry seamlessly.
How would you define Kross Linker
as an organization and its position in the market? What is the unique proposition that your organization offers to clients?
At KrossLinker, we believe the world deserves a better way to be energy efficient. We are an aerogel innovation company developing a state-of-the-art platform technology to address the thermal insulation management inadequacies in the industry. We are the first aerogel company to address a USD 80 Billion cold chain market segment where thermal insulation inefficiencies are responsible for USD 15 Billion. Our state-of-the-art platform technology produces various aerogel products in different forms and factors developed by our expert team. With our aerogels, we advocate reusability and recyclability to eventually reduce carbon emissions by 40% in the value chain. We offer premium protection at a competitive cost, realizing for customers ROI that can be realized within months by adopting our solutions. Our aerogel technology will create strong economic and environmental incentives across the entire value chain for broader adoption towards Global 2030 UN SDGs to reduce GHG emissions .
Expect the unexpected and understand different perspectives, especially the thin line between failure & success. What is perceived as a failure by one is seen as a success by another
What are the major challenges you have experienced in your journey so far? How did you overcome them, and what did you learn from them?
Personally for me, I broadly classify challenges as operational and business. In terms of business, the challenge with any new technology is the buy-in. While many are fascinated by our traction and technology, it still takes a lot of education to create awareness, push use cases validating data and other strategies to turn heads. This is expected from any new disruptive technology as the industry needs to acclimatize to changes. To overcome such challenges it is important to keep evolving, adapting and calibrating to converge towards the needs of the customers and stakeholders. The learning curve has been steep but rewarding as we are able to see how the whole ecosystem functions. Operational challenges pose a bigger problem for startups, especially in the formative years. Operational challenge is directly linked to opportunity cost which can cause a strain on resources, finances and manpower especially in the formative years. As founders, we
must remain calm and conscious of what we set out to do, stay grounded and exercise prudence at all times. My co-founders and I had to wear many different hats and multi-tasking is a prerequisite. It is essential to have a layered approach to these challenges, having a balance of micro and macro management, envisioned by short and long term goals and quickly adapting to different situations.

How do you maintain the perfect balance between your personal and professional life? What is your success mantra?
I don't believe we can ever maintain a 'perfect balance' but we should be grateful and count our blessings that a 'balance' is achieved in the first place. Relationships are vital to maintaining that balance and I get my strength from the support of my wife, Rani, and our three children. They have been with me throughout the journey and the ones I confide in especially during my struggles. Knowing some one has your back gives you the confidence to break all barriers. I personally think active communication and having hard conversations is one of the most essential virtues to have to succeed.

What drives you today as an industry leader? In the light of your strong experience, what advice would you give to budding industry leaders?
I am self-driven and passionate about innovations and creating a change mindset. A significant part of what drives me till today is being resolute, decisive, and creating a sense of belief and confidence with my colleagues and our industry partners. We are facing a future with uncertainties and complexities brought about by climate change resource scarcity, and inefficiencies in energy management. Industries are moving away from mortar and brick businesses and embracing future technologies. Industry leaders should view the industry with new perspectives and collaborate to create a collective effort towards sustainability in business, growth and opportunities. A collaborative initiative creates more success than failures and can turn failures into success.

Dr. Mahesh Nathan, Co-Founder & Director - Innovation & Engineering, Kross Linker
A Ph.D. in the aerogel domain with several journal publications, patents, & a book on Silica Aerogel Composites, Dr. Mahesh was featured in the Straits Times as well as several magazines for aerogel innovation. He enjoys a good movie or conversation, playing soccer, & Indian indulging Indian & local cuisine. He stays updated with current affairs & likes reading about auto-biography.

Favorite Travel Destination: Scandinavia, Europe, Japan and Australia