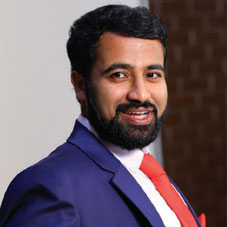 How will an institute transform its students into prolific leaders? This query is best answered when you look at the success statistics of its alumni; the benchmarks they've set and the path of change they've followed. Producing such leaders is only possible with top-notch faculties and an environment with the best minds that chisel every bit of humans into change makers, and achievers. Having all the attributes of the best institution intact,Nanyang Technological University (NTU), Singapore promises numerous opportunities to its students to emerge as new-age leaders.
An elite alumnus of NTU, Sreetej Lakkam honed his industrial proficiencies in developing novel predictive models for non-linear flow systems using data-driven techniques. He acquired additional lenses and frames for his research thesis on flow sensors & fluid mechanics, and prepare himself for the. Acknowledging NTU's contribution to his endeavours, Sreetej admits that his tenure at the institute enhanced his problem solving ability.
To know more about his illustrious professional journey, kindly peruse the snippet of the exclusive conversation between CEO Insights and Sreetej.
Throw some light on your professional background & experience. What drives you today as an industry leader?
Before venturing into entrepreneurship and founding Navier Machines, I pursued my doctoral research in developing novel predictive models for passive sensing and estimating non-linear flow system dynamics using data driven techniques. I have successfully published several journal and conference research articles in the interdisciplinary field of fluid mechanics computer vision and machine learning.
My passion revolves around exploring cutting-edge data
processing techniques and entrepreneurial opportunities in the Indian agriculture tech space. This zeal to create a complete suite of applications for smart agriculture to boost the farmer's ROI drives me as an innovative entrepreneur.
Success is very short lived, but expectations are never ending
Could you talk about the learnings & experiences you acquired from Nanyang Technological University(NTU), Singapore & how you apply them in your current role?
NTUs research culture and learning environment intrigued me in pursuing my Ph.D. and led me to solve problems that matter. I owe it to NTUs vibrant faculty and research community who were very supportive and open to discussions. My thesis supervisor once said, "A problem worthy of an attack proves its worth by fighting back". A few years down the line, this pen chant for solving challenging problems gave birth to Navier Machines, where we like minded folks aim to tackle the problem of modernizing the age old agriculture industry in India.
How would you define Navier Machines as an organization and its position in the market? What is the unique proposition that your organization offers to clients?
The core objective of Navier Machines is to facilitate automation into different industrial verticals leveraging reliable AI technology. We specialize in applications requiring engineering expertise, advanced image processing techniques, computer vision, automation and sensor data fusion. We offer unique software and custom hardware solutions tailored to customer needs. Currently, Navier Machines is developing a complete suite of applications for smart agriculture to provide the farmers with all the necessary tools to boost their produce more with less effort.
What are the major challenges you have experienced in your journey so far? How did you overcome them, and what did you learn from them?
Challenges are an integral part of an entrepreneur's journey. The significant challenges in my journey so far boil down to two things. First, the unrealistic expectations that follow an initial success. Success is very short-lived, but expectations are never ending. Therefore, it is vital to manage the expectations both of the customer and the investor. The best way to deal with
this challenge is to find a trustworthy, reliable, experienced mentor. The key thing to learn is that realistic expectations should stem from sustainability. Sustainability requires consistent efforts and considering the extent of available resources, the growth potential and other market factors.

Second, finding a trustworthy partnership. A good working relationship between companies/ startups pays great dividends. Always be aware of the ever expanding and ever changing requirements of the digital age in order to make sure you do not get the short end of the stick. An experienced mentor & diverse board can chip in while making partnership decisions. The key thing to learn is that maximum benefits can be reaped from a partnership when startups collaborate with organizations with a sound market presence and a good reputation as a disruptor among industry leaders.

How do you maintain the perfect balance between your personal & professional life? What is your success mantra?
Contrary to the traditional advice of working more and hard, I believe it is essential to focus on productivity rather than the number of working hours. In addition, I think it is important to take a vacation to unwind & reflect on work. Regular holidays are essential to avoid burnout and increase mental clarity. Introspection and conscious breaks from work help me maintain balance.

In the light of your strong experience, what advice would you give to budding industry leaders?
First of all, kudos for taking up the entrepreneurial path. My advice for budding leaders would be to explore your interests and find one edge/skill you are good at. Then, excel at it by doubling down your efforts. Building a solid product on your edge provides a greater chance of success. My honest advice would be to take time to think before tackling a new market or beginning an exciting entrepreneur journey. Finally, do not forget to practice empathy.

Dr. Sreetej Lakkam, Founder & CEO, Navier Machines
Sreetej's passion is to explore cutting-edge data processing techniques & entrepreneurial opportunities in the Indian Agritech space. He is a curious soul with wanderlust and a belief that everything happens for a reason.