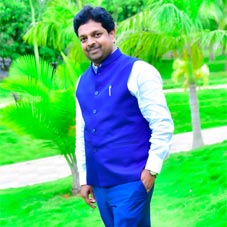 As we know, there has been tremendous change in the lifestyle in the name of modernization and new inculcating technologies. Consecutively, lifestyle diseases are emerging in large scale. Amongst many treatment methods like Allopathy, Ayurveda, Naturopathy, Homeopathy, Chiropractic care, and more, Allopathy has various drugs for the cure of diseases. But even then they are not the perfect solution providers. Allopathy has side effects as well apart from being quite expensive. Moreover, with a gamut of disease treatment mediums, still the death rate is on the rise in our country. The main reason is many people cannot afford the expenses.
As everyone knows, 'Prevention is Better than Cure', MRR Nature Care, endeavouring to abide by the same mainly, focuses on individual's daily routine and helps achieve health maintenance through yoga and diet. Dr. R. Chethan Kumar, Medical Director & CEO at MRR Nature Cure Hospital is the trailblazer, guiding along the process, highlighting the dynamism of naturopathy. Our body needs minimum physical activities and proper routine. He charts the patients there on how to eat, what to eat and when to eat. This simple technique helps a lot. He is also instrumental in organizing camps for people to bring awareness. The hospital beholds a vision to make our country a drug-less nation which will help the citizens to lead a healthy life.
CEO Insights speaks to Dr. Kumar to know about his unique journey and how he is transforming health care industry, quite literally.
You are an industry aficionado. How has your extensive experience been aiding you in shaping your leadership journey? Also, what role do you play as the CMO at MRR Nature Cure Hospital?
I was taken aback early on when I saw people paying high medical expenses, taking more pills than food; and the change in lifestyle in
the name of modernization is leading to new form of diseases. It made me to take up a course which could help me bring change in this system. I opted naturopathy. It has answers for all these, through diet and yoga. It is one of the oldest tradition in our country, which was practiced by our sages.
As soon as I finished my masters, I started MRR Nature Cure hospital with a vision through which I can achieve a drug-less medication and prevention for many such diseases through diet and yoga. We can have a hold on our healthy life beforehand, if only we change our lifestyle and adopt Yoga in day-to-day life. My motto is 'Success is achieved by hard work with smart touch'. Everyday we come across new challenges in our profession. We should surround ourselves with positive people. One should rectify problem from grassroot level. Professional ethics are more important. Being the CMO, I personally look into all such things at MRR Nature Cure.
MRR Hospital would like to reach every individual, advice & educate them, and provide a better treatment for our sadaka's (people) deploying one of our ancient traditional method, Naturopathy
How does MRR Nature Cure Hospital operate in the industry? Delineate the portfolio.
Established in 2016, MRR Nature Care Hospital is a health care entity that aims to promote health and prevent lifestyle disorders through naturopathy and yoga. Health is Wealth is the indisputable truth that the health care lives by here. It serves people with the best therapy employing modern facilities in a traditional way. Traditional cure in a modern allure is our speciality.
Our portfolio of treatment includes Acupuncture, Physiotherapy, Hydrotherapy, Manipulative Therapy, Diet Therapy, Therapeutic Yoga, and Aromatherapy. Our campus is filled with greenery which gives positive vibes for the ones who entered into the campus. A lively atmosphere, and co-operative staff will make clients stay as a memorable one. We are even conducting free health camps to provide awareness about lifestyle diseases and benefits of yoga.
Medicine & treatments are constantly evolving propelled by technology and the only way to stay ahead of the competition in recent times is to stay updated. How do you ensure to keep yourself updated in terms of both technology & industry trends?
It is true that technologies are evolving in a rapid way. It can have both positive and negative impact in our life; however, it entirely depends on how we use it. Irrespective of age group, people are fond of gadgets, and it is no harm. But trivial usage of this very technology, followed by addiction, has lead to the evolution of several lifestyle diseases.

It is very important for us to be in touch with technology to help discover the best way to cure. Hence, we do have a technical team in our hospital which keeps me updated regarding technology and current affairs. Also, I do follow few tech blogs and news papers.

How are you strengthening the team at MRR Nature Cure Hospital through the best of hiring, training, and evaluating them?
At MRR, we conduct motivational classes for staffs periodically to keep them on track. The regular evaluation on day-to-day basis helps make them cautious for everyday events. I personally evaluate every individual before hiring. The hiring process depends on the skill set required for the job role, professional ethics and their interest towards the service. We do give training periodically to cope-up with new trends and skill set required for their jobs.

What future plans do you have for MRR Nature Cure Hospital?
We have a vision to make our country a drugless medication country. We already know that prevention is better than cure, hence if each one of us understand the impact of poor lifestyle on health, the ratio of people falling ill will reduce. MRR Hospital would like to reach every individual, advice & educate them, and provide a better treatment for our sadaka's (people) deploying one of our ancient traditional method, Naturopathy.

Dr. R. Chethan Kumar, Medical Director & CEO, MRR Nature Cure Hospital
A graduate and master in Naturopathy, Dr. R. Chetan is a dedicated health care professional & leader devoted to the cause of building a drug-less nation using naturopathy as the treatment method.
Office: Bangalore