Dr. Gurudatta Amin: An Inspiring Leader Helping Those Around Him To Be The Best Version Of Themselves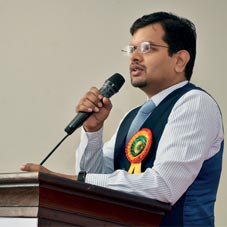 Being a chief medical officer (CMO) can be too much for some individuals and the pressure is even higher when you are the CMO of one of the most popular and leading chains of hospitals in the country. Unlike many others, Gurudatta Amin, CMO of Madhavbaug is thriving in these challenging scenarios and by seeing every day as an opportunity to learn something new, he is able to constantly reinvent himself and stay on top of his game. His medical expertise and experience have been a major catalyst behind the growth of Madhavbaug.
In an exclusive interview with CEO Insights, Gurudatta talks in detail about his professional journey and how he is able to help Madhavbaug to break new frontiers in the Indian medical fraternity.
Tell us about your academic and professional journey?
During my graduation period, while reading about Ayurvedic and modern sciences of medicine, I realized one fact that both sciences advocate the same thing, it's just the language and the frame of thinking that are different. In some places, modern science's application was fantastic and in other places, the Ayurvedic principles proved to be better. Therefore, after completing my graduation and diploma in Emergency Medicine, I joined Madhavbaug Hospital as a Residential Medical Officer with the thought that this will give me an opportunity to further delve into the numerous concepts and theories of Ayurveda. From the first day itself, I was highly impressed with the thought of Madhavbaug. I realized that this is not just a hospital but a 'patient transformation center' in the true sense of the term, because it
was not just dealing with the complaints of the patients, but also revolutionizing their approach towards life and health.
The idea of making patients free from medicine for life was simply amazing. From here, I started my journey and then kept expanding my vision from visualizing short-term impact to the long-term impact of our therapies on patients' health.
At Madhavbaug, I have been instrumental in utilising major analysis and improvising control systems. I have implemented it at multiple levels, right from patient enrolment to patient assessment and improvement
How are you as the CMO of Madhavbaug taking the company to new heights?
I envision Madhavbaug to become the first line of intervention in lifestyle-related diseases. While we are on our way to achieve it, we need to increase our reach, utilize the technologies and continuously upgrade our products for even better results. Along with that, the publication of our research work which supports our hypothesis is equally important. We have served over 20 lakh patients to date, but the disease population in India is seven crore diabetic patients, eight crore pre-diabetic patients, 23 crore blood pressure patients, 12 crore hypothyroid patients and about 2 crore heart disease patients. To serve all of them, we need to expand our wings. As of now, we have expanded the scope of services from the offline model to a hybrid offline and online model, which is allowing us to help a larger number of patients remotely. Our research department is also working hard to develop new products to serve patients in a better, more efficient way.
What role do you play to ensure the quality of care provided by Madhavbaug? How are you using
technology to accomplish this?
At Madhavbaug, I have been instrumental in utilising major analysis and improvising control systems. I have implemented it at multiple levels, right from patient enrolment to patient assessment and improvement. We have developed systems in which the whole organization retrospect's itself for results given to the patient who has started a treatment three months back, six months back and 12 months back. This activity has made our doctors analyse their own deficiencies and produce better outputs. Also, monthly reviews, success mode analysis, and failure mode analysis are the processes that have proved to be very effective and efficient in developing new products and new processes. About technology, I realized that automation and intelligent guidance to patients and treating doctors is essential. App-based patient engagement and patient health record management have proved their roles in the overall operations of Madhavbaug. This has helped us enhance patient compliance and overall functions of too.

How are you strengthening the team at Madhavbaug through the best of hiring, training, and evaluating them?
We believe that the selection of the right candidate is crucial, hence our hiring processes are strong and robust. While recruiting, apart from the work expertise, we try to understand the person as a whole so that the long-term association can be achieved. Post recruitment, the candidate goes through a very well-designed training program, which includes induction, internship, practical ongoing and continuous training. Our training programs are based on our core philosophy which is 20 and 80 percent - 20 percent investment in long term goals and 80 percent investment in short term goals.

Dr.Gurudatta Amin, Chief Medical Officer, Madhavbaug
He has got immense industry expertise and experience and this has helped him to stand apart from the rest. Combining this with his eye for perfection and attention to detail, Gurudatta has been able to make a name for himself in the Indian medical and healthcare fraternity.