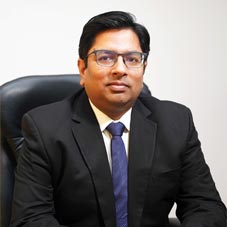 Let's wind back one and a half decades. Four years into his career in Ranbaxy Laboratories Limited, a leading global generic Pharma company of its times, Dr. Rajiv Maini (Executive Director, Elite Safety Sciences) met with a path-breaking yet challenging opportunity to be part of a newly established function in the company's department of Medical Affairs & Clinical Research: Pharmacovigilance (PV, which is also known as Drug Safety). In the early part of his career, he worked in the clinical research and medical writing domain, and the new role was an entirely new territory for him. Pharmacovigilance, though evolved in the western part of the world, was a relatively new science in India at that time. But his curious mind and never say `No to New' attitude joined hands and walked him completely into this unheralded, challenging domain, which was global in nature, driven by very stringent regulatory timelines and always under scrutiny by drug regulatory authorities.
14 years later, Rajiv, a PhD in Pharmaceutical Medicine, is an expert in Pharmacovigilance & Drug Safety who co-founded Elite Safety Sciences (ESS) ­ a global expert service provider rendering tailor-made PV services/solutions that are unique to the culture of clients, their people, processes and products. As recently predicted by Global Market Insights, the global Pharmacovigilance and Drug Safety market size is expected to reach more than $8 billion by 2025, presenting a CAGR of 10.6 percent during the forecast period. This pre-pandemic projection is a sure bet to sky-rocket when the pharma world resumes its full-fledged diversified operations with growing consumption of medicines and increasing emphasis by the regulators on their safety. However, in times to come, what the pharma industry would look for is not a service provider, but for a partner who can under-stand their needs, collaborate, think and work like its best employee. That's where ESS would like to place itself.
Embracing the Opportunities
"When I look back, I have been fortunate to work with some of the greatest managers who always gave me opportunities and independence to explore my abilities, prove myself and grow up the ladder. It is the trust between a manager and his/her subordinate that creates wonders at work. This trust however is not easy to build. It needs to be earned and requires hard work, sincerity and a very high sense of responsibility," recalls Rajiv with a smile on his face. He never let any of those opportunities slide.
One such opportunity came knocking in the year 2011 while Rajiv was still working with Ranbaxy. He was on an official trip to the company's Romania office when he received a call from the Head of the Department informing him to rush
immediately to the company' US office to attend an unannounced US FDA Pharmacovigilance inspection (local US FDA inspections are usually unannounced). The company's US Pharmacovigilance head had resigned only a few days ago, which added to the woes. He accepted the assignment without a second thought as he knew that not only it is a call of duty, but also a rare opportunity ­ a platform to test and prove his capabilities and help distinguish himself. But the challenges that came with it were just about to unfurl.
Leading a company and its employees on a growth path is one of the biggest challenges that a professional can face, and driving it towards success brings the highest level of satisfaction and sense of achievement
"Usually, the US FDA Pharmacovigilance inspections that the company faced in the past ranged from a few days to up to two week, but this inspection continued for almost a month with me facing two US FDA investigators, and answering their questions ably supported by my colleagues from the US and India offices, who were prompt to provide any documents that the inspectors asked for," adjoins Rajiv. But just like the old adage, the difficult roads often lead to beautiful destinations, the successful closure of the inspection became a gold feather in his hat. On the other hand, the two mergers that Ranbaxy underwent, firstly with Daiichi Sankyo (2008) and with Sun Pharma (2015), required integration of Pharmacovigilance systems between the companies to be compliant to global Pharmacovigilance regulations. Working closely on these integrations allowed Rajiv to further expand his horizons and grow as an industry leader. He went on to become the General Manager - Pharmacovigilance at Sun Pharma.
The Next Level
"Co-founding ESS was an answer to my mind's question: `what next?' Leading a company and its employees on a growth path is one of the biggest challenges that a professional can face, and driving it towards success brings the highest level of satisfaction and sense of achievement. Also, it lets you create your own corporate culture that you believe in," opines Rajiv. ESS was born in 2018. He adds, "I was fortunate enough to meet like-minded people who came together to convert the dream into reality. These people include my business partners as well as employees who dared to join a startup and helped to create what we call the `ESS Family'. "Nevertheless, there are inherent challenges to setting-up an organization ­ from staffing to financial management, and winning the trust of your clients & employees. But his decision to pursue business within the niche area wherein Rajiv and his partners possessed long & strong professional experience made things a little less tough for them. The first & foremost thing they focused on was hiring suitable employees who could dream and
live the vision of a startup. Today, the ESS family comprises more than 80 highly experienced Pharmacovigilance professionals with experience in all aspects of Pharmacovigilance, be it case processing, aggregate reporting, risk management or signal management. More than 80 percent of them joined the company through internal referrals.

Changes & More Changes
"During our short journey of two years, we have burnt a lot of midnight oil living the ESS philosophy of working with our clients as a partner rather than a vendor and being always available to the clients when they need us. We have spent several sleepless nights, learning and unlearning to make things happen, and happen in a better way," divulges Rajiv.

Today, ESS is a full-fledged Pharmacovigilance services provider with the right mindset to provide excellent compliance and quality deliverables. With offices in Gurugram, Haryana, and New Jersey, it delivers comprehensive services to pharmaceutical, biotechnology and device companies in both investigational and post-marketing phases, while its offerings are supported by a custom-tailored model. Looking right ahead, the company lays a special emphasis on leveraging futuristic technology to offer efficient & secure services as the current PV system needs to have a high level of technology enablement. "Artificial intelligence, web crawling and data mining are the technologies that hold promise in Pharmacovigilance. In times to come a successful and lean PV organization will have to embrace these," concludes Rajiv. En route to the future, his technology vision is what takes him to the epicenter of ensuring drug safety in our country. He sure is a leader of the future.

Dr. Rajiv Maini, Co-Founder & Executive Director
Dr. Rajiv completed his graduation and post-graduation in Pharmaceutical Sciences from Delhi University, India and Doctorate in Pharmaceutical Medicine from Jamia Hamdard, New Delhi, India as a Ranbaxy sponsored candidate. He also holds a Post Graduate Diploma in Management from All India Management Association, New Delhi, India. A passionate professional with around two decades of experience in the industry, his responsibilities currently include establishing and nurturing an employee & client centric organization.

Favorites
• Hobbies: He likes playing table tennis and watching cricket
• Cuisines: North Indian vegetarian, especially if it is cooked at home and served hot & fresh from the kitchen
• Travel Destinations: The North-Eastern part of India, especially Darjeeling, Shillong and Gangtok

Advices For The Budding Leaders
"Go beyond what your job requires you to. Make self-reading a habit and do not depend on someone pushing you to train on something. Knowledge with right attitude will never let you fail. Never be shy of accepting challenges, as they make you stronger and more confident of yourself. Learn to multitask. As a leader, you will have to; so why not start practicing it as early in your career as possible?"