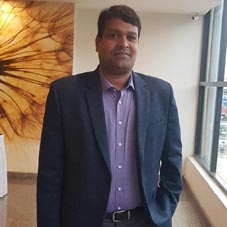 Ronald Reagan, the Great Communicator, once said, "The greatest leader is not necessarily the one who does the greatest things. He is the one who gets the people to do the greatest things". Dr. Srinivas Maddi, Founder & CEO, Acubiosys, is one such leader who truly manifests the aforementioned quote. More than just an expert in the life science domain, he is one of the great leaders who acts as a pathfinder for his team members and peers in industry. Dr. Srinivas is also a maestro in drug discovery and development processes. Leveraging his deep experience in technology evaluation and implementation of the project management tools, he is redefining technology and working on the space of pharma & life sciences while contributing his best to the industry. Dr. Srinivas, in an exclusive conversation with CEO Insights, articulates about his professional journey, along with his company's excellence in the pharma & life sciences industry.
Throw some light on your educational and professional background, along with the inspiration behind the establishment of Acubiosys.
Talking about my education, I have pursued a Bachelor's and Master's Degree in pharmacy, and received all India 4th rank (99.81 percentile) in GATE examination 2000. I am also a Ph.D. in Pharmaceutical Science from The Friedrich Schiller University Jena, Germany. I achieved DAAD scholarship, which is a prestigious fellowship given to the candidates who are pursuing Ph.D. in Germany.
Just after I completed my Ph.D., I started my career with Bristol-Myers Squibb & Biocon R&D center, Bangalore as a Senior Research Investigator. I worked there for around five-six years in different drug discovery programs. Then, I moved to GVK Biosciences as Principal Scientist for Drug Discovery Research. With great dedication, I performed all my duties there, worked with different discovery activities, drug development activities, got promoted and left the organization as Associate Director. After working there for almost six years, I decided to establish my own organization and incepted Acubiosys in 2017. The sole aim behind starting Acubiosys was to perform the best in the industry while discovering therapies that will enhance the lives of the individuals who experience the ill effects of serious diseases. So, ours is a startup company for drug discovery activities.
Could you highlight the major facets of your professional journey? Also highlight the skill sets and strengths?
I have had the privilege and honour of working with some of the best industry leaders, peers and CEOs globally over the past 18 years. It
has been quite an exciting learning curve across organizations from various industries and sizes. During this time, there have been many personal and professional achievements, but the pace at which great work in the past gets superseded today is unprecedented. I measure professional achievements based on the five yardsticks – driving consistent innovation, being a positive influence on your peers, having the least resistance to adapt to changes, coaching talent, and juggling between work and life at ease.
We predominantly believe in a 'science first' approach and use cutting-edge science and innovation to contemplate the subtlest organic mechanisms, looking for therapies that will enhance the lives of the individuals
What are the different innovations, technology and services that you offer?
Our prime aim has always been to change new thoughts and revelations into meds for patients with serious illness. We predominantly believe in a 'science first' approach and use cutting-edge science and innovation to contemplate the subtlest organic mechanisms, looking for therapies that will enhance the lives of the individuals.
At Acubiosys, we have three divisions – NEUDROGAS, MEDICAMENTUM and FORSCHUNG. NEUDROGAS is working on discovery of new chemical entities (NCEs) for solid, liquid tumors, diabetes, obesity, chronic obstructive pulmonary disease (COPD) and COVID-19, wherein we identify lead molecules and out licence to large biotech and pharma companies. This is high risk and very high revenue model. This division will generate patents.
MEDICAMENTUM division is working on innovating novel natural topical formulations for arthritis and psoriasis, spray formulation for the wound healing, and micro emulsion for scaling. This division will launch these products in India and rest of the world through AYUSH permission and involvement of DCGA.
FORSCHUNG division will provide comprehensive drug discovery services of medicinal chemistry, cell based screening, animal model screening, toxicology studies, novel drug delivery systems, invitro ADMET, invivo pharmacokinetics, discovery bioanalysis, and drug permeation & transport. Our target customers are small and midsize biotech companies from US and Europe.
What do you consider as the biggest strength of your organization?
I consider my headstrong team as the backbone of our organization. We pride ourselves on having a diverse team of experts who value their work at Acubiosys and are happy as well as striving hard to grow with the company in the long term.
Explain your role & responsibilities at Acubiosys.
As a founder & CEO of the company, my responsibilities at Acubiosys are to help my team excel at what we are doing; I handle all the activities along with my team. I strive hard to identify & remove all kinds of barriers that occur in our operations. Apart from that, I help my team to learn, do better and grow faster.

Where is your organization positioned in the current pharma & life sciences industry of India?
We are still in the growing state as we just started two years back. But most importantly, we are dedicated to our work, and we believe that we are on the right path. Hence, we are expecting and also it's our aim to get fully established by the next five years.

How do you update yourself with the industry trends? Do you participate in mentorship programs or give keynote speeches in conferences & seminars to share your industry insights with your peers?
Yes, I attend seminars and meetings regularly. Recently I attended the International Conference on Drug Discovery 2020 at Hyderabad. I have been frequently traveling to Europe & US and providing keynote speeches to different universities. It's actually a common thing for us; visiting different places, providing debates about the research and discussing about the current trends.

Also, I believe that this is the best way through which one can update themselves with industry trends. Hence, I don't miss the chance of visiting the American Association of Pharmaceutical Scientists (AAPS), American Cancer Society (ACS) and several other conferences that are held worldwide. We interact with each other, share knowledge and update ourselves like this.

Your professional journey has many channels that you crossed. It must have required burning midnight oil! What role did your family play in your journey?

In today's world, the line between personal and professional life is too blurred to be distinguished. But then, my family always had my back. They are as vested in my professional success as I am. I am thankful to have a rock solid family foundation principle that 'work is worship'. I will always be grateful to my wife and family for their never ending support. I also believe upbringing (parenthood) shapes our professional outlook to a massive extent, and I intent to write about all my childhood experience when I have time!

Dr. Srinivas Maddi, Founder & CE, Acubiosys
An expert with over 17 years of industrial experience in drug discovery and development, Dr. Srinivas is renowned for his expertise in leading his organization while building great solutions, teams and businesses.

Office: Hyderabad
Favorite
Hobbies: Holds great affection for cars and driving. Reading and surfing internet are two other hobbies that Srinivas pursues.
Food: Indian Vegetarian Dishes, while always seeking to explore new tastes and cuisines that come his way.
Travel Destination: Europe